Higher Education Emergency Relief Fund (HEERF)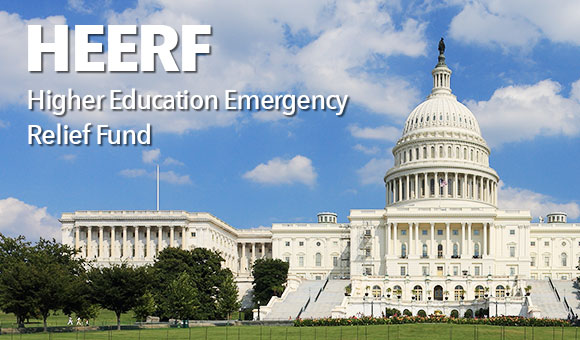 The Federal Government established the Higher Education Emergency Relief Fund (HEERF) under the Coronavirus Aid, Relief, and Economic Stability Act (CARES) on March 27, 2020. Supplemental HEERF Funds were later authorized through the 2021 Coronavirus Response and Relief Supplemental Appropriations Act (CRRSAA) and the 2021 American Rescue Plan (ARP).
SUNY Canton has been allocated HEERF funding to provide emergency grants to students experiencing financial hardship specifically due to the disruption of campus operations as a result of the COVID-19 pandemic and/or for expenses related to any component of the student's cost of attendance or for emergency costs that arise due to coronavirus.
As a recipient of HEERF emergency student grant funding, SUNY Canton is required to report certain elements on a quarterly basis:
SUNY Canton to date has been awarded $ 16,411,676 of which $ 7,079,208 is designated for emergency grants for students.
We have identified 3,004 students with potential eligibility. These students initially received an email with the application link. The link was specific only to the student it is sent to and cannot be shared. Awards are now done automatically for those students with the greatest need.
Students who have received CARES Disbursements (quarterly)
30 day report ending 5/22/2020 – 0 students for $0 dollars
45 day report ending 7/6/2020 – 407 students for $278,881
45 day report ending 8/20/2020 – 687 students for $483,995.47
Quarterly report ending 9/30/2020 – 700 students for $491,465.47
Quarterly Report ending 12/31/2020 – 1,413 students awarded for $642,786.40
Total Awarded as of 12/31/2020 – 1,889 unduplicated students for $1,134,251.87
Quarterly Report ending 3/31/2021 - 1,064 student awards for $119,499.75
Quarterly Report ending 6/30/2021 – 1,494 student awards for $1,233,134.50
Eligibility
As of November 18, 2020 eligible students include students enrolled during the Spring 2020 semester and re-enrolled for Fall 2020 but not withdrawn. We have also expanded this to include first time freshmen for the Fall 2020 semester. Students must also be eligible for the Federal Pell Grant.
Student must be eligible to receive Title IV (federal) financial aid. If you were awarded and declined Stafford Loans you are still Title IV eligible.
Title IV Eligibility includes:
US Citizen or eligible non-citizen
Meets Satisfactory Academic Progress (SAP) requirements (after Fall 19)
Not in default on federal student loans
FAFSA filed and processed and all required documentation received.
Passed all FAFSA database checks.
Student must have expenses incurred specifically due to the disruption of campus operations as a result of the COVID-19 pandemic. Please note that funding must be utilized for the expenses you are requesting.
Incurred allowable expenses may include:
Food
Housing
Course materials
Technology
Healthcare
Other – please describe expense on the application.
How to Apply
As of November 18, 2020 students determined eligible for funding will be awarded automatically and notified of eligibility.
Students who have potential eligibility will receive an email with a link to the online application once funding is available to us. This application is linked to the specific student it was sent to so it cannot be shared.
Determination of Award Amounts
As of November 18, 2020 students who have been determined eligible and have not received a prior CARES award will receive a grant of $450. Eligible students will be notified.
Once a student has been determined eligible for CARES emergency grant funds they will be awarded in the following priority order by your Expected Family Contribution (EFC) calculated on the FAFSA.
Tier 1 EFC 0 – 2500
Tier 2 EFC 2501 – 5576
Tier 3 EFC 5577 – 7500
Tier 4 EFC 7500+
Students in Tiers 1 & 2 will be reviewed first. Tiers 3 & 4 will be reviewed after the application deadline to ensure higher need students have priority per SUNY guidelines. All students will be notified of eligibility by SUNY Canton email.
You are required to use the emergency grant funds toward the expenses for which they were approved.
Impact on Existing Financial Aid
This funding will not have any effect on your current or future financial aid eligibility.
Repayment
You do not need to repay a Federal CARES emergency grant.
Additional CARES Act Questions?
Please submit questions and/or requested documentation to the following email

caresact@canton.edu

.
Office of Public Relations
34 Cornell Drive
MacArthur Hall 214
Canton, NY 13617
Phone: 315-386-7300
pr@canton.edu