Home > COVID-19 > Updates > Update #45
Student Daily Health Check-In
The Medicat portal referenced below is ONLY for student use. Employees (faculty/staff) should continue using the COVID-19 Health Check Form. Please do not sign up for an account if you are not a current student.
In the home screen of the patient portal, you will be prompted to register with your SUNY Canton ID and e-mail address. Once you have completed the registration process, you will be able to login to have access to the available forms. Please note that if you have already submitted the required health history form to Davis Health Center, you DO NOT need to complete the form through the portal again. If you have any questions or need assistance with registering for the patient portal, please contact the Davis Health Center at 315-386-7333.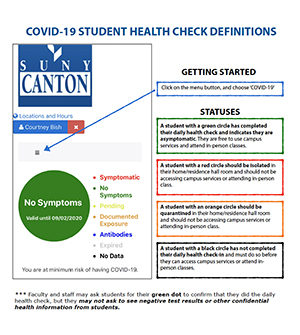 The patient portal will also serve as the gateway to the required daily symptom tracker. Upon logging into the patient portal, you will click on the COVID-19 heading, then click on the form labeled "Symptom Track Students," which will prompt you to answer a series of yes/no questions in relation to COVID-19. We are requiring this form to be completed on a daily basis for all students who will be present on campus. Please complete this form prior to coming on campus.
Faculty and staff may ask students for their green dot to confirm that they did the daily health check, but they may not ask to see negative test results or other confidential health information from students.
Like everything in our world today, things are ever-changing and evolving. Should you need any assistance with the Patient Portal or Daily Symptom Tracker, please contact the Davis Health Center at 315-386-7333.