50% Online - This SUNY Canton degree is a hybrid program that can be earned partially online.
Home > CSOET > Sustainable Energy Technology
Sustainable Energy Technology - B. Tech
The FUTURE of Energy: Innovative New Technologies
The Bachelors of Technology program in Sustainable Energy Systems presents the engineering and technology of the field in the context of society and resource management. This interdisciplinary program includes hands-on training in wind, solar, biofuel, fuel cell, HVAC and geothermal technologies in the broader perspective of life cycle assessment, natural resource management, and social acceptance of these expanding energy sources.
The global transition from fossil fuels to renewable energy requires a workforce that can apply engineering and resource management principles to wind, solar, biofuel, fuel cell and geothermal technologies. This hands-on, multidisciplinary program not only provides in-depth technical knowledge about sustainable energy systems, but teaches ancillary skills like effective project management and communication, as well as the intricacies of government policy and big-picture thinking. This offers graduates the skills needed to fulfill a wide array of job opportunities within this rapidly-expanding industry and the foundation to build on in a quickly changing environment.
SUNY Canton is one of five IREC accredited training providers for Solar Heating Installation in the country and one of twenty-five IREC accredited training providers for PV Installation Professionals in the country.
---
Alternative Energy Topics
Renewable Energy
Wind turbine or wind power
Hydro-electric
Fuel cell technologies
Geothermal power
Solar power
Biofuel and biodiesel applications
Sustainable Infrastructure
Green building, LEED
Clean Energy
Energy Efficiency
Residential, industry
HVAC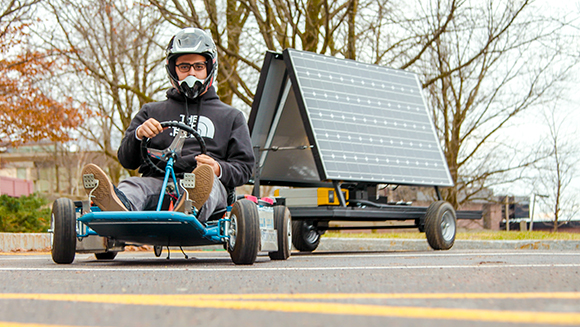 Who's Enrolling?
About 50 percent of current students joined the program because they are interested in conserving the environment and natural resources.
The other half of Sustainable Energy students wanted to apply their technical backgrounds to the emerging global market in renewable energy technologies.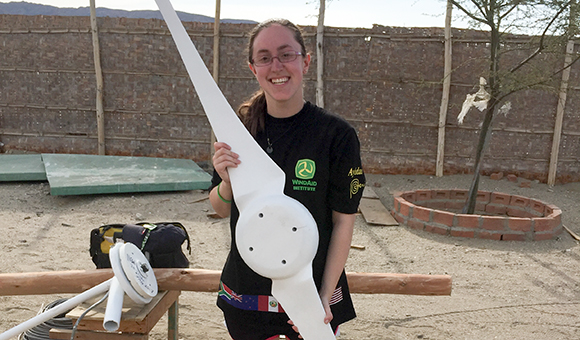 Jessica Fischer '18 traveled to Peru to help WindAid install wind turbines to struggling communities.
Green Light for Green Standards
Recent state and federal laws are creating a need for trained professionals to meet "green" standards in buildings. According to industry professionals and noted educational leaders, this will spur a growing demand for qualified technologists to work hand-in-hand with engineers to bring the practical applications of alternative energy to life.

Employment statistics are from the Bureau of Labor Statistics 2016-2026 Occupational Outlook Handbook.
Center for Renewable Energy and Sustainable Technology (CREST)
CREST offers training in Workforce Development, helping to start a new career, advance your current career or to obtain Continuing Education Units for maintaining professional certifications. Visit the CREST center for more information.
Sustainable Energy Technology
Kibria K. Roman, Ph.D., PE, EMIT
315-386-7543
romank@canton.edu
Fall Enrollment Trends
| | | | |
| --- | --- | --- | --- |
| | FT | PT | Total |
| 2019 | 13 | 0 | 13 |
| 2018 | 13 | 2 | 15 |
| 2017 | 11 | 0 | 11 |
| 2016 | 10 | 0 | 10 |
| 2015 | 20 | 0 | 20 |

Graduation Rate Trends*
| | | |
| --- | --- | --- |
| Cohort Entering | Cohort Size | % |
| Fall 2013 | 0 | - |
| Fall 2012 | 3 | 33% |
| Fall 2011 | 6 | 17% |
| Fall 2010 | 5 | 40% |
| Fall 2009 | 16 | 31% |

*Graduate rates are based on first-time, full-time, degree-seeking freshmen entering in fall and graduating within 150% of time.

Degrees Conferred
| | |
| --- | --- |
| | Total |
| 2018-19 | 3 |
| 2017-18 | 1 |
| 2016-17 | 4 |
| 2015-16 | 5 |
| 2014-15 | 9 |