Foreword From President Zvi Szafran
A collective commitment to innovation and reinvention has led SUNY Canton through another year of unrivaled success.
At the heart of our commitment is a plan to educate students for both current high-needs employment opportunities and for upcoming careers that Industry 4.0 will demand. By embracing automation, machine learning, cloud computing, and artificial intelligence, we will remain at the very forefront of our mission to prepare students for their future occupations. All of our new, and many of our existing, academic programs include skills that can be directly used to position our graduates at the front of the line.
SUNY Canton is working to create an Entrepreneurship Center in the heart of downtown Canton that will serve both our students and community members. It will offer entrepreneurial programming, co-working space, private offices, state-of-the-art conference room facilities, event space, and a makerspace. It will also house our Small Business Development Center.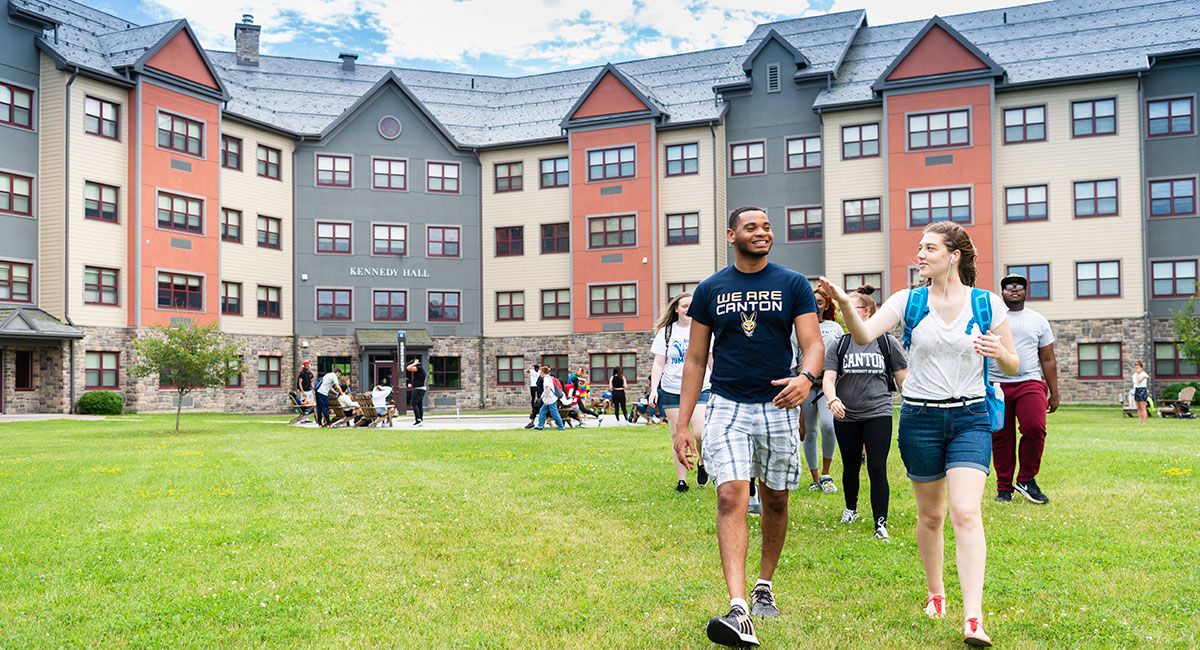 Through partnerships with the Town and Village of Canton and a team of developers, the Entrepreneurship Center will play a part in the redevelopment of a derelict property. It will offer retail and commercial space in addition to residential apartments. This project was made possible by a purchase agreement secured by the Canton College Foundation
The SUNY Canton SBDC now operates and manages a branch office at Clinton Community College. The unification of these two centers provides more prospects for new businesses and increases opportunities to showcase existing small businesses across the entire North Country region. The result has been a banner year. Between the two branches, the SUNY Canton SBDC has recorded $18 million in economic impact in the region and created or saved nearly 300 jobs.
Our four-year business programs have helped several local entrepreneurs launch or grow their area enterprises. Established business owners are coming to our school to develop new strategies. Two unique businesses with ties to the College – Marble City Heating and Plumbing and Martin's Marina – were able to generate a combined $10,500 in new revenue through students' senior-level projects.
Ultimately, all our efforts will combine to enable our students to create and excel in the careers of the future.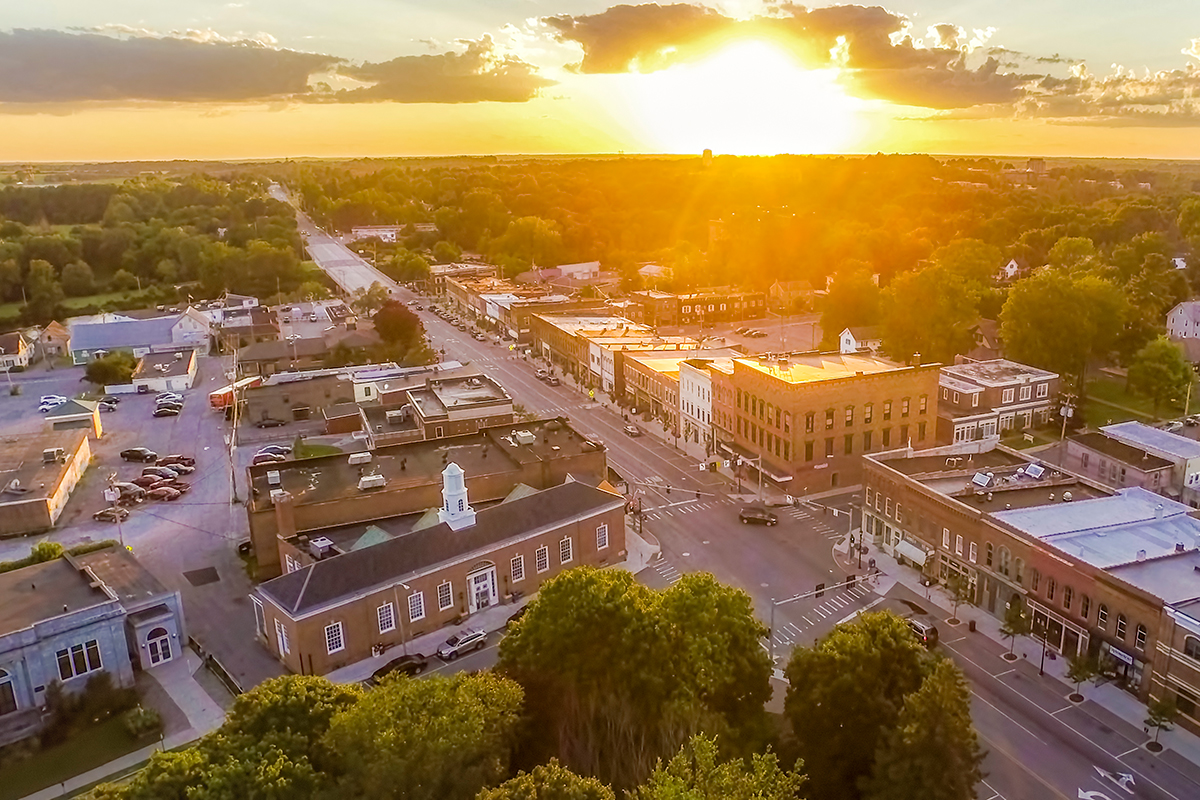 Scrolling down, you'll see many examples of our accomplishments during the past year. There were almost too many to list. This report pays special attention to our online initiatives as they grow, our faculty who produce inventive ideas and phenomenal research, and our esports program, which will remain a great game-changer for years to come.
Here's to another phenomenal year as a proud member of the State University of New York System!
Zvi Szafran
SUNY Canton President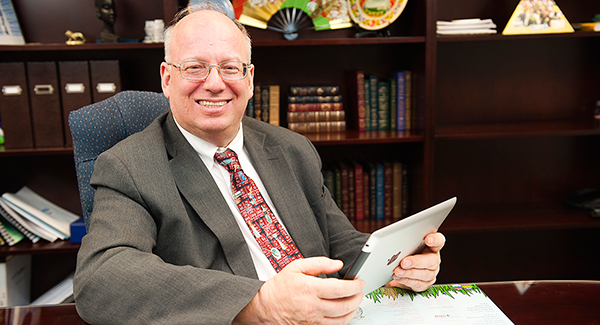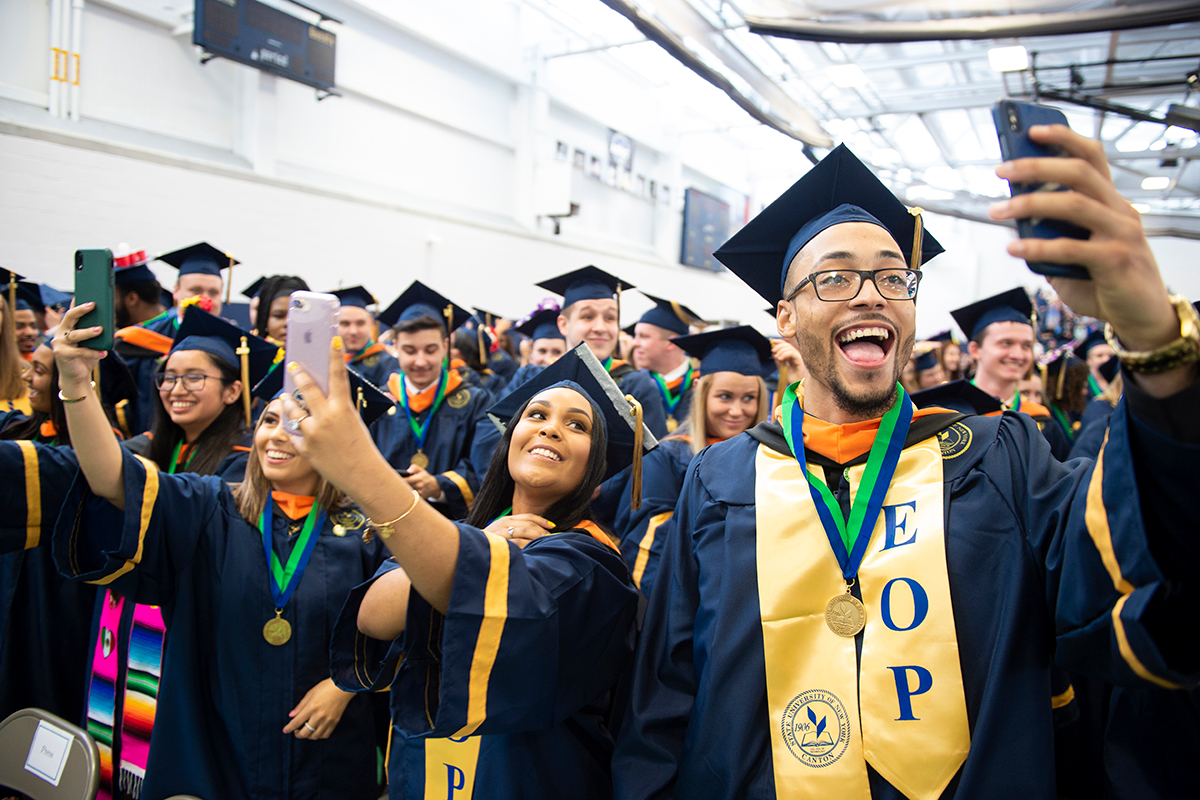 Advancing Academics
n addition to maintaining enrollment goals in the face of a state-wide decline in high school graduates, overall student retention has increased in the past 10 years. Graduation rates have increased 10% and placement rates have increased 5% in the past year.
The most academically rigorous and highly-selective programs have some of the most impressive results, with 82% of nursing students passing the nationwide examination for licensure and securing employment. More than half of those graduates have enrolled in the four-year Bachelor of Science in Nursing program, offered online.
Similarly, 85% of Veterinary Technology Students passed their national examination. The Physical Therapist Assistant program had a 95% pass rate on the licensing exam in 2018, and the program typically sees a 96% employment rate.
Faculty Innovation
Throughout the past year, faculty members have conducted research, published and presented scholarly work, or shared their knowledge in a variety of ways. Some highlights include:
Cultural Connection
English Professor Dr. Eunjyu Yu published "The Impact of Culturally Inclusive Pedagogy on Student Achievement in a Multicultural Urban School Setting" in Urban Education, a bi-monthly peer-reviewed journal. She suggested educators should look at presenting topics in a way that is directly related to the lives of students to enhance students' self-esteem, critical thinking skills and academic achievement.
Going the Distance
Two online education leaders were named 2019 Teaching Ambassadors by Open SUNY. Dr. Marela M. Fiacco, an Assistant Professor who teaches in the Healthcare Management program, and Dr. Michelle L. Currier, an Assistant Professor in the Criminal Justice Department, were selected for their innovative contributions to distance learning.
Game Changer
Associate Professor Dr. Barat Wolfe (center) is studying the psycho-social health of gamers playing competitive esports with research assistance from faculty members Dr. Christopher Sweeney and Dr. Janet Parcell-Mitchell. Wolfe, who teaches in the Applied Psychology program, said those who play violent video games are at a greater risk for anxiety, stress, and depression. Early findings suggest the early integration of health professionals to meet the needs of team members, similar to traditional sports, in addition to adding mental health training for coaches and support staff.
Cutting Edge
Canino School of Engineering Technology Instructional Support Associate Neil A. Haney received a patent for his innovative chainsaw lubricating device. Haney came up with the idea to utilize a positive displacement pump to provide oil for a chainsaw bar and chain while building a firewood processing machine. The pump was assigned U.S. Patent No. 10,307,931 with assistance from the SUNY Research Foundation.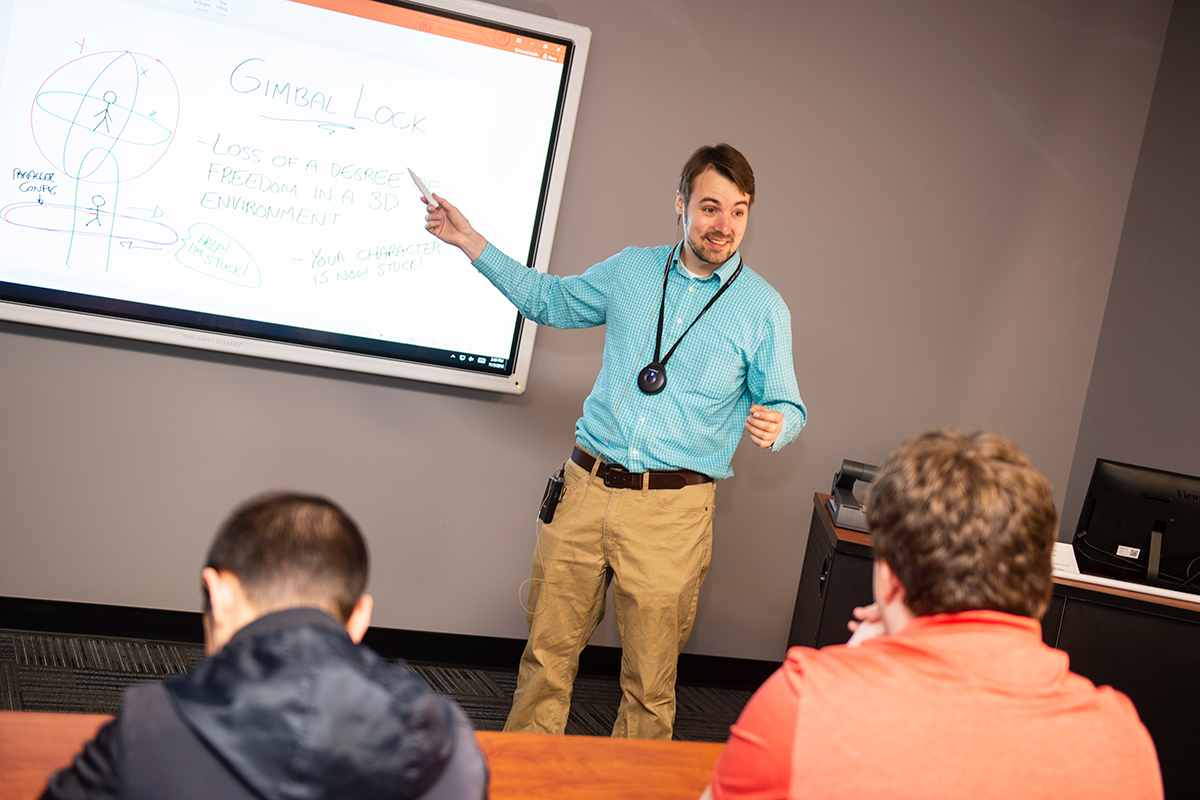 Evolving Instruction
aunching converged modality courses, or "Flex Classes" as the latest addition to SUNY Canton OnLine, made taking a class more accessible than ever before. Lectures in 12 disciplines are live streamed to participants and are simultaneously recorded and posted to Blackboard, where students can access them at any time – or as many times – as they like. It allows online students the option of attending a class in person, while traditional on-campus or commuter students can decide how they would like to participate.
Flex Classes are supported through a $500,000 Performance Improvement Fund grant. A portion of that funding is also used to increase engagement with the substantial online student population by offering expanded college resources and services. Online students now have greater access to activities and can even virtually participate in college esports competitions.
To coincide with the changing way students are learning, the Provost Library-Textbook Loan program provided 124 electronic textbooks available all day, every day to all students. The new resources were used more than 15,000 times. Faculty continue to adopt open educational resources with approximately 70 classes using cost-saving learning tools.
Esports Media Attention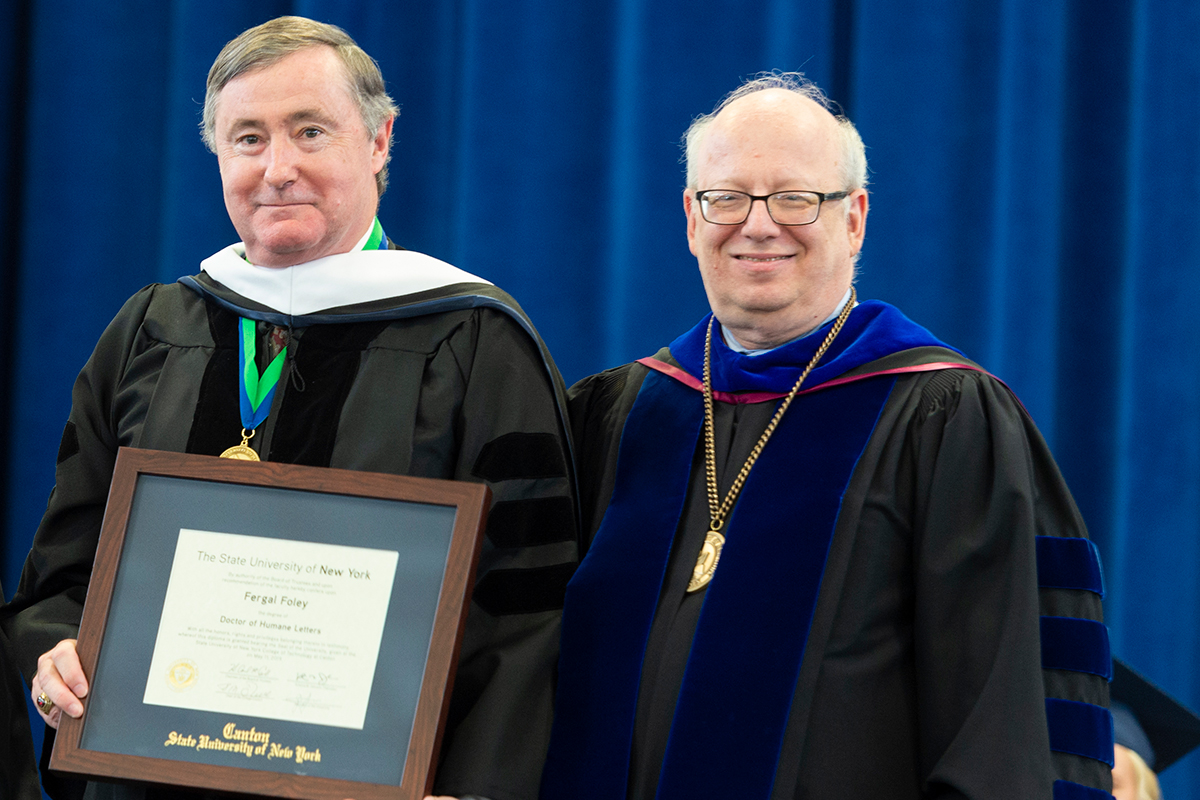 Alumni Allies
etired Major General Fergal I. Foley, a graduate of the class of 1980 (above left), received an honorary Doctor of Humane Letters degree in recognition of his accomplishments at commencement. He is a member of the Alumni Association Board of Directors, a scholarship donor, and has visited campus on several occasions to discuss his experiences.
The Advancement Division secured the largest bequest in College history this year. The landmark $1.3 million gift from the estate of longtime volunteer Barbara "Bobbi" Butler Burnham '46 will be used to fund scholarships for students who are enrolled in a liberal arts degree program.
The Class of 1968 made the largest collective class donation in College history last year in honor of their half-century milestone. The nearly $300,000 donation was supported by a lead gift from Ronald J. Blanchard '68.
Friends and alumni donated a total of $2,134,036 this year, a 67% increase from the previous year. SUNY Canton employee giving was 51% in 2018, a remarkable symbol of confidence in the College and its mission.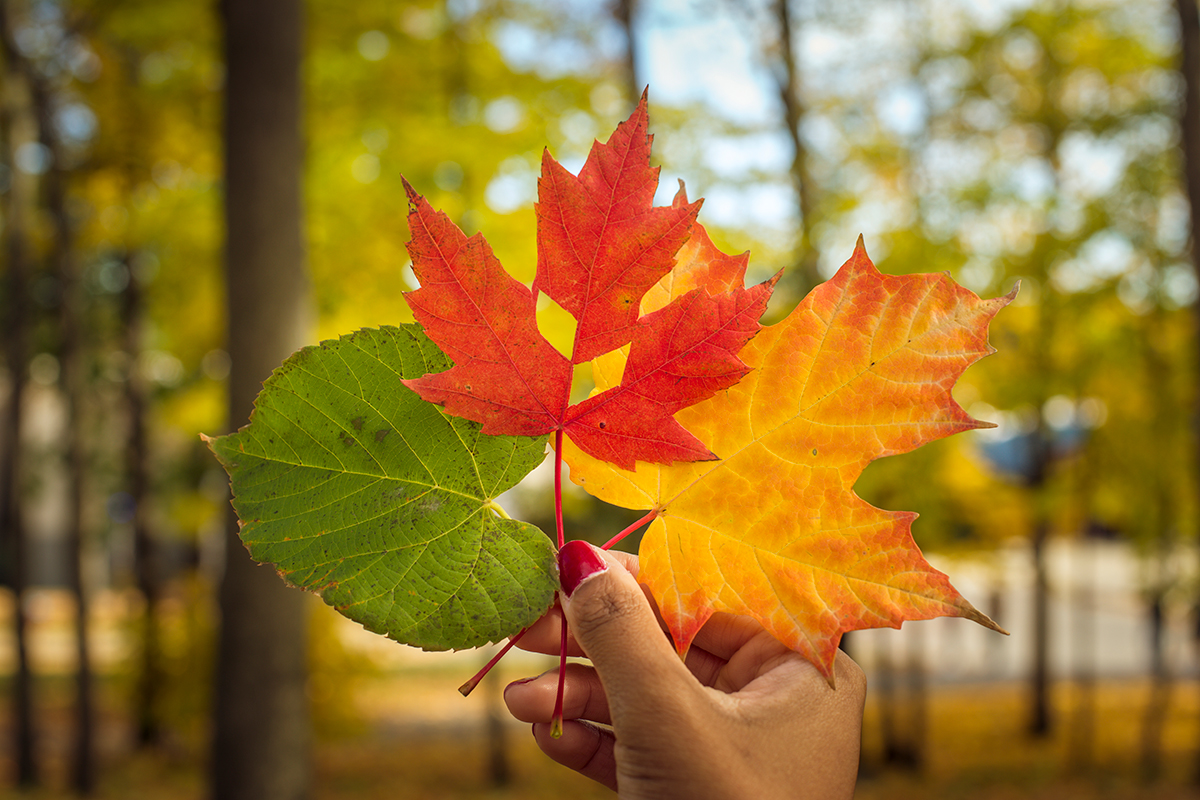 Green Space
tudents, faculty, and staff work hand-in-hand to explore every opportunity for the College to become more sustainable. A composting initiative led by the student-run Environmental Change Organization collects tons of food scraps from eateries each year, and an end-of-year move-out program re-distributes unwanted clothing and household goods from the residence halls to charity organizations, reducing landfill waste.
The campus pollinator garden and Kenneth H. Theobald '54 Botanical Nursery are real-world classrooms where students can learn about biodiversity, and the Solar Ready Vets program, funded by a Performance Improvement Fund grant, will expand to train students and local residents for careers in green energy. A portion of the grant will support the construction of a solar mock roof training simulator, an experiential laboratory that will be used to teach best practices in photovoltaic installation.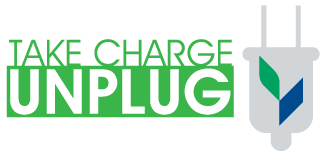 The renovation of Chaney Dining Hall included the installation of new energy-efficient heating and cooling systems, as well as energy-saving lighting, a daylight harvesting system, and occupancy sensors. Similarly, ongoing partial renovations in several buildings involve heating and cooling upgrades and improved lighting controls and sensors.
In addition to established academic programs that focus on alternative energy and resource management, an online four-year program in Sustainable Construction Management in development will train future builders and designers how to reduce a project's carbon footprint.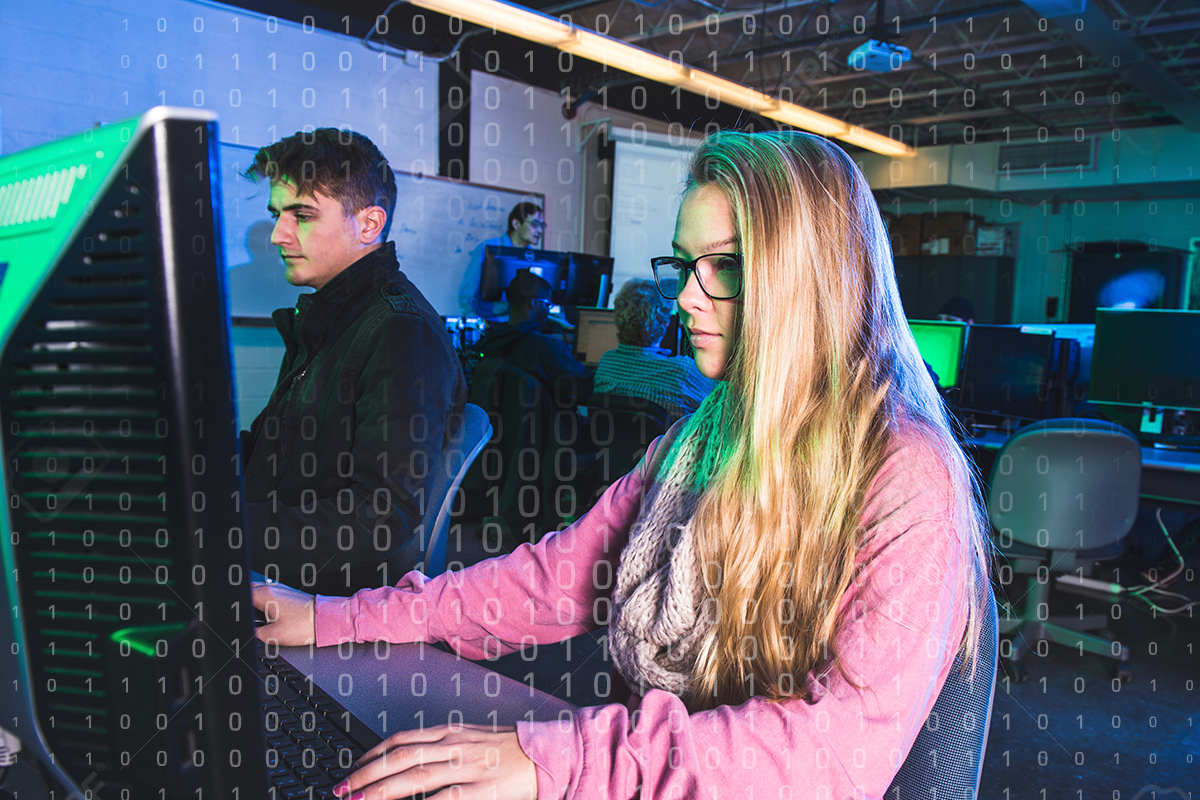 By the Numbers
Total Operating Budget: $26.4 million
Revenue
Enrollment Revenue (Tuition & Fees) 76%

State Support 24%
Expenditures
Personnel Services (PSR) 75%

Temporary Services (TS) 11%

Other Than Personnel Services (OTPS) 10%

Utilities 4%
Enrollment Demographics

Diversity Stats
Fall 2010
White 69%

Black 9%

Hispanic 5%

Asian 1%

Native American 1%
Excludes Other, Unknown, and Non-Resident Alien
Fall 2018
White 65%

Black 15%

Hispanic 11%

Asian 2%

Native American 1%
Excludes Other, Unknown, and Non-Resident Alien