Home > Student Activities > Clubs and Organizations > Early Childhood
Early Childhood Student Club
The Early Childhood Student Club is open to all students in all majors!
Our Mission: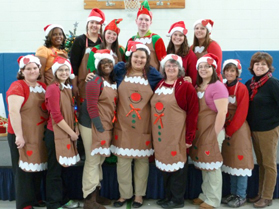 To enhance our work with young children and families.
To be active on our college campus and St. Lawrence County by participating in various community events.
To volunteer our time and expertise, and to support and assist children and families in all that we do.
To be advocates for young children and demonstrate our commitment to children, families and the early childhood profession.
In the past The Early Childhood Club has:
Volunteered in Campus family-oriented events
Collected items for Operation Christmas, the Renewal House, and other needy organizations.
Participated in various community events (Awareness Walks, fundraising events, etc.)
Participated in the SUNY Canton Fall Family Weekend event providing Children's games
Collected mittens for needy children in St. Lawrence County
Hosted the College President's Annual Faculty & Staff Children's Holiday party
Volunteered and participated at the Annual Fall Early Childhood Conference at SUNY Canton
The Early Childhood Club received the President's Cup and Outstanding Club Award – we are proud of our involvement with children and families, on campus and in our community.
Membership:
Our club is open to all SUNY Canton students from all majors who want to make a difference in a child's life!
For more information on the Early Childhood Student Club, please contact Ms. Christina Martin, Early Childhood Instructor at martinc@canton.edu or 315-379-3868.