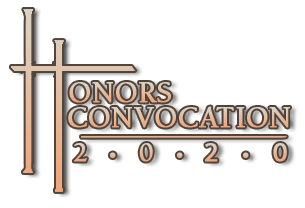 Honors Convocation 2020
Welcome to the virtual Daniel G. Fay Honors Convocation, the event that celebrates students with the top GPA in their major for each class year. More than 180 students representing SUNY Canton's 31 bachelor's degrees, 20 associate degrees, and 3 certificate programs received an award. Please click around, find your name, view the congratulatory messages, and download a copy of the program.
All of you exhibit the founding principles of SUNY Canton -- hard work and perseverance. In a climate full of uncertainty, the College community applauds your efforts to rise to the challenge everyday. Congratulations!
Recipients of Special Recognition
The David R. Maynard Student Activities Award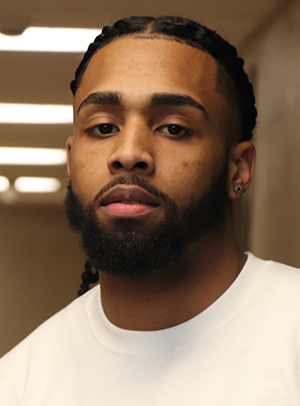 Michael E. White
Michael E. White is a Sports Management major who will be graduating this May. He is the budget director for the Student Government Association, Vice President of Brother 2 Brother and a member of Road 2 Riches in addition to his position as a Resident Assistant in Kennedy Hall. White previously received the Vice President for Student Affairs Leaders of Tomorrow Award. He was selected as a recipient for supporting many clubs and organizations and assisting with the planning and facilitation of numerous student events.
Richard W. Miller Excellence Award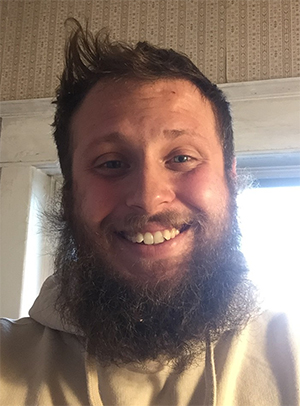 Damion Taylor
Damion Taylor is an Electrical Engineering Technology major in the class of 2021. Mr. Taylor is a 2012 graduate of Norwood-Norfolk Central School and a U.S. Army veteran who was honorably discharged in 2018. He said his time in the Army has made him more of a leader and built his confidence. Taylor noted that he's honored for being recognized and is proud to be a SUNY Canton student.
Academic Award Recipients
---

School of Business and Liberal Arts
Accounting
Shelbie E. Baldwin, 2020
Matthew S. Svarczkopf, 2021
Business Administration, AAS
Zachary LaFave, 2020
Adam Stanley Petric, 2020
Business Administration, AS
Jeffrey P. Baker, 2021
Tessa Richardson, 2020
Early Childhood
Abigale Fink, 2021
Sydney G. Shadle, 2020
Early Childhood Care & Management
Nerisa DeFreitas, 2021
Macy Marie Hutchins, 2020
Rosa E. Pierson, 2023
Donica Margaret Robinson, 2022
Liberal Arts: General Studies
Matthew Ford, 2021
Rhonda T. Jackson, 2020
Jonni Stuart, 2021
Agribusiness Management
Karly Rothvoss, 2021
Caroline Marie York, 2021
Applied Psychology
Sophia A. Harris, 2022
Hannah Rose Labrozzi, 2021
Lindsey M. Prye, 2020
Kiara Elizabeth White, 2023
Finance
Jordan Carr, 2020
Ashly M. Costello, 2020
Jeffrey Dollinger, 2020
Kevin Dorr, 2020
Matthew Charles McAnulty, 2020
Abigail Ruth Shearer, 2022
Health Care Management
Courtney Burgess, 2020
Barbara G. Circle, 2020
Lynsey Fowler, 2022
Lauren Frank, 2022
Catriona Rose Guthrie, 2021
Amanda Johnson, 2020
Shaina Olton, 2020
Sarah Roselli Ortiz, 2021
Rachel Mckenna Safrit, 2023
Diane M. Shearer, 2023
Yumi Sonenberg, 2021
Legal Studies, BS
Jerilyn Ashley, 2020
Kristine A. Furgison, 2023
Charlotte Huether, 2021
Jane M. Kibbe, 2020
Neishia M. Mitchell, 2020
Marjorie Murphy, 2020
Torrie Reisman, 2021
Matthew Alexander Riggs, 2022
Ayoka Smith, 2021
Management
Anthony Filoso, 2020
Reily Robert McIntosh, 2021
Technological Communications
Logan Coggins, 2020

Canino School of Engineering Technology
Electrical Construction and Maintenance
Garret W. Perry, 2020
Automotive Technology
Brenden C. Lauzon, 2021
Zachary L. Widrick, 2020
Civil Engineering Technology
Mark D. Antonik, 2023
Forest B. Hathaway, 2020
Sean Shepard, 2022
Joseph M. Werner, 2021
Computer Information Systems
Joshua F. D'Souza, 2020
Construction Technology: Management
Joseph Love, 2021
Cole Murray, 2021
Carson Smith, 2020
Electrical Engineering Technology, AAS
Damion Taylor, 2021
Peter A. Xanthaky, 2020
Engineering Science
Patrick Prince, 2020
Engineering Science 2+2
Trey R. Barnes, 2020
Conagher Buckmaster, 2021
Thomas M. Ventiquattro, 2021
HVAC Engineering Technology
Cole Piercey, 2020
HVAC Trades, AOS
Nathan A. Cota, 2021
Jacob Moore, 2020
Mechanical Engineering Technology, AAS
Bryan O'Hearon, 2020
Xaris Zotos, 2021
Civil & Environmental Engineering Technology
Mark D. Antonik, 2023
Forest B. Hathaway, 2020
Sean Shepard, 2022
Joseph M. Werner, 2021
Electrical Engineering Technology
Brendan Arthur, 2021
Jacob T. Bero, 2020
Caleb Bondy, 2023
Michael P. Remington, 2022
Game Design and Development
Kyle Stephen Chen, 2023
Joseph W. Dantuono, 2023
John J. Frick, 2023
Jaylen A. Glass, 2021
Giovonni C. Phillips, 2021
Dylan R. Santiago, 2022
Joseph Tordel, 2023
Graphic and Multimedia Design
Ornessa Brown, 2021
Thomas G. Contino, 2022
Alyssa R. Fisher, 2023
Forrest C. Vorolieff, 2020
Michael Wilson, 2022
Industrial Technology Management
Anthony Figueroa, 2022
Shane Moyer, 2021
Joseph Peppe, 2020
Information Technology
Dylan T. Bradley, 2023
Luis F. Estevez-Breton, 2021
Hannah M. Grant, 2022
Joshua G. Wakefield, 2020
Mechanical Engineering Technology
Andrew P. Fitch, 2021
Jonathan A. Luse, 2020
Andrew M. Ross, 2022
Chet S. Sourwine, 2023
Mechatronics Technology
Laura Clements, 2023
Nathan Rishe, 2022
Daniel S. Whitton, 2021
Sustainable Energy Technology
Alberto Morales, 2023
Jennifer Ward, 2020

School of Science, Health and Criminal Justice
Practical Nursing
Kari R. Frego, 2020
Criminal Justice
Verity J. Lewis, 2021
Rian P. McFadden, 2020
John D. Meyers, 2021
Individual Studies - Veterinary Science Tech
Jeramya Golden, 2021
Julian Ottalagano, 2021
Individual Studies - Veterinary Technology
Ariyana Brehm, 2021
Nursing
Emma Duffany, 2020
Jillian R. O'Brien, 2021
Physical Therapist Assistant
Sarah Anderson, 2021
Kyle R. Brown, 2021
Joshua L. Burtch, 2020
Breanna M. Hacia, 2021
Kahlan W. Liu, 2021
Rebecca M. MacDougall, 2021
Marie J. Singletary, 2021
Kelly Starliper, 2020
Sydney R. Thornhill, 2020
Anna Wiegandt, 2020
Veterinary Science Technology
Isabel S. Gonzalez, 2021
Claire Turcotte, 2020
Criminal Investigation
Jonah R. Black, 2023
Joie Culkin, 2023
Heather Daoust, 2022
Leah M. Kerensky, 2021
Kaitlyn R. McGlaun, 2020
Deanna M. Rosen, 2022
Cybersecurity
Joel Carbone, 2020
Brandon M. Ferrotta, 2022
Daniel Heverns, 2020
Jeremy D. McHatton, 2023
Jake Rabideau, 2023
Dental Hygiene
Jessica Cabreja, 2020
Emergency Management
Alison Ruth Bensley, 2020
Max Sanchez, 2021
Funeral Services Administration
Felicidad Christensen, 2022
Stacia G. Johnston, 2021
Isabella H. Wenslow, 2020
Health and Fitness Promotion
Melissa N. McMaster, 2020
Peyton E. Nadeau, 2021
Mackenzie K. Smith, 2023
Connor Tuttle, 2022
Homeland Security
Ty S. Cotter, 2022
Tristan M. Dibble, 2021
Cole Fountain, 2023
Eric J. Leroux, 2020
Law Enforcement Leadership
Cassidy Antwi, 2021
Joshua J. Baker, 2023
Christopher Chambers, 2021
Judith Giampietro, 2020
Tyler J. Hendrickson, 2022
Nursing, BS
Noel L. Bloomfield, 2021
Emma M Bortnick, 2023
Gabrielle Durant, 2023
Danielle A. Eggleston, 2023
Raquel Francis, 2023
Emma-Lee Frary, 2020
Molly R. Johnson, 2022
Tanner Lapiene, 2021
Caitlin Marks, 2020
Ruthanne M. Middlemiss, 2021
Brynn M. Nelson, 2023
Taylor E. Ridsdale, 2023
Jesica Stroud, 2021
Sports Management
Dylan T. Aumell, 2021
Michael Lashomb, 2022
Caeley Smith, 2023
Kain Wilder, 2020
Veterinary Service Administration
Morgan Rivers, 2021
Carly R. Voerg, 2020
Veterinary Technology
Emma S. Clark, 2023
Kayleigh M. Garrett, 2023
Alexis E. Grotto, 2021
Kayleigh P. Knoll, 2022
Melissa M. Mello, 2020
Abigail E. Savage, 2020
Jenna C. VanAllen, 2023
Alpha Phi Sigma

National Honor Society for Students in Criminal Justice
---
Isabel Abrams
Courtney Allen
Brianna Augustus
Tyler Bowman
Kaitlyn Daniels
Bryan Davis
Jessica Davis
Martino Delgado
Kaitlyn Doud
Megan Frasier
Roy Gilmour
S'Nya Glover
Mariah Greenman
Sierra Halstead
Leigha Haskins
Lauren Hawley
Christopher Hojensky
Morgan Hoolahan
Griffin Hughes
Mellissa Klein
Alicia Latini
Hannah Lawrence
Eric Leroux
Kaitlyn McGlaun
John McGrath
John McGrew
Danae Medina
Nicholas Miller
Christian O'Hora
Brandon Osborne
Hser Paw
Kylei Pena
Quentin Powers
Katherine Quane
Ernesto Chen Qui
Paige Richardson
Lee Rider
Molly Sammon
Megan Sleeth
Jessica Stettner
Kyleigh Storrs
Taylor Typhair
Taylor VanBrocklin
Jamie Vogt
Nichole Ward
Lauren Williams
Chi Alpha Epsilon

National Honor Society for Students in Academic Development Programs
---
Tyriq Barnes
Austin Brault
Emily Caplette
Jamie Carey
Amber Curtis
Nicole Flores
Thomas Guilfoil
Sydney Hamilton
Kyann Jemmott
Abdelmajid Mahamadabdallah
Melinda Orologio
Virginia Surdez
Golden Key

International Honour Society for Students Enrolled in a Baccalaureate Program
---
Denielle Avery
Dasha Beauvais
Ornessa Brown
Victoria Bulson
Rebecca Camerlingo
Nerisa DeFreitas
Patrick Dubuque
Nicole Ferch
Andrew Fitch
Lisa Ford
Catriona Guthrie
Tyler Hendrickson
Jarod Kessler
Brian Kguloian
Scott Kimble
Jonathan Luse
Brandi Magney
Nickolas Owens
Nathan Rishe
Sarah Roselli-Ortiz
Molly Sammon
Abigail Shearer
Joseph Werner
Strawberry Wilcox
Honors Program

Students who have taken one or more Honors courses
---
Israel Akande
Carter Aldridge
Nislei Alvarado
Trey Barnes
Amanda Bird
Erik Bondgren
Tyler Bowman
Lexy Burcume
Teresa Burnor
Jessica Cabreja
Isaiah Canty
William Cerne
Kyle Chen
Schuyler Claes
Emma Clark
Kimberly Collins
Skylar Crespo
Joie Culkin
Thomas Cunningham
James Cyr
Danielle Eggleston
Elian Erickson
Tobenna Erike
Caitlin Foley
Raquel Francis
Leigha Haskins
Adrianna Holmes
Lorianna Johnson
Truman Jones
Kayleigh Knoll
Timothy Lashomb
Kelsey Lyga
Desire Manning
Emily Matthew
Lily-Anne Mauzy
Allyssa McDonald-Hess
Maelea Mercado
Alexis Metott
Alyssa Mt. Pleasant
Peyton Nadeau
Amanda Nahar
Victoria Nguyen
Hannah Nicholas
Faith Nimons
Brent Nolan
Sara O'Duffy
Emily Oeser
Patrick Prince
Zane Rauschmeier
Jazmine Reynolds
Taylor Ridsdale
Matthew Riggs
Nathan Rishe
Shelby Roberts
Rachel Safrit
Dylan Salica
Chet Sourwine
Mycah Stuckey
Selena Tasli
Samuel Thorne
Madison Timothy
Lauren Truesdell
Kaitlyn Trusty
Jenna VanAllen
Thomas Ventiquattro
Jamie Vogt
Hannah Weller
Isabella Wenslow
Nathanael Whyte
Michael Wilson
Andrew Woodard
Katherine Zapotocki
Edward Zellar
Xaris Zotos
Phi Theta Kappa

International Honor Society for Students at Two-Year Colleges
---
Shelbie E. Baldwin
Sarah K. Bartlett
KayTe Beardsley
Kayla Bentz
Emily Berrios
Michael R. Bucholtz
Jessica Cabreja
Jamie Lee Carey
Sidei Clouden
Nicole Clough
Amanda M. Dahl
Kaitlyn Daniels
Brittany A. Davidson
Jeffrey Dollinger
Sara Mae Durham
Cheyenne Earlywine
Raigen E. Ehly
Taylor Ann Ellis
Andrew P. Fitch
Emma-Lee Frary
Steven Gall
Thomas Guilfoil
Logan C. Gushea
Melissa Huddleston
Grace M. King
Caprice Ladue
Brandy L. LaPorte
Erica Jean Mallette
Reily R. McIntosh
Paige Monacelli
Joshua Monplaisir
Emily Murdock
Rachel M. Paugh
Cody A. Peets
Alexandra Pesold
Haley L. Purdy
Jazmine Reynolds
Paige Richardson
Jaziah D. Richie-Henriquez
Christina M. Saraiva
Griffin P. Savard
Grace C. Smith
Matthew P. Snodgrass
Isabela De Vasconcelos Spelta
John M. Vasquez
Tina M. Vassar
Andrea M. Wrobel
Tau Alpha Pi

National Honor Society for Students in Engineering Technologies
---
Johnathan Andre
Dante Coco
Steven Gall
Jerome Joseph
Kimberly Collins
Garrett Fields
Jeanna Manning
Matthew Schifani
Isabela Spelta
Joshua Wakefield
Andrew Woodard
Tau Phi Zeta

First National Honor Society for Students in Veterinary Science
---
Linda J. Barron
Debora Bartosova
Sierra Bell
Rebecca J. Bernier
Dallas Blair
Alexis M. Borst
Jacqueline J. Brouty
Bridget E. Carta
Dharma Chevalier


Schuyler Claes
Amanda M. Dahl
Kortni Derouin
Kyra R. Flynn
Kimberly George
Alexis E. Grotto
Dan L. Holsopple
Kyann L. Jemmott


Aburey N. Kidder
Jessica L. Knapp
Chelsea Major
Lynsey Marcella
Melissa M Mello
Saige M. Papariello
Abigail E. Savage
Claire Turcotte