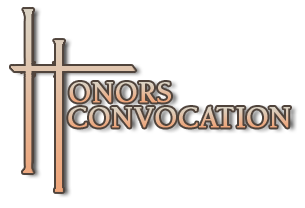 Honors Convocation 2021
Welcome to the virtual Brian Washburn Honors Convocation, the event that celebrates students with the top GPA in their major for each class year. More than 180 students representing SUNY Canton's 31 bachelor's degrees, 20 associate degrees, and 3 certificate programs received an award. Please click around, find your name, view the congratulatory messages, and download a copy of the program.
All of you exhibit the founding principles of SUNY Canton -- hard work and perseverance. In a climate full of uncertainty, the College community applauds your efforts to rise to the challenge everyday. Congratulations!
Recipients of Special Recognition
The David R. Maynard Student Activities Award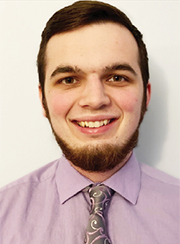 Benjamin E. Muckey
Benjamin E. Muckey is a Law Enforcement Leadership major from Oswego, NY. Benjamin is an active member of several campus organizations, including the Criminal Justice Student Association, Environmental Change Organization, Campus Ministry, Residence Hall Judicial Hearing Board, and Outdoor Adventures Club. Beyond this, Benjamin worked as a student dispatcher for University Police and was a member of the Canton Town & Village Sustainability Committee. During his tenure at Canton, Benjamin has been an incredibly engaged member of the campus community, all while working full-time and enrolled at both SUNY Canton and SUNY Albany. Benjamin is a leader in his academic program and in the clubs he helps helm, and is well-respected by his peers and faculty alike.
After he graduates this May, Benjamin plans to continue working on his master's degree as he is currently enrolled in the 4+1 combined program at University at Albany.
Richard W. Miller Excellence Award
George R. Cornell
George Cornell is a student in Electrical Engineering Technology Bachelor's Degree program at the State University of New York at Canton. He comes from Lowville, New York State. George is a very serious engineering technology student, and he is one of the best first year students in Electrical Engineering Technology program. George holds an Electrical Technology Certificate from Howard G. Sackett Technical Center, Glenfield, New York, and he is a member of the Institute of Electrical and Electronics Engineers (IEEE) student branch at SUNY Canton. George participates in all IEEE activities on campus, and he is very respectful and always willing to share his knowledge and help other students on assignments and laboratory projects. George is expected to graduate in 2024.
Academic Award Recipients
---

School of Business and Liberal Arts
Accounting
Keeley Grizzuto, 2021
Kamren LeBire, 2024
Business Administration, AAS
Matthew Headland, 2021
Filip Carl Henrik Schlyter, 2024
Business Administration, AS
Ashante Nashay Jama, 2024
Early Childhood
Laura K. Brown, 2024
Abigale Fink, 2021
Liberal Arts: General Studies
Gracyn J. Emmerton, 2024
Agribusiness Management
Gennifer Boyer, 2024
Patrick John Kenneth Dubuque, 2022
Karly Rothvoss, 2021
Applied Psychology
Zaida Lee Bello, 2024
Sherry M. Harmer, 2024
Audrey M. Martin, 2024
Lindsay McCarty, 2023
Livia R. Shaver, 2024
Brittany Streeter, 2022
Hannah Elizabeth White, 2023
Early Childhood Care & Management
Sydney Hamilton, 2021
Fatima A. Hassad-Khan, 2024
Emily R. McGregor, 2023
Donica Margaret Robinson, 2022
Esports Management
Joseph Wayne Dantuono, 2022
Ozzy Silva, 2024
Finance
Allie Marie Arpino, 2022
Adam Patrick Burney, 2021
Jordan Carr, 2022
Ashly M. Costello, 2021
Conner M. Flynn, 2024
Abigail Hendrick, 2024
Matthew Meader, 2022
Abigail Ruth Shearer, 2022
Fahmida Tafader, 2024
Megan Woodard, 2024
Health Care Management
Krystle Burgos, 2024
Nicole Chiu, 2022
Daniel Dunn, 2024
Sara Alicia Gorbea, 2024
Charles King, 2021
Maurice Love, 2024
Eleanor Ja'Lena Manuel, 2024
Elisheva Monczyk, 2024
Hunter Colin Moran, 2024
Madison Phillips, 2021
Christina Michelle Rogers, 2024
Sarah Roselli Ortiz, 2021
Irina Khikmatovna Safarova, 2024
Diane M. Shearer, 2023
Hannah Sabrina Yagudina, 2024
Legal Studies
Claudia Diana Benitez, 2024
Kareem J. Dawkins, 2024
Kristine A. Furgison, 2023
Olivia Margaret Guthrie, 2024
Angela Hanley, 2024
Charlotte Huether, 2021
Amy C. Lewis, 2024
Kaitlyn M. Manley Smith, 2024
Marissa Alissa Martinez, 2024
Neisha M. Mitchell, 2021
Anthony Pensabene, 2024
Ayoka Smith, 2022
Jessica Marie Vickers, 2024
Samantha Clara Woolford, 2024
Management
Zachary LaFave, 2022
Alexis M Metott, 2023
Adam Stanley Petric, 2021
Brittany Pierce, 2024
Technological Communications
Eban Estevez, 2023
Brian Knowles, 2022

Canino School of Engineering Technology
Electrical Construction and Maintenance
Sebastian Rhys Narvaez, 2021
Automotive Technology
Keyan Lee Deom, 2023
Brenden Charles Lauzon, 2021
Civil Engineering Technology
Sebastien Paquette, 2022
Lucas Roy, 2022
Computer Information Systems
Josh D. Miller, 2021
Construction Technology: Management
Joseph Love, 2021
Cole Murray, 2022
Electrical Engineering Technology, AAS
Erik D. Hull, 2023
Riley Tucker, 2021
Engineering Science 2+2
Conagher Buckmaster, 2021
Christian Storm Kingsbury, 2022
HVAC Engineering Technology
Justin LaRue, 2022
HVAC Trades, AOS
Nathan Andrew Cota, 2022
Ian F. Tuthill, 2022
Mechanical Engineering Technology, AAS
Xaris Zotos, 2021
Civil & Environmental Engineering Technology
Mark D. Antonik, 2023
Dyllon Bougor, 2023
Jad Mike Karroum, 2024
Joseph M. Werner, 2021
Electrical Engineering Technology
Caleb Bondy, 2023
Aaron Mejia, 2024
Michael Peter Remington, 2022
Ansen Charles Weegar, 2024
Peter Alex Xanthaky, 2021
Game Design and Development
Ismail M. Abdelmegied, 2024
Sebastian E. Boyer, 2024
Eric Ruimin Chen, 2024
Kyle Stephen Chen, 2023
John J. Frick, 2023
Tobias N. Hall, 2024
Liam T. Szabo, 2023
Trent T. Yourdon, 2024
Graphic and Multimedia Design
Charlotte Baldwin, 2024
Darcel Downing, 2023
Jonathan Christian Oakes, 2024
Mary Schneider, 2022
Michael Wilson, 2021
Industrial Technology Management
Anthony Figueroa, 2022
Shane Moyer, 2023
Information Technology
Dylan T. Bradley, 2023
Joshua Francis D'Souza, 2023
Hannah M. Grant, 2022
Jayden Kench, 2024
Mechanical Engineering Technology
Andrew P. Fitch, 2021
Bryan O'Hearon, 2022
Mason R. Spink, 2024
Nathan R. Spooner, 2024
Mechatronics Technology
Calista J. Fraser, 2024
Matthew T. Passaretti, 2023
Daniel S. Whitton, 2021
Sustainable Energy Technology
Emanuel Victor Garcia-Nyers, 2023
Billie Rivenburgh, 2021

School of Science, Health and Criminal Justice
Practical Nursing
Shanelle Anna Jean Borth, 2021
Jocelyne F. Lovely, 2021
Criminal Justice
Timothy Patrick Hillanbrand, 2022
Ty Reed, 2022
Individual Studies
Rachel E. Bango, 2022
Caitlin Foley, 2022
Roslyn M. McClatchie, 2022
Nursing, AAS
Eric H. Alan, 2022
Jillian Rose O'Brien, 2023
Physical Therapist Assistant
Sarah Anderson, 2022
Noah A. Felix, 2022
Breanna M. Hacia, 2021
Kahlan W. Liu, 2023
Veterinary Science Technology
Hailley L. Hawk, 2021
Elizabeth C. Nichols, 2020
Crime Analysis
Monica R. Gleberman, 2022
Matthew John Strachen, 2022
Criminal Investigation
Joshua J. Baker, 2023
Abigail Paige Culbertson, 2022
Heather Daoust, 2021
Leah M. Kerensky, 2021
Jospeh Douglas Mastro, 2024
Jaida Montague, 2024
Shauna Lorraine Parkinson, 2021
Deanna M. Rosen, 2022
Cybersecurity
Joel Carbone, 2021
Jeremy D. McHatton, 2023
Jake Rabideau, 2023
Jack Logan Wuertzer, 2024
Emergency Management
Jessica Gilmour, 2023
Cynthia Elaine Love, 2021
Michael Monaghan, 2022
Forensic Criminology
Jonah R. Black, 2022
Joie Culkin, 2022
Heather Lee Howe, 2021
Funeral Services Administration
Felicidad Christensen, 2021
Raquel A. Martinez, 2022
Miranda J. Mejia, 2024
Health and Fitness Promotion
Sirena Sofia Alvarez, 2023
Michael B. Riley, 2024
Kelly Starliper, 2021
Callee Lynn Zulauf, 2022
Homeland Security
Tristan M. Dibble, 2021
Cole Fountain, 2023
Kieran C. Gibson, 2022
Adam A. Szlamczynski, 2024
Daniel Wargo, 2022
Law Enforcement Leadership
Ashlyn L. Calabrese, 2022
Ghrady Curtis Havens, 2024
Nickolas B. Owens, 2022
Noah Weiderman, 2021
Nathan Welch, 2023
Nursing, BS
Courtney Elizabeth Baker, 2024
Bailey A. Benware, 2024
Emma M. Bortnick, 2023
Alison E. Brant, 2022
Morgan Sage Burt, 2024
Paige M. Carbino, 2024
Ian Michael Frederick, 2022
Nicole Humphries, 2022
Ruthanne M. Middlemiss, 2021
Marcella J. Perry, 2024
Lacey S. Peters, 2021
Carlena Elizabeth Barbara Wright, 2024
Marley Yerdon, 2024
Makayla A. Young, 2024
Sports Management
Jaden L. Ault, 2022
Zach A. Denesha, 2024
Jordan I. Knapp, 2022
Michael Lashomb, 2021
Veterinary Service Administration
Taylor Calhoun, 2021
Gianna Hoti, 2022
Veterinary Technology
Emma S. Clark, 2022
Kayleigh M. Garrett, 2022
Kristina Marie Hartung, 2021
Abigail E. Holmes, 2024
Julian Ottalagano, 2023
Jenna C. VanAllen, 2022
Alpha Phi Sigma

National Honor Society for Students in Criminal Justice
---
Courtney Allen
Nislei N. Alvarado
Cassidy Antwi
Lindsey Bradley
Jayda Buckley
Jasmine Carr
Liam Cavanaugh
Ernesto Chen
Jade Coffey
Abigail P. Culbertson
Kaitlyn Daniels
Heather Daoust
S'Nya R. Glover
Lauren Hawley
Adam J. Henn
Morgan L. Hoolahan
Griffin J. Hughes
Leah M. Kerensky
Ashley L. Kingsbury
Dazia Laws
Eric J. Leroux
Kelsey Lyga
John P. McGrath
Christopher R. McVannan
Brandon Montroy
Shauna L. Parkinson
Kylei Pena
Leslie A. Perri
Katherine Quane
Morgan D. Rodriguez
Teresa Scarduzio
Megan Sleeth
Mycah I. Stuckey
Joanne Sullivan
Matthew S. Svarczkopf
Strawberry Wilcox
Golden Key

International Honour Society for Students Enrolled in a Baccalaureate Program
---
Denielle Avery
Dasha Beauvais
Ornessa Brown
Victoria Bulson
Rebecca Camerlingo
Nerisa DeFreitas
Patrick Dubuque
Nicole Ferch
Andrew Fitch
Lisa Ford
Catriona Guthrie
Tyler Hendrickson
Jarod Kessler
Brian Kguloian
Scott Kimble
Jonathan Luse
Brandi Magney
Nickolas Owens
Nathan Rishe
Sarah Roselli-Ortiz
Molly Sammon
Abigail Shearer
Joseph Werner
Strawberry Wilcox
Honors Program

Students who have taken one or more Honors courses
---
Israel Akande
Carter Aldridge
Nislei Alvarado
Isaak Babaev
Amanda Bird
Jonah Black
Erik Bondgren
Lexy Burcume
Isaiah Canty
William Cerne
Kyle Chen
Schuyler Claes
Emma Clark
Chloe Combs
Skylar Crespo
Joie Culkin
Thomas Cunningham
James Cyr
Danielle Eggleston
Elian Erickson
Tobenna Erike
Caitlin Foley
Raquel Francis
Monica Gleberman
Gabrielle Gyampoh
Adrianna Holmes
Jordan Knapp
Kayleigh Knoll
Kelsey Lyga
Emily Matthew
Lily-Anne Mauzy
Alexis Metott
Allyssa Mt. Pleasant
Peyton Nadeau
Victoria Nguyen
Hannah Nicholas
Faith Nimons
Brent Nolan
Sara O'Duffy
Zane Rauschmeier
Jazmine Reynolds
Taylor Ridsdale
Matthew Riggs
Shelby Roberts
Rachel Safrit
Chet Sourwine
Mycah Stuckey
Fahmida Tafader
Selena Tasli
Madison Timothy
Kaitlyn Trusty
Jenna VanAllen
Thomas Ventiquattro
Hannah Weller
Isabella Wenslow
Daniel Whitton
Nathanael Whyte
Michael Wilson
Andrew Woodard
Katherine Zapotocki
Edward Zellar
Xaris Zotos
Tau Alpha Pi

National Honor Society for Students in Engineering Technologies
---
Andrew Fitch
Thomas Guilfoil


Andrey Shafranov
Andrew Woodard
Tau Phi Zeta

First National Honor Society for Students in Veterinary Science
---
Rebecca J. Bernier
Patricia Ann Breen
Dharma Chevalier
Kyra R. Flynn
Isabel Serenity Gonzalez
Alexis E. Grotto
Darniesha Hall
Kristina Marie Hartung
Hailley L. Hawk
Danielle N. Holsopple
Kyann L. Jemmott
Kayleigh Patricia Knoll
Grace Elizabeth Lyon
Saige Papariello
Meghan Phillips
Hannah Shippee
Madison Pelhan Skopeck
Natalia Wallace