Home > Advising Center > Path to Completion
Path to Completion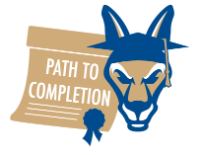 We know that there are many reasons why a student might not finish a degree. We are committed to assisting students who have finished more than half of their SUNY CANTON degree requirements but for whatever reason dropped out of college.
We can help you formulate a comprehensive plan to help you to complete your SUNY Canton degree. Let us help you!
If you would like to explore the possibility of completing your degree, please, contact us using the Path to Completion Contact Form. One of our Advisors will contact you shortly.
If you are currently enrolled at SUNY Canton and have questions about your degree requirements contact your Faulty advisor. This program is for students who have not been enrolled for 2 or more semesters.
Do you have unpaid student loans from a degree you did not complete? It might actually be in your best interest to come back to complete that degree because you are much more likely to be able to pay off your student loans if you have a good job, and you are much more likely to be able to get a good job if you have a degree.
Times Union: 1 in 5 SUNY dropouts are re-enrolling thanks to new program
We will help you work with Financial Aid to come up with a plan for how you will be able to pay for your tuition. We can work with you to find less-expensive options for your textbooks. In some cases, you may be able to take coursework at a community college which has the potential to save you some money.
You might be able to complete your degree by attending classes in part-time. We have classes in both face-to-face and online formats. Some degrees can be completed entirely online.
There are also a variety of alternate methods of earning credits that we can explore. You may be able to earn college credit via CLEP testing, Credit for Life Experience, etc.
You may be able to transfer classes BACK TO SUNY Canton; this is called back-transfer. If you are looking to take a course at another institution to be back-transferred to SUNY Canton, you can even get pre-approval so that you can be sure that a class you sign up for WILL count toward your SUNY Canton Degree. Our Advisors can help you navigate this process.
SUNY Canton and SUNY ONLINE offer a wide variety of courses, some of which might be appropriate for your degree. We will work with you to make sure you are taking the correct coursework to apply to your degree requirements.
We are happy to explore alternate degree plans with you. We can help you to figure out how your credits will apply to a different degree and come up with a list of requirements to complete so that you will know exactly what you need to do to finish.
If you are looking to reapply to SUNY Canton, please contact Admissions.
Path to Completion Grant
SUNY Canton is proud to acknowledge the diligence and dedication of students to their studies by providing scholarships to help ease the financial burden of continuing their education. SUNY Canton scholarships open the doors to an education for determined students from various backgrounds. The Path for Completion Grant is designed for non-traditional students, who have been out of college for a period of time, and have an interest in completing a degree, but are experiencing a financial hardship.We encourage you to complete the General Scholarship application, available at canton.academicworks.com, to automatically match you with scholarships that you qualify for. Please note that you must be accepted to SUNY Canton prior to applying for scholarships, as you will be asked to provide your SUNY Canton ID Number, in addition to having already set up your SUNY Canton email account. Please view the Scholarship Instructions for more details.
If you have any questions, in regards to completing the scholarship application, please contact the Scholarship Coordinator, Mary Jo James, at scholarship@canton.edu, or 315-386-7616.