Military Friendly
Veterans, Military, and Families
As one of the premier military friendly Colleges in New York State, SUNY Canton offers many excellent opportunities for soldiers, veterans, and their families.
Military personnel are attracted to the College's career-driven bachelor's or associate degrees.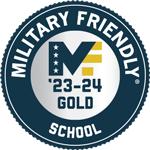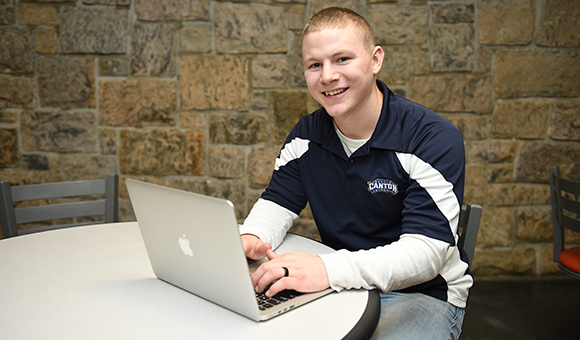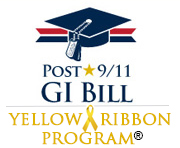 SUNY Canton's programs are offered in a variety of flexible formats to accommodate almost anyone's schedule, including online courses through SUNY Canton OnLine. Military personnel have enrolled from all over the world, including Iraq and Afghanistan.
Academic Credit for Military Experience and Prior Education
Service members may be eligible to receive college credits for military learning experiences based on an approved list of course equivalencies from the American Council on Education.
In order to have your military transcripts evaluated, please utilize the JOINT SERVICE TRANSCRIPT (Army, Coast Guard, Marine Corps & Navy) or CCAF Transcript (Air Force) and have your transcripts sent to the SUNY Canton Admissions office.
Other possibilities include:
Prior college credit transfer equivalencies
CLEP and credit by SUNY Canton Proficiency Exams
Prior Learning/Life Experience Credit
For more information regarding life experience credit, please contact SUNY Canton Office of Admissions at 315-386-7123.
Veterans Association
The Veterans Association aims to assist veterans in any way possible both on campus and in the local community. This group is open to veterans from all generations and branches of service and is open to community members. For more information, contact Patrick Massaro, massarop@canton.edu.
Military Programs
Concurrent Admissions Program (CON AP)
The Concurrent Admissions Program (ConAP) is a partnership between the Army Recruiting Command and over 1,900 participating colleges to mutually advance the goals of lifelong learning and post-secondary education for Future Soldiers. Concurrent with their enlistment in the Army, new soldiers are encouraged to apply for admission to SUNY Canton. Upon meeting satisfactory criteria for full or provisional admission, the soldier will be allowed to defer admission until completion of military service.
After completing a two-, three-, or four-year enlistment, the new veteran will be encouraged to enroll at SUNY Canton. This program also applies to soldiers enlisting in the Army Reserve.
Those interested in the CON AP program are encouraged to contact the SUNY Canton Coordinator of Veterans and Military Services.
Air Force Reserve Officer Training Corps (AFROTC)
Aerospace Studies
The Air Force Reserve Officer Training Corps (AFROTC) at Clarkson University, Potsdam, is offered to SUNY Canton students who can enroll through a cross registration agreement. This program allows students to accomplish their military officer training while concurrently satisfying undergraduate requirements, resulting in a commission as a second lieutenant in the United States Air Force or United States Space Force upon graduation. Any student who has a minimum of three years left towards their baccalaureate degree, is of good moral character, is a U.S. citizen, and meets academic and physical requirements is eligible to participate with no obligation until their junior year, or if on scholarship, their sophomore year. Students who wish to take aerospace studies classes without a military service commitment are welcome to do so in a "non-cadet" status. Any student may enroll in aerospace studies courses in the same manner as other college courses. For more information, call 315-268-7989 or visit the Clarkson Air Force ROTC website.
The Three or Four-Year Program
Students may enroll in AFROTC as freshmen in either the Fall or Spring terms, or as sophomores in the Fall term. A student who enrolls as a sophomore simply doubles up on AS 100 and AS 200 classes, each a one hour a week class. All students participate in a Leadership Lab once a week along with two one-hour physical training sessions a week. The curriculum includes orientation to the military environment, USAF history, leadership and management development, international studies, problem-solving techniques, communication skills, and much more. There is no military obligation for the first two years of AFROTC unless the student has an AFROTC scholarship. After completion of the first two years, known as the general military course (GMC), the student may compete for the professional officer course (POC) during the last two years of AFROTC. If accepted, the student attends a four-week field training encampment during the summer between the sophomore and junior years before entering the POC.
Scholarships
There are numerous merit-based scholarship opportunities offered to eligible students in any major. Amounts range from $7,000-full tuition per year, $900 textbook allowance per year, and a tax-free monthly stipend of $300-$500 depending on academic year. Scholarships may be awarded on a 2-3.5 year basis to students who are fully qualified and enrolled in the AFROTC program. A student does not have to be on scholarship to compete for a POC allocation.
For more information, contact the Air Force ROTC Admissions Officer at (315) 268-7989 or det536af@canton.edu.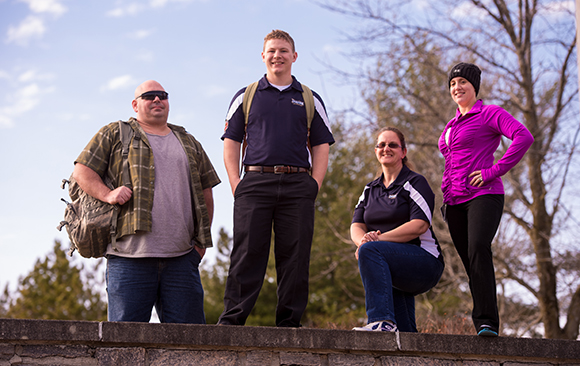 Army Reserve Officer Training Corps (AROTC)
Military Science
The Clarkson University Army Reserve Officers Training Corps (AROTC) is available to SUNY Canton students through cross-registration and teaches military subjects, leadership skills and physical fitness. The goal of the department is to develop individual leadership and managerial ability while preparing young adults to become leader
s in the U.S. Army. Along with classroom instruction, weekly hands on training and morning workouts the program also offer many extracurricular opportunities like intramural sports, community service, and color guard. Qualified students have an opportunity to attend Army training such as Army Airborne School, Air Assault School and Army internships. AROTC allows students maximum flexibility to include ROTC in their various course of study.
Veterans
The ROTC course is normally a prerequisite for the Advanced Course; however, prior service personnel or members of the Reserve Forces who have completed basic training may enroll in the Advanced Course as juniors as long as they have two years of school remaining.
Basic Camp
Other interested students may qualify for basic course credit by attending a 35 day Basic Camp. At Basic Camp students learn the basic knowledge of the first two years of AROTC in a high paced, challenging environment. Students applying through this route normally attend Basic Camp between the sophomore and junior years. This program is available to students who have at least two academic years remaining in their degree program.
Advanced Course
(Junior and Senior Years)
The Advanced Course places increased emphasis on tactical, technical and leadership skills to prepare students for position of responsibility at a four-week Advance Training Camp, normally held the summer between the junior and senior years. This culminating training event evaluates the leadership potential and helps rank the Cadets. The final year is spent on topics in military officership, and gives the students the opportunity to plan and execute the programs training, while coaching and mentoring the underclassmen in preparation for their positions as Second Lieutenants when they graduate.
Scholarships
The US Army ROTC programs has two-year and three-year scholarships available to qualified students. They are awarded based on merit and academic potential, not on need. Students can compete for three-year scholarships during their freshman year and two-year scholarships during their sophomore year or a Basic Camp. For more information, contact the enrollment officer at 315-268-7695 or armyrotc@canton.edu or visit the Clarkson US Army ROTC webpage.