Home > College Association > Campus Store
Campus Center Store
The Campus Center Store, located on the first floor of the Richard W. Miller Campus Center, proudly serves students, faculty, staff, and visitors to SUNY Canton by offering a wide selection of top-quality merchandise, school supplies, convenience items, spirit apparel, giftware, local products and electronics. We also partner with eCampus.com, an online textbook store offering new, used, rental and ebooks. In addition, the campus store provides student mail services.
The Campus Store is open Monday – Friday from 8:00 AM – 4:30 PM. Our online apparel stores are open 24/7 for your shopping convenience.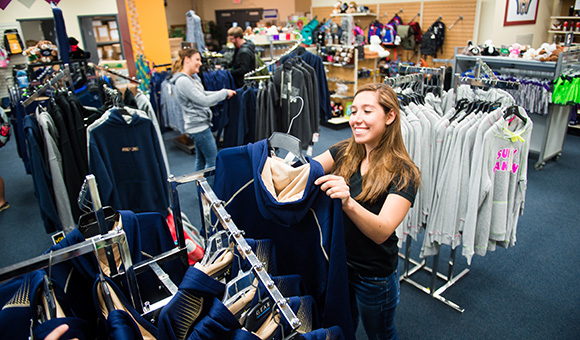 Spirit Shop / SUNY Canton Apparel & Giftware
We proudly offer a wide variety of SUNY Canton, giftware, glassware, and specialty branded curriculum and athletic apparel from brands, including Nike, Under Armour, Champion, League, and many more!
The main Campus Store online Spirit Shop features a wide variety of SUNY Canton apparel, accessories, and giftware
Express & Convenience Store
The Express section in the Campus Store is a convenient location to purchase snacks, hot/cold beverages, dairy products, frozen food, canned goods, and health and beauty products. Students can also purchase room supplies and decorations, including posters, rugs, sheets, pillows, towels and fans. Students living in apartments may purchase small kitchen appliances, cleaners, and other household items.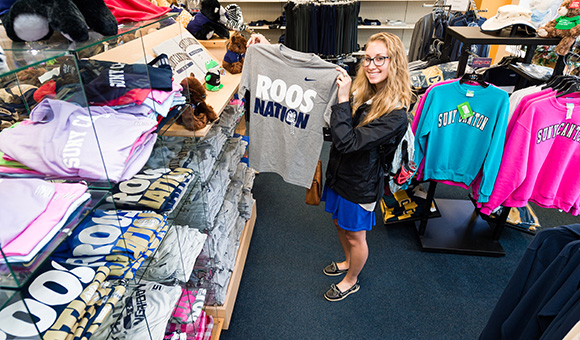 Academic Supplies & Electronics
The Campus store features a variety of academic and electronics to keep you well connected and in support of your coursework needs.
Course supplies, school supplies, academic planners, calculators, and patches
Backpacks and bookbags by Under Armour
Technology products - Special order computers, computer accessories, and headphones
Gaming systems, accessories, TVs, and more
College Association, Inc.
34 Cornell Drive
Canton, NY 13617

Administration: 315-386-7623
CA Student Support/Meal Plans: 315-386-7624
ID Cards: 315-386-7506
Business Services: 315-386-7210
Chaney Dining Center: 315-386-7634
Campus Center Store: 315-386-7319
Campus Center Store Hours:
Mon - Fri: 8 am - 4:30 pm

Student Mailroom Hours:
Mon - Fri: 10 am - 4 pm

First Floor Miller Campus Center
Phone: 315-386-7319
Fax: 315-386-7942