Home > College Association > Campus Store
Campus Center Store
The Campus Center Store, located on the first floor of the Richard W. Miller Campus Center, proudly serves students, faculty, staff, and visitors to SUNY Canton by offering a wide selection of top quality merchandise. Stop in and browse today or check us out online!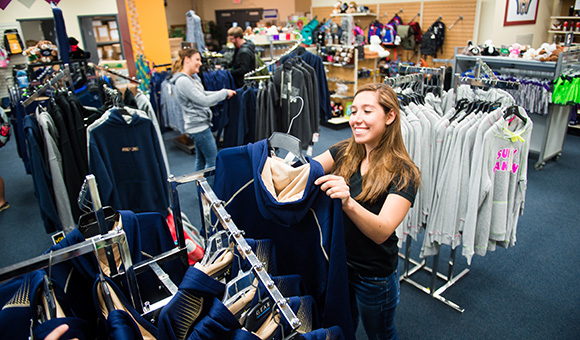 Gift Cards
Clothing by popular manufacturers such as Nike, Under Armour, and Champion
Backpacks and bookbags by Under Armour
Course supplies, school supplies, academic planners, calculators, and patches
Pottery, glassware, water bottles, and travel mugs
Check out our TY and Yankee Candles selections!
Convenient mart items - hot and cold beverages, dairy products, frozen food, canned goods, snacks, health and beauty products
Greeting cards, wrapping paper, and gift bags
Board and card games
Resident room supplies such as posters, rugs, sheets, pillows, towels, fans, and small kitchen appliances
Tech items - Special order Dell computers, computer accessories, headphones, gaming systems, games and accessories, TVs, and more!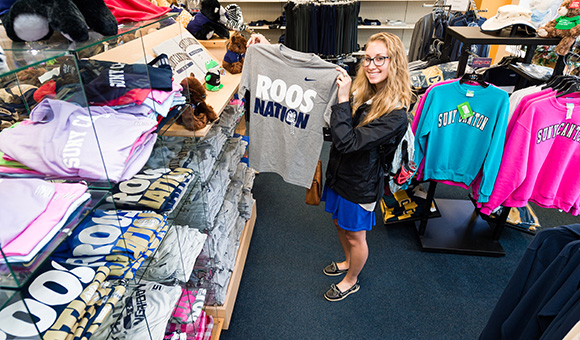 Student Mailroom Updates
Mailroom keys will be distributed to all residential students in a welcome packet when you check in to the dorms.
All packages will be processed and an email will be sent to the recipient when it is ready to be picked up.
Remember your mailbox key to check your mail.
Please be sure to return your mailbox key at the end of the academic year (May) or if you leave SUNY Canton as a student before the end of the academic year.
Textbook Purchasing Updates
eCampus has taken over all textbook ordering. To place an order, go to https://canton.ecampus.com
All orders will be shipped. You have the option to have them sent to your home address or you may request for them to be sent to campus to be picked up at your convenience. If your textbooks are mailed to the Campus Mailroom, please wait for an email letting you know when they are ready to be picked up.
Roo Express, credit and debit cards and third-party book accounts are accepted as form of payment.
All questions about textbook orders should be directed to:
eCampus email: bookstore@ecampus.com
Phone: (859) 209-6958
Monday to Friday: 8:30 am to 6:00 pm EST
Saturday and Sunday: 9:00 am to 5:00 pm EST (chat and email only)
College Association, Inc.
34 Cornell Drive
Canton, NY 13617

Administration: 315-386-7623
CA Student Support/Meal Plans: 315-386-7624
ID Cards/SGA Deposits & Accounting: 315-386-7210
Chaney Dining Center: 315-386-7634
Campus Center Store: 315-386-7319
Campus Center Store Hours:
Mon - Fri: 8 am - 4:30 pm

Student Mailroom Hours:
Mon - Fri: 10 am - 4 pm

First Floor Miller Campus Center
Phone: 315-386-7319
Fax: 315-386-7942