SUNY Canton Small Business Development Center
As a business grows, new challenges and goals constantly arise. The New York State Small Business Development Center can help business owners meet those challenges and goals. Whether you are just starting out or you've been in business for years, the SBDC can help build your business . . . one step at a time.
The SBDC offers free direct counseling and a wide range of management and technical assistance services. We can help start-ups develop a business plan, assist existing businesses prepare to expand, or offer resources for industry-specific topics.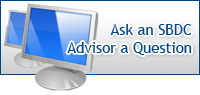 Please be advised that we are located at SUNY Canton in Payson Hall 107. Please stop in and visit should you be in the area!
Partnership Program with the SBA, administered by the State University of New York. Funded in part through a Cooperative Agreement with the U.S. Small Business Administration. All opinions, conclusions or recommendations expressed are those of the author(s) and do not necessarily reflect the views of the SBA. All SBA funded programs are extended to the public on a nondiscriminatory basis.
Dale Rice, Director
SUNY Canton SBDC
Payson Hall 107
Canton, NY 13617

Phone: 315-386-7312
FAX: 315-379-3814
sbdc@canton.edu