Home > President
President Zvi Szafran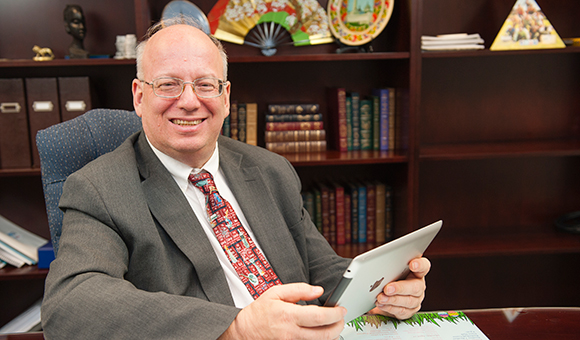 A Welcome Message from President Zvi Szafran
On behalf of our entire community, welcome to SUNY Canton! If this is your first time visiting our web site, I invite you to explore all that we have to offer.
Founded in 1906, SUNY Canton is an applied college of technology. Our guiding philosophy of a hands-on approach to learning means that graduates are ready to hit the ground running when they enter the work force. We've strategically aligned our more than 50 programs with growing career fields so graduates possess skills that are continually in demand.
An overarching commitment to providing an accessible, affordable, high-quality education allows everyone to achieve their highest potential, both personally and professionally. Our rural location and small population offers the approximately 3,000 students we serve the unique experience of a close-knit campus and personalized attention from award-winning faculty. Equally important to the college experience is the host of extracurricular activity opportunities we offer in the form of clubs, organizations, and athletics that build leadership and teamwork skills, as well as impart memories that last a lifetime.
I'm particularly proud of our renowned reputation for an accommodative, flexible learning environment. Whether you're a traditional full-time student living on campus, a part-time online student returning to school, or somewhere in between, we have the tools and resources you'll need to be successful. In fact, the Southworth Library and our tutoring center were ranked number one among all SUNY schools in a recent survey. We've also earned top honors for our career service resources, laboratory facilities, affordability, quality of online programs, and military friendly environment.
I believe our core values of diversity, integrity, success, and access, coupled with a student-centered philosophy, are what make SUNY Canton a special place. I invite you to see for yourself by paying us a visit; whether it's at an open house or by scheduling a tour of the beautiful campus.
Thank you for considering SUNY Canton, and I look forward to seeing you!
Warm Regards,
Zvi Szafran
Office: MacArthur Hall 616
Phone: 315-386-7204
Fax: 315-386-7934
president@canton.edu
Campus Updates
State of the Campus Archives
Other
Office of the President
34 Cornell Drive
MAC 616 Canton, NY 13617
Phone: 315-386-7204
Fax: 315-386-7934
president@canton.edu