Home > President
President Zvi Szafran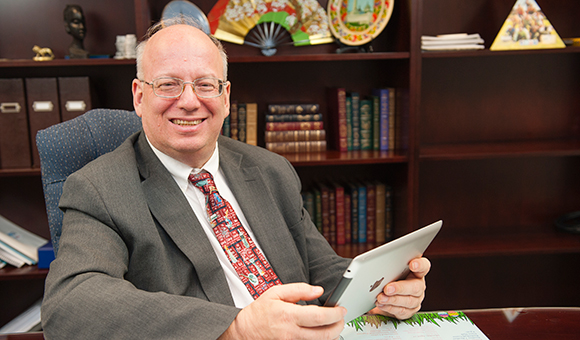 A Welcome Message from President Zvi Szafran
On behalf of our entire community, welcome to SUNY Canton! If this is your first time visiting our web site, I invite you to explore all that we have to offer.
Founded in 1906, SUNY Canton is a college of technology focused on applied learning. This hands-on approach to learning means that students are ready to hit the ground running when they enter the work force, which leads to them being first in line for being hired for a well-paying job. We've strategically aligned our more than 50 programs with growing career fields so that our graduates are continually in demand—programs like Health Care Management, Engineering Technology, Nursing, Cybersecurity, Applied Psychology, Criminal Justice, Veterinary Technology, and Business. We also offer degrees in fields ranging from Early Childhood Education to Funeral Services Administration, so as we like to joke, we have you covered whether you're coming or going.
SUNY Canton's overarching commitment to providing an accessible, affordable, high-quality education allows everyone to achieve their highest potential, both personally and professionally. Our rural location and enrollment of 3,000 offer on-campus students a unique, robust, personalized experience. Our distance learners also benefit from our status as a SUNY online leader, committed to online engagement. It's because of these strengths that U.S. News and World Report has consistently named us among the top institutions in the region in their annual "Best Colleges" rankings.
Equally important are the extracurricular opportunities we offer in the form of clubs, organizations, and athletics. As a leader in esports, students who are interested in a digital gaming career have the chance to immerse themselves in the industry by studying in state-of-the-art classrooms, competing in a world-class arena, and living in a one-of-a-kind residential space. Exciting degree programs in Esports Management; Game Design and Development; Technological Communications; and Graphic and Multimedia Design complete the experience.
Our emphasis on creating an environment where everyone feels welcome, coupled with a student-centered philosophy, are what make SUNY Canton a special place. I invite you to join us at an open house or schedule an in-person tour. If you can't make it to campus, please take a moment to watch our virtual tour.
Thank you for considering SUNY Canton, and I look forward to meeting you!
Warm Regards,
Zvi Szafran
Campus Updates
Office of the President
34 Cornell Drive
MAC 616 Canton, NY 13617
Phone: 315-386-7204
Fax: 315-386-7934
president@canton.edu