Home > College Association > Dining
Dining Services
Chaney Dining Center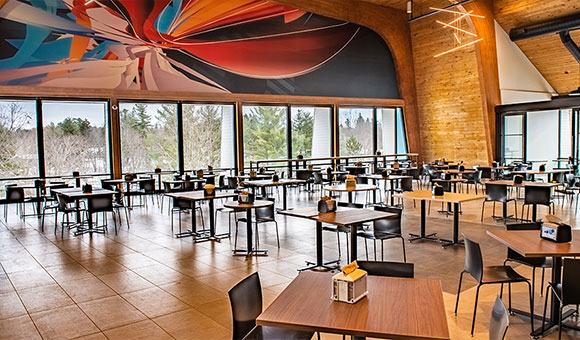 Chaney Dining Hall - Lower Level
Chaney Dining Center is the main campus dining hall which serves meals continuously throughout the day to both residential and commuter students. Chaney is located close to the residence halls and has beautiful views of the Grasse River out of its floor-to-ceiling windows.
Mon - Fri: 7:30 am - 8:00 pm
Sat - Sun: 10:30 am - 7:30 pm
Phone: 315-386-7634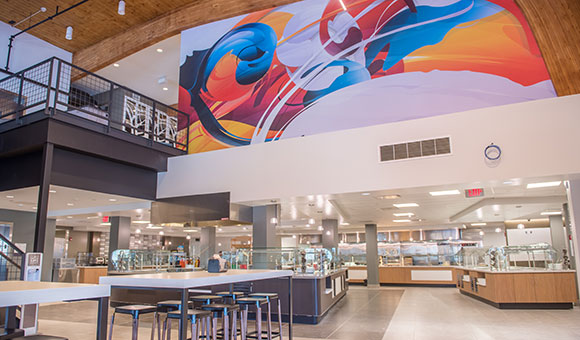 Chaney Dining Hall - Lower Level Staircase View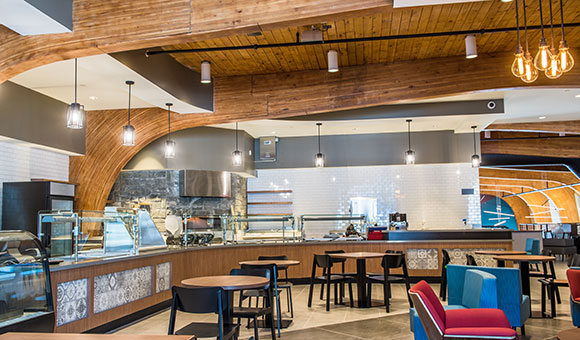 Chaney Dining Hall - Upper Level
The Corner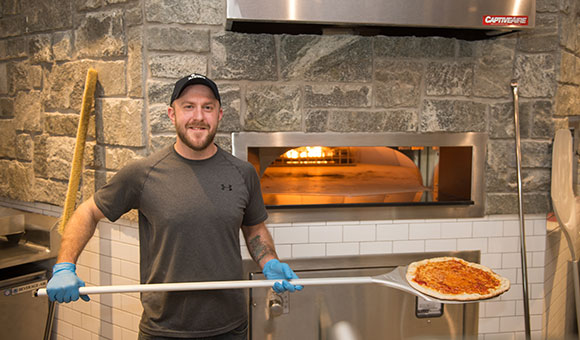 The Corner, located in the Pi Nu Epsilon Atrium at Chaney offers hand-tossed brick oven pizzas, paninis, chicken wings, Sun Coffee Roasters espresso beverages and slushies. The Corner is open every day 9pm – 12am. Call ahead for large orders at 315-386-7006.
Rendezvous @ Miller Campus Center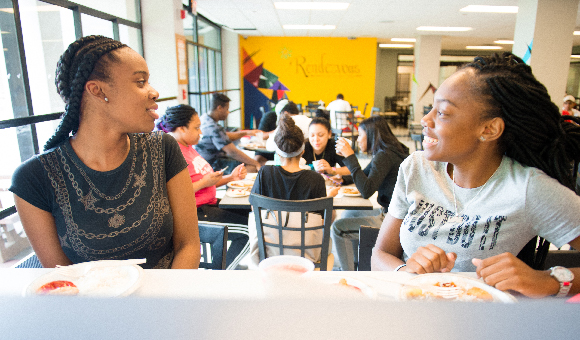 Rendezvous, located in Miller Campus Center, offers Lunch. Menu items include Burgers, Fries, Poutine, Hot Hero's, Pizza, Homemade Soup & Salads.
Monday - Friday 10:30 am - 4:30 pm
Roos Court @ Halford Lobby - MacArthur Hall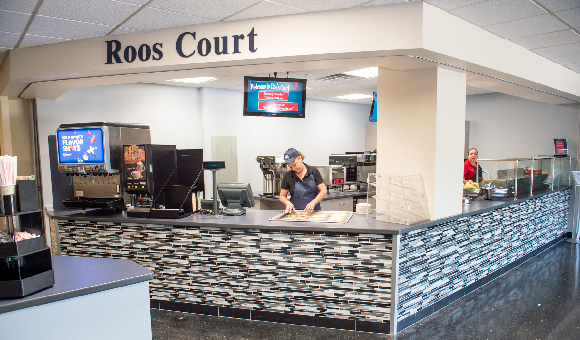 Roos Court, located in the Halford Lobby of the MacArthur Hall serves St. Lawrence Valley Roasters Coffee. Bagels & Breakfast Sandwiches. Lunch Specials include: Create Your Own Salad, Signature Sandwiches toasted on Ciabatta Rolls, Made to order Deli Sandwiches and Wraps. Homemade Soups daily, meat and vegetarian options offered.
Mon - Fri: 7:30 am - 3:00 pm
Phone: 315-386-7084
Deb's Corner @ Nevaldine Hall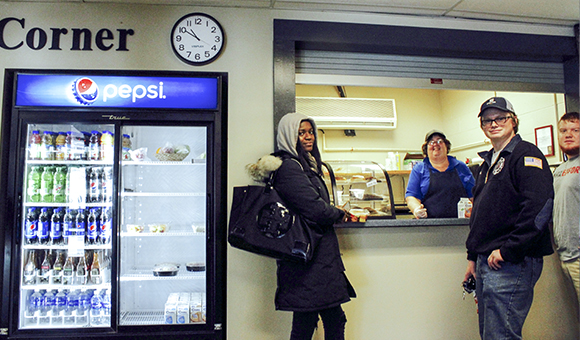 Deb's Corner, located in Nevaldine Engineering Technology Building, is a great place to grab a quick lunch. Deb's offers breakfast sandwiches, Homemade soup, Hot dogs, Salads, Grilled sandwiches and made to order Deli sandwiches. Look for our specials such as Macaroni & Cheese, Chili, Grilled macaroni & cheese sandwich, and Hot & Sweet Sausage served with onions & Peppers.
Look for Deb's Famous "Grilled Buffalo Chicken Sandwich"
Monday - Friday: 7:30 am - 2:30 pm
Phone: 315-386-7033
Cyber Café @ Southworth Library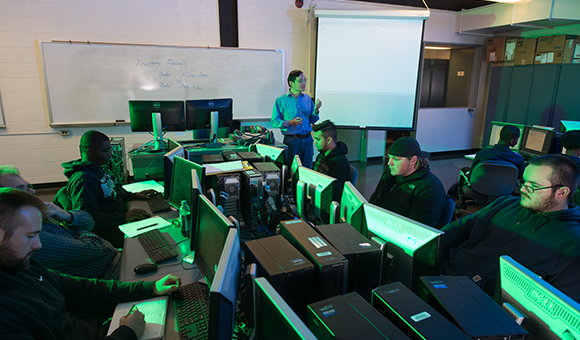 Cyber Café is located in the Southworth Library, features Starbuck's Coffee and Espresso, Quiche, specialty Panini's, build your own Panini & Fresh Salads.
Monday - Friday: 7:30 am - 3:00 pm
Phone: 315-379-3860
Joey's @ Roos House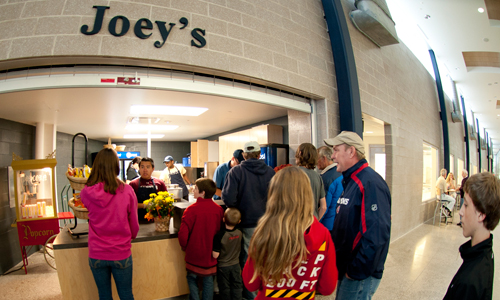 Open for Concessions & Special Events
Meal Plans
We offer a variety of meal plan options for residential and commuting students, as well as faculty and staff. More information about our food service is just a phone call away at 315.386.7634.
Roo Express Account
How to open or add money to your Roo Express Account!
The College Association is the not-for-profit corporation which administers food services on campus.
Wellness Program
A Wellness Initiative sponsored by the Student Affairs Division and through collaboration with others has been put in place for students, faculty and staff. Keeping your mind, body and spirit healthy leads to peak performance. Find out more!
Management Team
Susan Law
Director of Dining Services
Jason Bartholomew
Operations & Dining Manager
Brad Winters
Inventory and Maintenance Manager
Sean Conklin
Catering & Retail Dining Manager
Mark Sharlow
The Corner & Dining Center Supervisor
Christopher Booth
Dining Operations Supervisor
Thomas Cruger
Production & Dining Manager
Toni Besio
Retail Supervisor
College Association, Inc.
34 Cornell Drive
Canton, NY 13617

Administration: 315-386-7623
Meal Plans/IDs: 315-386-7624
Campus Store: 315-386-7319
Textbook Center: 315-386-7112
Dining: 315-386-7634