Home > College Association > Dining > Hours and Locations
Hours and Dining Locations
Campus is home to a variety of dining venues, each with its own specialty.
Chaney Dining Center
Monday – Friday: 7:30 AM – 7:30 PM
Saturday & Sunday: 10:30 AM – 7:30 PM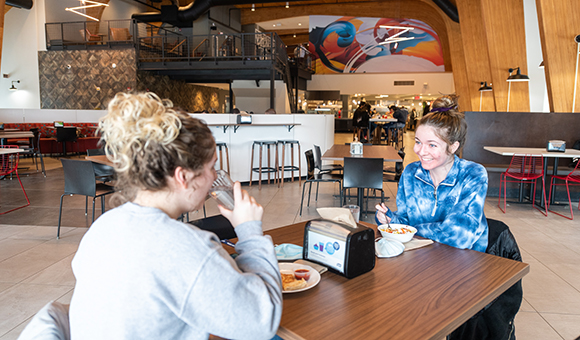 Chaney Dining Center is the main campus dining hall for meal plan holders and serves meals continuously throughout the day. Chaney features a variety of stations for guests to choose from and is located close to the residence halls with beautiful views of the Grasse River out of its floor-to-ceiling windows. Be sure to try Chaney favorites including made-to-order omelets, "mac 'n cheese," stacked sandwiches, burrito bowls, and specialty pizzas!
The Corner - Student Lounge & Late-Night Program
Monday – Sunday: 8:00 PM – 11:00 PM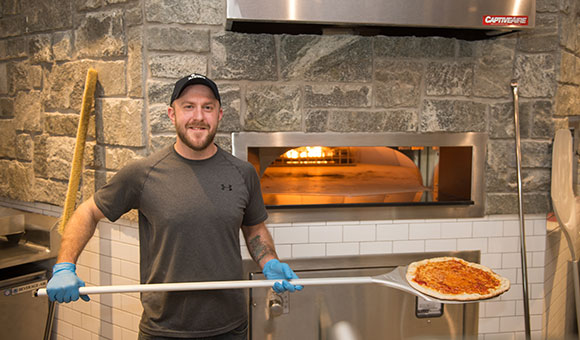 The Corner, located in the Pi Nu Epsilon Atrium at Chaney Dining Center, offers hand-tossed brick oven pizzas & calzones, chicken wings, hot/cold sandwiches, a fruit smoothie bar, ice cream drinks, and Sun Coffee Roasters espresso beverages. The Corner also features interactive games, TV, cornhole, and other leisure activities for students to enjoy.
Cyber Café featuring Starbucks
Monday - Friday: 7:30 am - 4:00 pm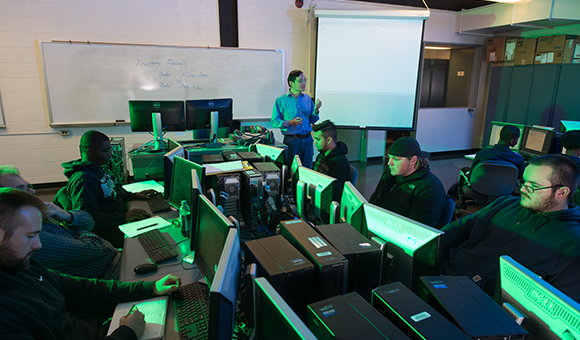 Located in Southworth Library, the Cyber Café features Starbucks Coffee and Espresso, Teavana tea, artisan paninis and wraps, fresh salads, jumbo cookies (a campus favorite), and a variety of excellent desserts. It is a great place to sit and study, hold a meeting, or just relax during the day.
Rendezvous featuring Center Grill & Hershey's
Monday – Thursday: 8:30 AM – 4:00 PM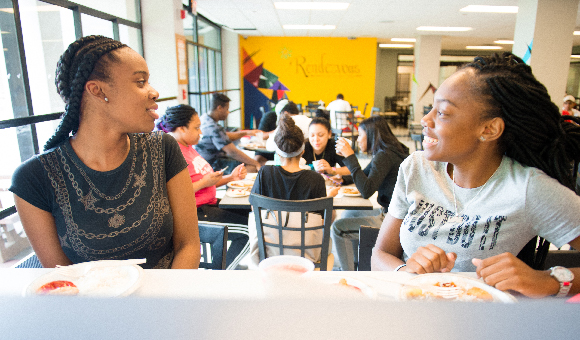 Rendezvous, located in Miller Campus Center, features two eateries. It is our take on the American classics. Menu items include chicken sandwiches, burgers, poutine (a regional favorite), chicken tenders, and Hershey's specialty shakes and sundaes.
Roos Court
Monday - Friday: 8:30 AM - 3:00 PM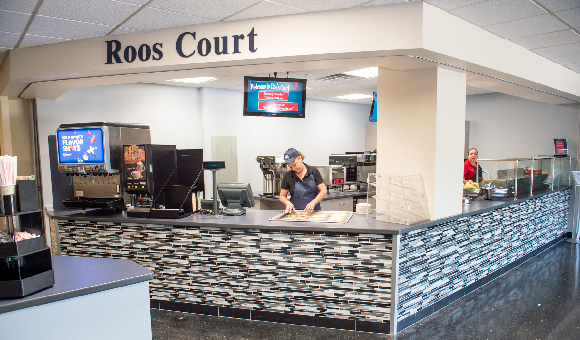 Roos Court, located in the Halford Lobby of the MacArthur Hall, meets the needs of guest on the go, offering a variety of breakfast options and fresh brewed coffee in the morning. For lunch, this location features a Sub Shop, offering hot and cold options, homemade soups daily, a variety of salads, and "grab and go" items.
Micro-Market and Vending Center
Monday – Sunday (self-service)
Located in Nevaldine, the Micro-Market is a self-service vending cooler that contains a variety of soup, salads, and sandwiches, as well as a rotating mix of desserts, parfaits, and "on the go" items. This dining area contains seating with an onsite microwave to heat up hot dishes. Credit / debit cards are accepted at this market. Traditional snack and beverage machines are also located in this area, as well as spread across campus.
Joey's
Concessions/ special events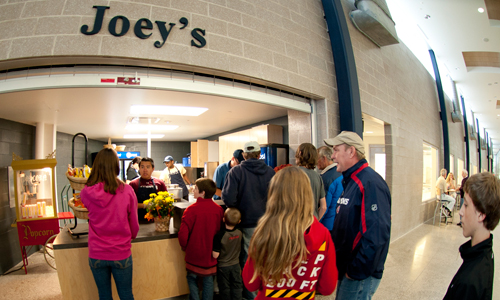 Joey's, located in CARC, offers snacks and beverages to fans and guests during athletic contests, special events, graduation, and other programming during the year.
College Association, Inc.
34 Cornell Drive
Canton, NY 13617

Administration: 315-386-7623
CA Student Support/Meal Plans: 315-386-7624
ID Cards: 315-386-7506
Business Services: 315-386-7210
Chaney Dining Center: 315-386-7634
Campus Center Store: 315-386-7319