Home > College Association
College Association, Inc.
The College Association, Inc. is incorporated as a not-for-profit educational corporation whose purpose is to operate, manage and promote services to the entire campus community in conjunction with the goals of SUNY Canton. The core services that the College Association currently provide are dining, vending, retail operations, and laundry facilities. The College Association Board of Directors consists of four faculty members (selected by the Faculty Senate), three administrators (appointed by the Campus President) and four students (selected by the President of the Student Government Association). The Board of Directors approves policies and provides oversight to management activities.
MEAL PLANS
All meal plan changes are now done online. Please email mealplans@canton.edu to add or change your meal plan and be sure to include your student ID number. The deadline to change your meal plan is Friday at 4pm, on the first full week of classes. We are not able to make changes to meal plans after this date, unless you are moving in or out of Kennedy Hall after the meal plan change deadline has passed. A meal plan may be added anytime. If you are adding a meal plan and need to pay over the phone, please call (315) 386-7624.
STUDENT ID CARDS
New/Transfer/Readmit Students:
Please be sure to log into UCANWEB and complete the student ID survey. Upon completion, you will upload a photo for your ID card at GET.CBORD.com or on the mobile app "GET Mobile" and your card will be mailed to you at the address you provide. If you have any questions, please email dupreym@canton.edu.
Replacement Cards (Lost, Stolen, Damaged):
If you need to replace your SUNY Canton ID card, please contact (315) 386-7210. The $15 replacement fee may be paid over the phone by credit/debit card, Roo Express or Campus Cash. Your card will be mailed to you (campus mailbox or home.)
Please be sure to report a lost card as lost at GET.CBORD.com.
ONE HOP SHOP
Appointments are required at the One Hop Shop for all ID card and meal plan transactions. You can schedule an appointment by clicking the "Schedule an Appointment" button.
ADDING FUNDS TO YOUR ROO CARD
ROO express can be added to your SUNY Canton ID card by debit or credit card. Please add funds through GET.CBORD.com. The minimum transaction is $5, and the maximum per day is $100.
ROO Express can also be added from your financial aid by contacting Student Accounts at billing@canton.edu. Funds will be available for use by the end of the day (4:30 pm) in which it is requested. However, during the first two weeks of each semester, funds will be activated every hour, on the hour.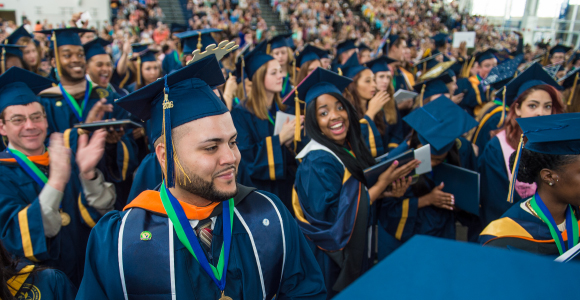 Listed below is a brief summary description of the core services we provide:
: The dining facility prepares meals for meal plan holders, commissaries food to all retail food operations and caters campus and private affairs. The majority of meal plan holders are SUNY Canton residents who are required to have a meal plan (as sited in the Residence Life Policy & Procedures manual and the SUNY Canton Academic Catalog). There is also a meal plan option for commuter students.
: Centrally located eateries to serve students, faculty and staff for lunches, snacks and beverages.
: Located on the 1st floor of the Miller Campus Center, it is the retail outlet for all campus and educational needs. The Campus Store is fully stocked with textbooks, campus clothing, computers and electronics, supplies, gifts, stationery and convenience items.
The Corner, located in the Pi Nu Epsilon Atrium at Chaney offers hand-tossed brick oven pizzas, paninis, chicken wings, Sun Coffee Roasters espresso beverages and slushies.
The Administrative Office is located in Chaney Dining Center:
Provides accounting services and acts as fiduciary agent for multiple campus related entities including The Student Government Association, Residence Life, Orientation & Diversity Affairs and Residence Hall accounts.
Provides Vending Operations in all areas on the campus.
Provides Laundry Facilities in each residence hall.
For more information regarding College Association, Inc. please call 315-386-7623.
College Association, Inc.
34 Cornell Drive
Canton, NY 13617

Administration: 315-386-7623
Meal Plans: 315-386-7624
ID Cards: 315-386-7210
Campus Store: 315-386-7319
Textbook Center: 315-386-7112
Dining: 315-386-7634