Home > College Association
College Association, Inc.
The College Association, Inc. is incorporated as a not-for-profit educational corporation whose purpose is to operate, manage and promote services to the entire campus community in conjunction with the goals of SUNY Canton. The core services that the College Association currently provide are dining, vending, retail operations, and laundry facilities. The College Association Board of Directors consists of four faculty members (selected by the Faculty Senate), three administrators (appointed by the Campus President) and four students (selected by the President of the Student Government Association). The Board of Directors approves policies and provides oversight to management activities.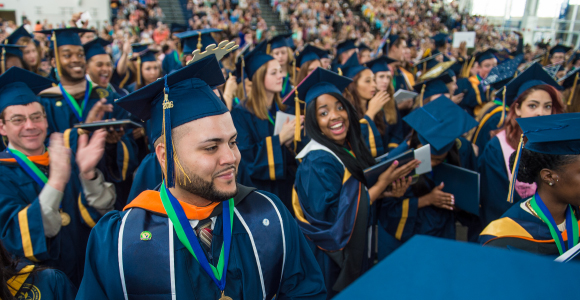 Listed below is a brief summary description of the core services we provide:
Chaney Dining Center: The dining facility prepares meals for meal plan holders, commissaries food to all retail food operations and caters campus and private affairs. The majority of meal plan holders are SUNY Canton residents who are required to have a meal plan (as sited in the Residence Life Policy & Procedures manual and the SUNY Canton Academic Catalog). There is also a meal plan option for commuter students.
Roos Court, Rendezvous, Deb's Corner, and Cyber Cafe: Centrally located eateries to serve students, faculty and staff for lunches, snacks and beverages.
The Campus Center Store: Located on the 1st floor of the Miller Campus Center, it is the retail outlet for all campus and educational needs. The Campus Store is fully stocked with textbooks, campus clothing, computers and electronics, supplies, gifts, stationery and convenience items.
The Corner, located in the Pi Nu Epsilon Atrium at Chaney offers hand-tossed brick oven pizzas, paninis, chicken wings, Sun Coffee Roasters espresso beverages and slushies.
The Administrative Office is located in Chaney Dining Center:
Provides accounting services and acts as fiduciary agent for multiple campus related entities including The Student Government Association, Residence Life, Orientation & Diversity Affairs and Residence Hall accounts.
Provides Vending Operations in all areas on the campus.
Provides Laundry Facilities in each residence hall.
For more information regarding College Association, Inc. please call 315-386-7623.
College Association, Inc.
34 Cornell Drive
Canton, NY 13617

Administration: 315-386-7623
Meal Plans/IDs: 315-386-7624
Campus Store: 315-386-7319
Textbook Center: 315-386-7112
Dining: 315-386-7634