President Zvi Szafran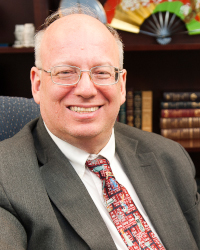 Dr. Zvi Szafran became SUNY Canton's fourth President on July 5, 2014, ushering in a new era in the College's more than 100-year history.
Born in Israel, Dr. Szafran grew up in Syracuse, N.Y., and earned a bachelor's degree in chemistry from Worcester Polytechnic Institute. He went on to earn a Ph.D. in chemistry from the University of South Carolina.
In 1981, he joined the faculty of Merrimack College where his 17-year tenure included positions as Professor, Assistant to the Dean of Arts and Sciences, Chairman of the Chemistry Department, and Dean of Science and Engineering. He served as Vice President of Academic Affairs at New England College from 1998 to 2005 and was Vice President of Academic Affairs and Professor of Chemistry at Southern Polytechnic State University from 2005 to 2014.
Under Dr. Szafran's leadership, the College has continued its remarkable history of growth and development, which includes the introduction of 10 new career-focused degree programs, as well as the establishment of a Center for Criminal Justice, Intelligence and Cybersecurity.
Since he began his presidency, SUNY Canton has also embarked on multi-million dollar residential renovation projects, formalized partnerships with international universities, constructed state-of-the-art laboratories, created a Center for Diversities and Inclusion, and enjoyed record student enrollment for online Summer and Winter sessions. In addition, the College became an official member of the NCAA Division III and a leader in collegiate esports competition.
He was appointed as Co-Chair of the SUNY Chancellor's Task Force on Social Media Responsibility, which advised SUNY institutions and higher education organizations nationwide on best practices regarding social media. An active leader in the North Country community, Dr. Szafran serves on the Board of Directors for Claxton-Hepburn Medical Center (CHMC) in Ogdensburg (including membership on CHMC's Performance Improvement Committee), the St. Lawrence County Economic Development Study Advisory Board, the St. Lawrence County Workforce Development Board, the North Country Regional Economic Development Council, and the Seaway Private Equity Corporation. He is also a member of Beth El Congregation's Board of Directors.
In 2016, he received the prestigious Robert H. Goddard Award for Outstanding Professional Achievement from the Worcester Polytechnic Institute Alumni Association in recognition of his career as a distinguished academic leader.
He resides in Canton with his wife, Jill.