Game Design & Development - B.S.
SUNY Canton's four-year Game Design and Development program is exclusively for students who want to design a new generation of video games and virtual reality on multiple platforms. It allows students to pursue their dreams and ambitions within the lucrative entertainment and software industry.
Career Opportunities
Game programmers
Computer graphics and visualization developers
Virtual reality and augmented reality software engineer
Modelers
Animators
Digital content producers
Level designers
Texture mappers

Employment statistics are from the Bureau of Labor Statistics 2016-2026 Occupational Outlook Handbook.
The program is designed through real-world lessons and applied game production courses that lead playable video games. Students can expect to learn design sequence, prototyping, aesthetics of design, development, testing, production, manufacturing and marketing.
Every type of game, from a simple interactive maze to the latest first-person adventure represents a series of design and aesthetic challenges. We offer a well rounded program that both emphasizes technological hard skills, including programming, in addition to courses in English and Business.
- Ryan Hewer
Game Design and Development Curriculum Coordinator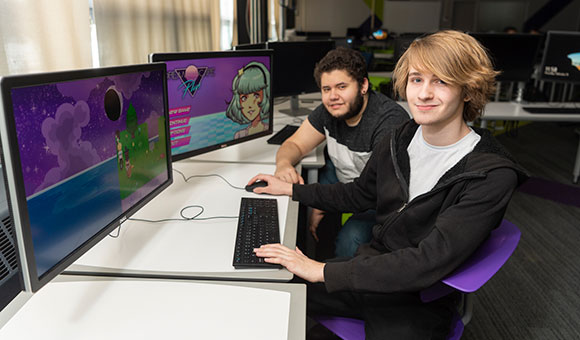 Career Outlook
Employment of gaming software developer, computer graphics and virtual reality engineer, multimedia artists and animators, is projected to grow 6 percent from 2014 to 2024. Projected growth will be due to increased demand for animation and visual effects in video games, movies, and television, according to the U.S. Department of Labor Bureau of Labor Statistics. The median pay scale for these positions was $63,970 per year.
Fall Enrollment Trends
| | | | |
| --- | --- | --- | --- |
| | FT | PT | Total |
| 2020 | 133 | 1 | 134 |
| 2019 | 129 | 1 | 130 |
| 2018 | 78 | 0 | 78 |
| 2017 | 7 | 0 | 7 |

Graduation rates and degrees conferred are unavailable as the program has not had graduates yet.