Important Reminders
Adoptions
When adopting an access code or bundle, select toggle "Required new" on the adoption screen.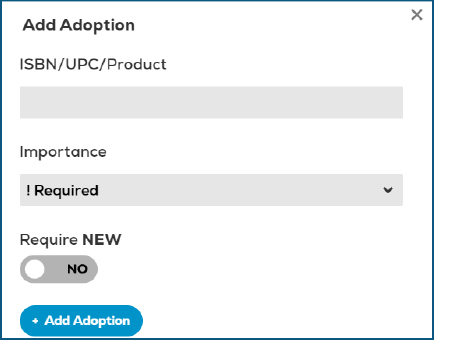 Access Codes
If you need an access code for your course, that code needs to be listed when adoptions are uploaded into FAST. Every ISBN is unique, so an ISBN just for a book will not include any ancillary materials needed. If you have a publishing representative, please reach out to them to make sure your requested course materials coincide with the ISBN you are uploading.
No Text Required
This information should be entered. Use the Textbook Adoption Tutorial for instructions.
Syllabus
Please remember to update your syllabus if new material is required.
Adoption Dates
In order to comply with the Higher Education Opportunity Act, adoption must be submitted by:
Winter Term – 10/2/23
Spring Term – 10/31/23
Summer Term – 3/6/24
Fall Term – 3/27/24