Home > CREST > Solar Ready Vets
Solar Ready Vets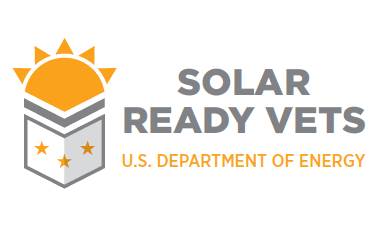 Solar Ready Vets Training at Fort Drum
UNY Canton CREST is offering the U.S. Department of Energy's Solar Ready Vets training program at Fort Drum, which provides military personnel with technical skills and certification to begin a career in the solar industry after transitioning from active military service. The program is open to veterans and spouses as well. The program here at Fort Drum started in January 2016 and has 174 graduates to date.
The Fort Drum program was created through collaboration among the New York State Energy Research and Development Authority, U.S. Department of Energy, Fort Drum, SUNY Canton and solar installation companies. Instructors from SUNY Canton teach a five-week program focusing on technical training in solar skills, including hands-on labs. In addition, the program facilitates job placement with solar PV companies across the country for the trained transitioning military personnel. Nearly 3,600 service members transition from Fort Drum each year, and this program is available to assist them in their transition to civilian life.
According to the Solar Foundation's Solar Job Census 2018, nearly a quarter million are employed in the solar industry nationally. The solar industry is growing in states such as: New York, California, Texas, Florida, North & South Carolina, Massachusetts, and others. Consider joining this exciting career.
Check back for future dates
The Solar Ready Vets program is a perfect extension of what SUNY Canton does best. Through this program, we actively continue our commitment to veterans and their families in addition to focusing on environmental sustainability and renewable energy technologies. Most importantly, it demonstrates our commitment to providing career ready training in our academic programs and through our Career Ready Education and Success Training (CREST) Center for Workforce Development. We thank Governor Cuomo, the U.S. Department of Energy, CREST Center staff and all parties involved for implementing this important program.
- President Zvi Szafran
For more information, contact the SUNY Canton CREST Center, (315) 386-7838 or crest@canton.edu. For eligibility information or to apply, please contact the Career Skills Program Installation Administrators: Patti Shields, (315) 774-3410, patti.j.shields.ctr@mail.mil or Lorilei Matteson, (315) 772-1022, lorilei.a.matteson.ctr@mail.mil.
Patrick Massaro II, Director
CREST
SUNY Canton
34 Cornell Drive
Canton, NY 13617

Phone: 315-386-7838
Fax: 315-386-7945
massarop@canton.edu