Home > Applied Learning
Applied Learning Since 1906
Applied Learning is at the very core of what SUNY Canton is. Historically, all of the college's academic programs are based on careers, which means each student learns a hands-on, experiential approach to their chosen subject matter. Check out some recent examples of the SUNY Canton approach.
Bridging Success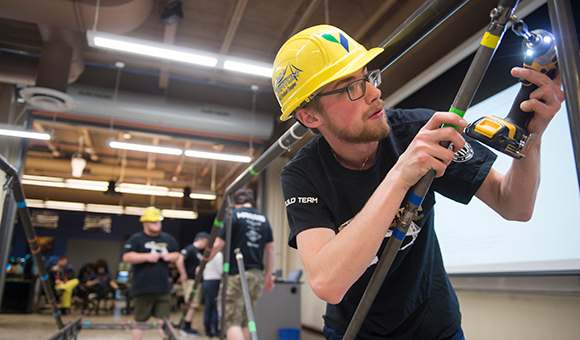 Some Canino School of Engineering Technology students prepare for their careers in one of the most extraordinary and highest profile examples of project-based learning at the college. Members of the SUNY Canton Steel Bridge team locked in a ninth-place finish at the 2019 American Institute of Steel Construction (AISC) National Competition at Southern Illinois University, Carbondale.
We competed against the best teams in the United States and performed near flawlessly. I'm proud of our students' genuine ingenuity with this year's bridge!
- Paul Hitchman,
Instructional Support Associate
Social Networking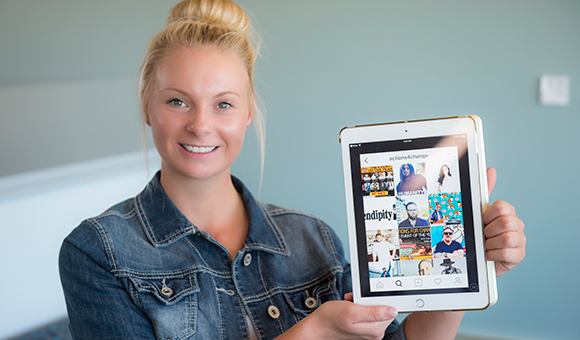 Management student Tia M. Tassava '19 gained practical experience managing a social media campaign for a high-profile event through her internship with the "Actions for Change" festival in South Florida. The event aims to provide support and healing to those affected by last year's Parkland High School shooting and raise awareness about gun violence. Tia worked with festival organizer Douglas G. Zeif '13, a hospitality industry leader who runs a multimillion-dollar consulting firm and whose sons survived the Marjory Stoneman Douglas attack.
I never thought I'd be this involved with acclaimed acts like Michael Franti, Spearhead, and Skip Marley during my time at college. This experience was crucial to landing a job after graduation.
- Tia Tassava '19

Professional Partnership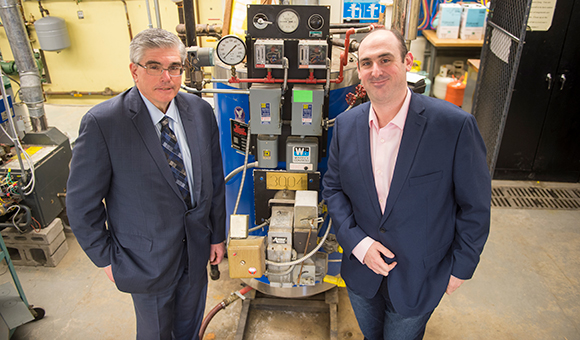 Industry partner Day & Nite All Service, a globally-recognized commercial refrigeration, kitchen equipment, HVAC, plumbing installation, maintenance and repair company began recruiting SUNY Canton graduates and offering current students professional-level internships.
If there is one absolute thing we have learned along the way with SUNY Canton it's to never underestimate the quality, depth and capacity of the school's students, faculty and administration. This unbridled confidence reached even greater heights as a result of the truly marvelous impact SUNY Canton interns have had on our company.
- Michael A. Berman
Chief Operating Officer, Nite & Day
Natural Views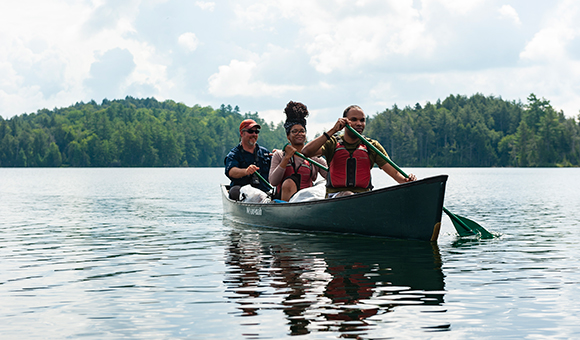 A unique Adirondack Experience summer course teaches digital photography skills by using some of the most scenic backdrops and breathtaking landscapes in the region. Eight students started their applied learning adventure in Little Clear Pond and then paddled, hiked, and explored the greater St. Regis Canoe Area for five days.
Students learn the fundamentals of photography while utilizing our areas' greatest asset. We start with students who've never spent a night outdoors and train them how to navigate the Adirondack wilderness. The immersive experience also promotes extensive teamwork and camaraderie.
- Matthew J. Burnett
Graphic Multimedia Design Professor
Real-World Training
Jesse T. Walley '22, a Law Enforcement Leadership major, was among the first to graduate from the College's new Corrections Academy this summer. The four-week training is designed for those who are already working in the corrections field, as well as for current SUNY students. Cadets learn defensive tactics, hostage-survival techniques, first aid, crime scene preservation, effective communication strategies, suicide prevention practices, and other safety procedures.
The academy was a valuable experience because it not only prepares us for a career in corrections, but the concepts we learned are applicable to a variety of different law enforcement professions.
- Jesse Walley '22