Fall 2021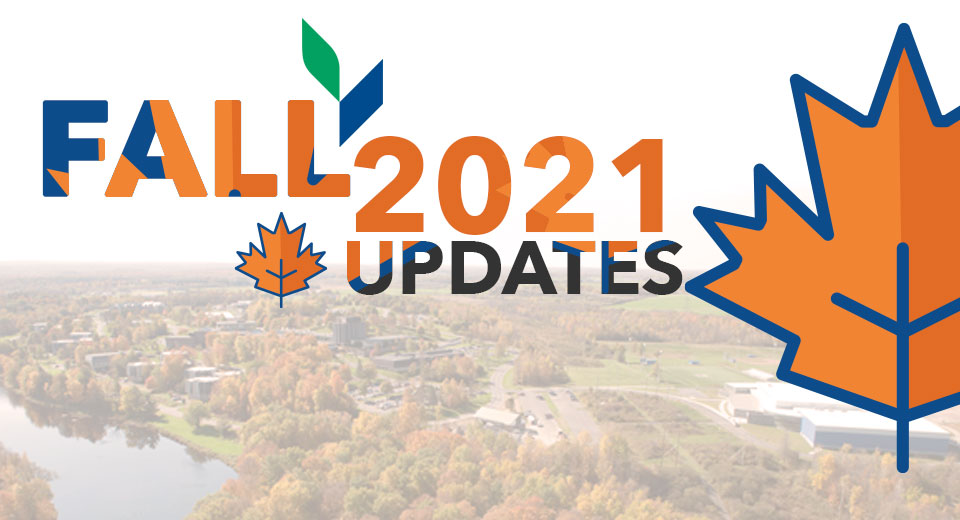 Check back here for the latest updates about Fall 2021. This is going to be the best year ever!!
Special Announcement
Fall Start-Up Testing

All students who will be living on campus, attending in-person classes, or plan to be present on campus for services (such as the fitness center, library, tutoring, etc.) regardless of vaccination status are required to participate in COVID testing on campus during the week of August 23-27 at the Dana Hall Gymnasium. This includes residential and commuter students, both vaccinated and unvaccinated. The test is free and easy, and we will provide more details about the dates and times of testing before August 18. After Fall Start-Up Testing, only unvaccinated students will be required to participate in mandatory weekly COVID testing.

What should I do if I am enrolled in all online classes this fall and will not be coming to campus?

If you are enrolled in all online classes and will not be physically present on campus at any time during the fall semester, you are not subject to the weekly COVID testing requirement but must fill out a form to attest to this. Please complete this Fully Online Attestation Form by August 20 if you wish to be exempted and meet the aforementioned criteria.

Vaccinations

SUNY Canton does not require students to get the COVID-19 vaccine prior to returning to campus – but we strongly encourage all students to get the vaccine, which is both safe and effective. You can find a local vaccination site. When one or more of the COVID-19 vaccines are fully approved by the FDA, students will be required to get the vaccine.

Unvaccinated students will be subject to additional COVID-related restrictions, including (but not limited to):

Mandatory masking on campus at all times (except in your private room)
Mandatory weekly testing for COVID-19

Note that some clinical or internship sites may have vaccine requirements for participation. Students with clinical or internship placements will be required to follow the rules and regulations at their clinical or internship site.

What should I do if I have been vaccinated?

Submit proof to the SUNY Canton Davis Health Center through your student Medicat portal by August 18. All students who submit proof of their COVID-19 vaccination by August 15 will be entered into a raffle for a chance to win Apple AirPods. Winners will be selected and notified!

What is required if I do not submit proof of vaccination by August 18 or if I am unvaccinated?

If you will be physically on campus at any point during the fall semester, you are required to wear a face covering that completely covers your mouth and nose snugly while indoors in all campus buildings, maintain physical distancing, and will be required to participate in mandatory weekly COVID testing, held in Miller Campus Center 212-214. More information about the available testing times will be provided before August 25. Please note: Face shields may only be worn if a snug face covering is also worn under them.

Where can I obtain a COVID-19 vaccine?

If you do not have access to a COVID-19 vaccine or cannot complete your vaccine series before you arrive on campus, and wish to be vaccinated, we will offer you the vaccine for free on campus. We are hosting a COVID vaccine clinic for SUNY Canton students on Tuesday, August 31 between 10 a.m. and 3 p.m. More information will be forthcoming before August 25 about this vaccine clinic. You can also find a local vaccination site.

Can I submit a request for an exemption?

Since the COVID-19 vaccine is currently not required for commuter and off-campus students, there is no exemption process. All unvaccinated students are required to obtain and submit a weekly negative COVID test, wear a facial covering except when sitting and eating a meal or in your residence hall bedroom, and maintain physical distancing. When exemptions are permitted, we will share information about that process with you.

Residence Life Update

Vaccinated Student Housing Option

We have a special opportunity for students interested in living in an area specifically reserved for fully vaccinated students this fall! This area will be located in Smith Hall. All rooms in this area are guaranteed double rooms. Vaccinated students are not required to live in this area—it is simply an area reserved for students who only want to live with other students who are vaccinated. Additionally, in all other housing at SUNY Canton, we will not be able to share the vaccination status of your roommate(s) for confidentiality reasons.

If you're interested in living in this area, fill out Smith Hall Vaccinated Wing Form. First priority given to those who completed the form by Monday, July 26th at 4 pm. You will need to have submitted proof to the SUNY Canton Davis Health Center of your vaccination prior to move-in.

Housing assignments for all students will be available on UCanWeb in early August.

New Student Check-In is scheduled from Monday, August 23. New students can check into their residence hall any time between 8 am and 10 pm
Returning Student Check-In is scheduled for Wednesday, August 25. Returning students can check into their assigned residence hall any time 8 am and 10 pm.
The First Day of Classes is Thursday, August 26.

Best Year Ever! Update

As we transition back to a more normal semester, we are aiming to make this the most exciting and engaging year we've ever had in the residence halls. Here are just a few of the programs we are planning for fall:

Grocery bingo
Funbucks and the annual funbucks auction
Canoeing on the Grasse River
Off-campus hikes including one to the Mt. Arab fire tower
Outdoor movies in the Kennedy Hall quad
Off-campus trips to the mall and other destinations
An excursion to the Thousand Islands
Hiking and swimming at Lampson Falls
And more to come!
COVID-19 Updates