Home > Public Relations > Toolbox > College Seal
College Seal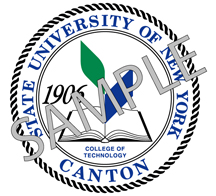 The College seal consists of the leaf, parallelogram, book, wreath, 1906 (the year in which the College was founded), and is surrounded by the College's full name.
How to use the College Seal
The College seal is only used for documents of a formal, official nature, including: diplomas; certificates; commencement materials; publications coming from the Office of the President; application materials and for merchandising or promotional items that reflect the College's history and tradition. The seal should never be used with the wordmark or logo.
Office of Public Relations
34 Cornell Drive
MacArthur Hall 214
Canton, NY 13617
Phone: 315-386-7300
pr@canton.edu