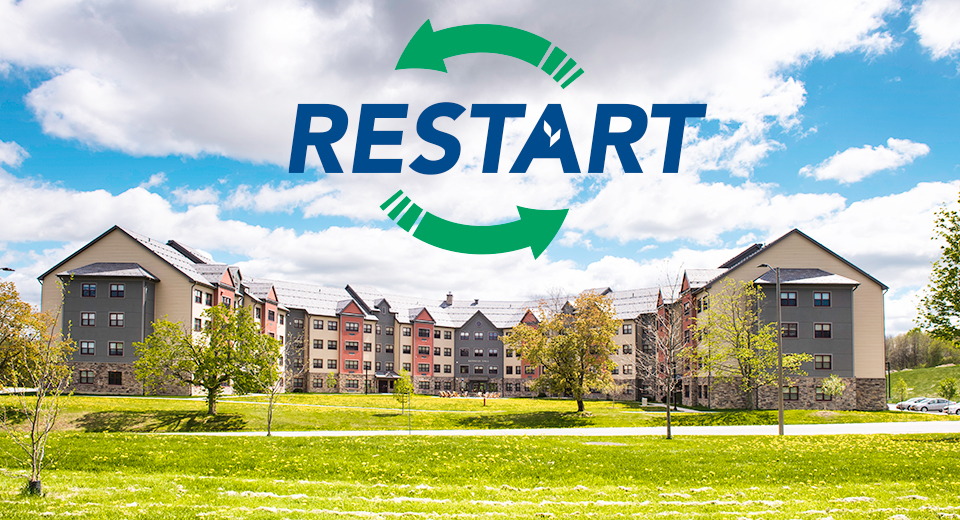 Our decisions have been made following numerous conversations with our local public health officials and with guidance from the State University of New York. These plans are subject to change rapidly, depending on local and state-wide infections, or by declaration from the Governor.
We realize that any plan we enact will bring about numerous questions and "What if" scenarios. We've done our best to prepare for those eventualities and are continuing to research our options.
Latest Update
Our plan for Fall 2020 includes allowing on-campus students to return to campus during the dates of August 24 to 30. Following move-in weekend:

The first day of classes will be Monday, August 31, and all classes will be offered remotely (online) until student testing is complete. Face-to-face and hybrid instruction will begin at that time.
Instruction will continue without breaks until November 20.
Thanksgiving break will be held November 21 to 29 and the remainder of the semester will be offered remotely from November 30 to December 11.
Final exams will be held December 14 to 18, also remotely.
Institutional Priorities
As always, our institutional priorities remain:
Health & Safety
Protecting the health and safety of students, faculty, staff and the north country community.
Academic Excellence
Providing the best possible hands-on educational experience to prepare students for their future careers.
Welcoming Environment
Maintaining a welcoming environment for everyone at the College.
Key Dates
Our plan for Fall 2020 includes allowing on-campus students to return to campus during the dates of August 24 to 30. Following move-in weekend:
Monday, August 31: First day of classes – all classes will be offered remotely (online) until student testing is complete. Face-to-face instruction will begin at that time.
Saturday, November 21- Sunday, November 29: Thanksgiving break
Monday, November 30 - Friday, December 11: Remainder of the semester offered remotely
Monday, December 14 - Friday, December 18: Final exams offered remotely
Required Forms for All In-Person SUNY Canton Students

Attention All SUNY Canton Students Planning To Be On Campus (Residential, commuter, or online students who plan to come to campus to receive services or for meetings)
This fall, we are requiring three forms for all students who will be on campus for any reason (classes, to receive services, or for meetings). Residential students are required to also complete the fourth form (this form is ONLY for residential students). Please fill out all forms at least 72 hours before the date you plan to return to campus, or no later than August 25. Failure to complete these forms will place a hold on your account which will restrict you from accessing campus services, UCanWeb, and your residence hall until completed. Each of these forms only takes a few moments to complete! Again, if you are going to be fully online and will not step foot on campus for any services, to access the library, etc., you do not need to complete these forms and you do not need to notify my office. Please note: On each of these forms, you will need to scroll to the top of the page and click the "submit" button after you complete it or we will not receive your completed form. Should you have any questions, please email bish@canton.edu and I'd be glad to assist you further. We look forward to seeing you on campus soon!
Required Forms for Fall 2020:
REMINDER: If you are a commuter student and wish to take advantage of the COVID-19 testing happening on campus (in lieu of providing documentation of a negative COVID-19 test administered by your local clinic/healthcare provider dated 8/17/20 to 8/30/20), please complete this Commuter COVID-19 Test Request Form by August 15 and we will get in touch with you. Residential students do not need to sign up for testing, as you will be tested for COVID-19 at check-in; fully online students not planning to be on campus for any reason also do not need to sign up for testing as it is not required.
Residential Move-In
What to Expect for Housing, Fall 2020:
HOUSING ASSIGNMENTS: Residential housing assignments will be available on UCanWeb in early August. Please continue to check your SUNY Canton email where we will share the announcement when housing assignments are available to be viewed.
CHECK IN PROCESS: Staff will be located in the front of each of the residence halls (at Kennedy Hall, check-in is near the RA Office) to check you in, where you will be given your room combination.
COVID-19 REQUIRED TESTING: Upon check-in to the residence halls, all students will be required to be tested for COVID-19. We will share more information about the specific testing method we will use in the coming weeks. Until your test results are returned (one business day, estimated), we ask that you self-quarantine in your residence hall room and only leave for necessities such as food or for work. Once your test results are returned, if your result was positive (meaning you have COVID-19), a staff member from the Davis Health Center will contact you to address next steps.
GUESTS AND MOVERS: We are allowing each student to bring ONE guest with them to assist them in moving into the residence halls. This guest can be anyone of your choosing, but only one other person will be permitted to enter the residence hall with you. The college won't be providing helpers on move-in day. We will have hand trucks available to assist you in getting your belongings into the hall.
MASKS/FACE COVERINGS: To help prevent the spread of germs, masks/face coverings are required campus-wide. All individuals on campus, including students and their guests are required to have a mask or face covering on at all times when not in their residence hall room. This includes outside the residence hall, in restrooms and in all public areas or lounges.
PARKING AND DROP-OFF: When you're moving in, you are able to drive down in front of your residence hall and park in front of the hall for a maximum of 10 minutes to unload belongings at the curb. You are then expected to park in the assigned lot for your residence hall.
BELONGINGS: We STRONGLY encourage you to bring minimal belongings to campus and specifically only those belongings you need with you from August-November. It is possible that we will require students to bring all belongings home in November or with short notice in the event of a premature closing. Shipping and storage will not be available.
MEALS/DINING: All dining for meal plan holders will be take-out through Chaney Dining Center until at least September 7. More details will be forthcoming.
VISITORS: Visitors are not permitted in the residence halls for the Fall 2020 semester. Any guests should prepare arrangements with local hotels or should not plan to visit campus.
SUNY CANTON PLEDGE: All students will be required to affirm and sign a SUNY Canton pledge which outlines the rules for social distancing. This will be provided to you electronically before the start of the semester.
Commuter Student Requirements
All students who are planning to attend classes on campus or access services (including the library and any support services) are required to show proof of negative COVID-19 test result before the start of the academic semester. Please read the following information carefully.
Residential students will be tested upon check-in to their residence hall and need not make prior arrangements with the College.
Commuter students or online students who will access campus services are asked to follow the information below for guidance on submitting a negative COVID-19 test result to the College.
COVID-19 testing should be completed as close as possible to the start of the Fall semester. However, due to results often taking a week or more to come back, we are willing to accept documentation of a negative test result for a test completed after August 17th.
Students will need to send proof of testing to the Davis Health Center prior to being allowed to return to campus. Please send that information by fax to (315)-386-7932, by email at healthcenter@canton.edu, or by mail to MCC 004 34 Cornell Drive, Canton, NY 13617. We must receive this information before the first day that you intend to be on campus for classes or to receive services/visit support areas.
Students can arrange with their own primary care provider to have this testing done. Alternately, they can call the following testing sites to schedule testing.
St. Lawrence Health Systems 315-261-6240
Claxton Hepburn Medical Center 315-713-6655
Clifton Fine 315-848-8049
St. Lawrence Country Public Health Department 315-229-3448
Should you not be able to secure testing off campus, we will be offering limited availability for COVID-19 testing on campus the week of August 24. If you are not able to secure testing through your provider, please fill out the information on this link and we will get in touch with you on/before August 20 to notify you of your testing date/time on campus.
Testing Protocols
This plan was designed specifically to keep everyone healthy while they are on campus. To ensure every student is healthy before the beginning of the semester, we will be enacting isolation and testing protocols:
All on-campus students will be instructed to self-quarantine at their homes for at least seven days prior to coming to SUNY Canton.
Upon returning, students will be expected to continue self-quarantining in their residence halls while awaiting results of their COVID test.
The College will be group testing students for the COVID-19 virus by residence hall wings, or pods. Students who test negative will be released from quarantine.
Commuter students will also need to undergo testing either through their own health provider or through the pooled testing available on campus.
Any individual who tests positive for COVID-19 will be instructed to self-isolate.
After the initial screening period, students will be required to continue monitoring themselves for symptoms. They will also be strongly discouraged from leaving the North Country, which has maintained a proportionally low number of active cases. The College's Davis Health Center is currently well-equipped to administer tests and assist with contact tracing efforts across campus.
Quarantine: separates and restricts the movement of people who were exposed to a contagious disease to see if they become sick.
Isolation: separates sick people with a contagious disease from people who are not sick.


Social Distancing and PPE

Social distancing, or the more accurate term physical distancing, will be integrated into campus life. Classes and hands-on labs that are offered in person will be divided in half, so students and faculty will be spread apart:
All classes will require students and instructors to wear masks.
The College will be providing reusable masks to students, faculty, and staff. Disposable masks may be provided on a case-by-case basis.
To reduce density where possible, students on campus will live in either a double or single room.
Chaney Dining Center has altered its procedures to encourage space between diners, both in line and while eating. The primary dining facility will eliminate all self-serve stations and provide staffed areas.
Most areas on campus currently use MERV-15 (minimum efficiency reporting value) ventilation filters, which filters out the COVID-19 virus. This exceeds the MERV-13 state requirement for malls.
While there are still many unknowns about the virus, we do know that masks help slow the spread of germs and increasing your distance from someone decreases the ability to spread (or shed) the virus. We want to make sure that we do everything we can to protect ourselves and those around us.
View more about face coverings at the CDC's Use of Cloth Face Coverings to Help Slow the Spread of COVID-19 website.
Dining Information
Initial Chaney Operating Procedures
Following campus protocols, Chaney Dining Center will be offering take-out meals for students during the initial self-quarantine phase of opening. Residential students may pick up meals at the dining center according to the schedule below. Masks are required when picking up meals.
Sat/Sun:
Continental Breakfast 9:00 - 10:00A – Available to all
Lunch / Dinner Meals

10:30 - 11:00A / 4:00 - 4:30P - Heritage
11:00 - 11:30A / 4:30 - 5:00P - Rushton
11:30 - 12:00A / 5:00 - 5:30P - Mohawk
12:00 - 12:30P / 5:30 - 6:00P - Smith
12:30 - 1:30P / 6:00 - 7:00P - Kennedy
Mon-Fri
Breakfast / Lunch / Dinner

7:30 - 8:00A / 10:30 - 11:00A / 4:00 - 4:30P - Heritage
8:00 - 8:30A / 11:00 - 11:30A / 4:30 - 5:00P - Rushton
8:30 - 9:00A / 11:30 - 12:00P / 5:00 - 5:30P - Mohawk
9:00 - 9:30A / 12:00 - 12:30P / 5:30 - 6:00P - Smith
9:30 - 10:00A / 12:30 - 1:30P / 6:00 - 7:00P - Kennedy
Once the testing period is complete and satisfactory, Chaney will be open for dine-in or take-out. Hours of operation: Mon - Fri, 7:30A – 8:00P and Sat – Sun, 10:30A – 7:30P. Expected date for full opening is September 7th. To assist with limited seating, students are asked to reserve a seat by using the GET Mobile app. More details to follow. Masks are required until diner is seated.
Textbook Center and Mailroom
For the safety of all students, faculty and staff and to help maintain social distancing guidelines, the following procedures will be in place for Fall 2020. Any questions should be directed to Corey Jordan at jordanc@canton.edu.
Textbook Center:
Textbooks will need to be ordered online at bookstore.canton.edu.
Order early and have your textbooks shipped to you at your home address.
If you do not have your textbooks shipped, you will need to make an appointment to pick them up once you arrive on campus by using the GET app. Once your order is ready, you will receive an email telling you to make your appointment for pick up. Due to volume and limited number of appointments per day, it could take several days for an appointment to become available for orders placed the first week of classes. Please order early!
Mailroom:
Please do not have anything shipped to campus until you are sure you are attending. Otherwise, packages received will be denied and will be "RETURNED TO SENDER".
As of August 2020 all package pick up will be by appointment only.
All appointments will be made via the GET app.
Once your package is processed and ready for pick up, you will receive an email telling you to make your appointment.
There are numerous packages delivered daily the first few weeks of each semester. With the need to make an appointment to pick up your package, it could take several days for an appointment to become available. Therefore, wherever possible, please bring your belongings with you when you arrive to campus instead of shipping.
Mailroom keys must be purchased online at bookstore.canton.edu and will be given out when you check into your dorm.

All mailroom key purchases are non-refundable so please wait until you are sure you are coming to campus before purchasing.
Planning Teams
To plan for major issues related to Fall Opening, nine planning committees have been developed to address logistics over the next four months and beyond. The committees are:
(A) Summer 2020/Opening Week – Related Events
(B) Recruitment and Enrollment
(C) Academics
(D) Student Life
(E) Financial Impact and Operations
(F) Advancement
(G) Debrief & Recommendations
(H) Campus-Wide Issues
(I) Technology
Several members of SUNY Canton's Emergency Response Resource Group attend or convene weekly meetings with regional health officials and local medical experts. Campus leaders also regularly consult with and share restart strategies with the Associated Colleges, medical, business and civic leaders.
Learning Formats
SUNY Canton offers many learning formats to fit any student's needs. The current schedule and delivery formats are listed below. As conditions related to COVID-19 remain fluid, the College may be required to transition to remote and online formats during the semester as directed by SUNY or the NYS Governor's Office.
During COVID-19 Testing Period
From End of Testing Period to Thanksgiving
From Thanksgiving to End of Semester
For more information about online and remote learning formats, visit the SUNY Canton Online website.
COVID-19 Updates