Home > SHCJ > Cybersecurity > About
About the Program
Students in this major can expect to learn:
Ethical hacking and system penetration
Cryptology and Digital forensics
Network Defense
Professional Ethics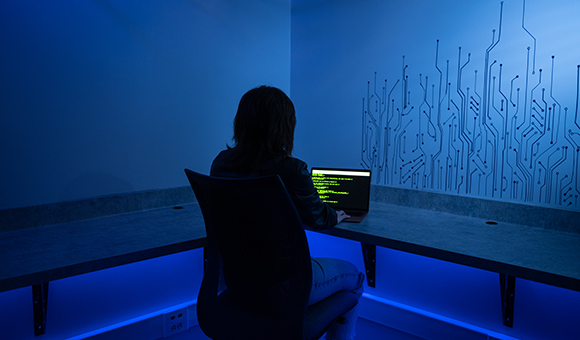 About Cybersecurity
Taught by professors working and conducting research in cybersecurity field.
Students receive personal attention with in major courses regardless of class size.
Students gain significant hands-on experience to prepare for cybersecurity careers.
Choice of internship in final semester or additional upper level program electives.
Minor opportunity in Homeland Security, Emergency Management, and Forensic Science.
Students can fully participate in campus life via virtual communities, networking, and career-building workshops.
The program emphasizes strong oral/written communication and teamwork skills.
The program requires cluster courses in both data security and network security.
Students need to constantly update their knowledge and skills as technology changes.
Our degree is very broad-focused. We look at all the ways that a cybercriminal or hacker can exploit all of a system's weaknesses. When we create a defense, we need to understand the offense that could potentially exploit security measures.
- Minhua Wang
Lecturer, Cybersecurity and Information Technology
High-tech Solutions
Students say one of best parts about the IT program is the ability to experiment with the same equipment they will be maintaining when they enter the workforce.
Students will be expected to keep up with the latest developments in the hardware and software industry to stay up-to-date with current exploitation tactics. They will need to update their knowledge as technology changes. The program also emphasizes strong oral and written communication skills, teamwork, in addition to proficiency with the latest hardware and software.
How long does it take to complete this degree?
Students can complete the degree in 4 semesters if transferring in with a completed associates degree in computer science, networking, or security fields. Some students may require additional time to complete the program depending on the number and type of college credits transferred in.