Home > Information Services > Net ID
Net ID
What is "NetID"?
NetID formalizes what has been known generically as an individual's "computer username" or "network account." It is the username/password credentials used to login to a growing list of services:
Campus computers [faculty, staff and students]
Banner Admin
Barracuda spam quarantine
Brightspace
Library resources from off-campus
Microsoft Office 365 [faculty, staff and student email]
SUNY web-based services [employee portal, DegreeWorks, etc.]
SUNY Canton secured wireless network
UCanWeb
The default user password for students is set using the following individual information:
Student's 2 digit day of birth
The first 3 letters (first letter capitalized) of the student's month of birth
The last 4 digits of student's SUNY Canton Banner ID, i.e., student identification number
For example, if your birthday is February 1 and your Banner ID (student identification number) number is 123456789, your password would be 01Feb6789. Please note that passwords are case-sensitive. If you need help logging on to your Brightspace course, contact the SUNY Canton Help Desk at (315) 386-7448.
Your Password
NetID Password Management
To change your NetID password, you can...
Login to a campus computer and press CTRL-ALT-DEL and select Change a password.
From a web browser, login to the Office 365 portal (https://portal.office.com)

Click on your profile picture in the upper right and select My Account in the menu that opens.
Click on Change Password in the Password tile.
From that same My Account page, you can increase the security of your account by setting up multi-factor authentication.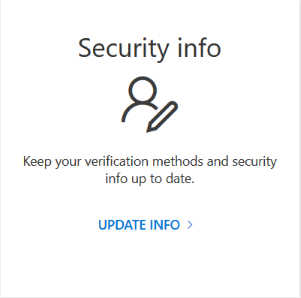 What is Multi-Factor Authentication?
Multi-factor authentication (MFA), also known as two-factor authentication (2FA), is a method that adds additional security to your account by prompting you during the sign-in process for an additional form of identification.
Once configured, the sign-in process requires:
Something you know (your NetID and password)
Something you have, such as your mobile device (authenticator app or phone call), or a security key (Yubikey).
The campus' MFA solution is Microsoft's Azure MFA.
Currently, MFA is optional but highly encouraged for Microsoft 365 access (Email, Teams, OneDrive, Office apps) and is required for access to SUNY Canton's remote computer labs. Banner Workflow will also be requiring MFA for off-campus access soon.
Azure MFA allows for multiple methods for identity verification:
Microsoft Authenticator app
Other Authenticator apps (Google Authenticator and Authy are two examples)
Hardware tokens, such as Yubikey.
SMS (available but not recommended)
Voice call
The Microsoft Authenticator app is the preferred option and provides push notification, as well as code generation. For those requiring access to the campus' remote computer labs (and Banner Workflow shortly), the Microsoft Authenticator app with push notification is required.
Instructions for configuring Azure MFA with the Microsoft Authenticator app: Azure AD MFA Setup
Self-Service Password Reset
When you setup MFA and your methods for verification, you will also be able to use Microsoft's self-service password reset (SSPR) to reset your password if you have forgotten it.
You can reset your password at the Microsoft password reset portal: https://passwordreset.microsoftonline.com
If you have not setup additional security for your account to enable SSPR access, or are having issues resetting your password, or are continuing to experience login issues, you may contact the Information Services Help Desk at 315-386-7448.
Information Services
SUNY Canton
34 Cornell Drive
Canton, NY 13617

Southworth Library
315-386-7448

Help Desk Hours:
Monday-Thursday: 8 am – 5 pm
Friday: 8 am – 4:30 pm
New York Time (GMT -5)

Winter/Summer Hours:
Monday – Friday: 8 am – 4 pm