Home > Research Foundation
Research Foundation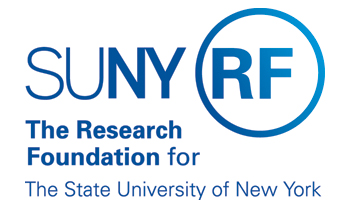 Employment Regulations, Salary Schedules, Travel Rates, and Forms can be found by visiting the SUNY Research Foundation.
The Research Foundation (RF) helps the State University of New York (SUNY) acquire and manage grants and contracts from external sponsors.
Grants and contracts for research and training programs at SUNY are awarded to the RF - not directly to the principal investigator or the campus. By taking care of the day-to-day administration of sponsored programs - financial, human resources, procurement and reporting activities - the RF allows principal investigators to devote more time to their research and scholarship.
Through its ability to bring together the resources of organizations having different legal or management systems, the RF makes it possible for SUNY to build strategic partnerships with government, business and industry and other higher education institutions.
The RF consists of the corporate headquarters (central office) working in conjunction with operating unites at 29 campus locations across New York State.
The RF is not a New York State agency or public authority. While the RF works hand-in-hand with SUNY, it is a private, nonprofit educational corporation that has its own board of directors, programs, policies and procedures.
The RF does not receive services provided to New York State agencies or state appropriations to support corporate functions. RF employees are not on the New York State payroll and do not receive state pensions or other state employee benefits.
Operations Manager (OM)
Reporting to The Research Foundation President (RF), the Research Foundation Operations Manager (OM) serves as the top level Research Foundation executive on campus and is responsible for supporting SUNY's research mission and the successful implementation of the RF's strategic plan. The campus president nominates an individual from the campus to be considered for the OM role. The OM is responsible for all Research Foundation operations on campus, including;
sponsored program administration services to the SUNY community (faculty, students, and staff) and stewardship to our sponsors of creating an environment to support and increase sponsored program funding
creating an environment to increase technology transfer and commercialization in support of SUNY's efforts to revitalize New York's economy.
Shawn K Miller
VP for Administration/Chief Financial Officer/Operations Manager
French Hall 210
315-379-3820
For more information contact:
Office of Research and Sponsored Programs
MAC 602
(315) 386-7686
Procurement & Travel Services
Beth Martin
Purchasing Manager
315-386-7555
martinb@canton.edu
Debbie Keith
Accounts Payable
315-386-7555
keith@canton.edu
Megan Warren
Office Assistant I
(315) 386-7555
barne168@canton.edu