SUNY Board of Trustees Appoints John B. King, Jr., as the System's 15th Chancellor
King Brings to SUNY a Deep Commitment To Advancing Equity & Excellence For All Students, Supporting Educators, & Improving College Affordability
King Currently Serves as President of The Education Trust, prior to that Obama Administration Education Secretary, New York State Education Commissioner
The State University of New York Board of Trustees today announced the appointment of John B. King Jr. as the 15th chancellor of SUNY, the largest comprehensive system of public higher education in the United States.
Chancellor King brings to this position decades of experience as a leader in education administration and policy at the local, state, and national levels. He has championed expanding access to high-quality, affordable education in recognition of the transformative power it holds for students from all walks of life.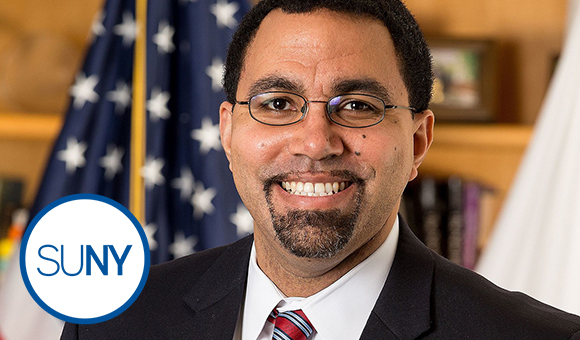 "As we work to continue to transform SUNY to meet the needs of the next generation of students and New York's economy, we need a leader who understands how to balance striving for both excellence and equity. John King has a proven record of doing both," said SUNY Chairman Dr. Merryl H. Tisch. "We are thrilled to welcome John back to New York and are confident that he is perfectly positioned and prepared to tackle the challenges that face our system in the years ahead," said SUNY Vice Chairman Cesar Perales.
Chancellor King's selection was the result of a year-long global search, and the Board today unanimously approved his appointment. He will replace Deborah F. Stanley, former president of SUNY Oswego, who has been serving as interim chancellor since December 2021. Chancellor King will move back to New York and begin his new role in January.
"I am humbled and honored to accept the position of chancellor and to advance Governor Kathy Hochul's vision to make SUNY the best statewide system of public higher education in our nation,'" Chancellor King said. "Public education quite literally saved my life when I lost both of my parents at a young age, and I have dedicated my professional career ever since to ensuring that every student has access to the academic opportunities that they need and deserve. I look forward to working with all members of our campus communities, lawmakers, and stakeholders to bring SUNY to new heights and maximize its potential."
"John King is an extremely smart, capable, steady, strong and fair educator. He's just what SUNY needs." said U.S. Senator Charles Schumer
"For almost 75 years, the State University of New York system has been committed to advancing knowledge for students. As a proud graduate of SUNY Binghamton, I can personally attest to the power of our state's public universities and was honored to join the search Committee for the next Chancellor," said U.S. Representative Hakeem Jeffries (SUNY Binghamton, Class of 1992). "As a child of New York, product of our public schools and educator and public servant, John King has the vision, intellect, experience and expertise needed to lead the system into the future. While serving as Secretary of Education, we had the chance to partner to expand college affordability, increase financial aid as well as invest in student success and completion. I know he will carry this work forward in his new work and congratulate John on his appointment."
Chancellor King is currently the President of The Education Trust, a nonprofit organization that promotes high academic achievement for all students in early childhood, K-12 education, and higher education. Prior to his appointment to that post in 2017, Chancellor King served as U.S. Secretary of Education under President Barack Obama, who called him "an exceptionally talented educator." While serving in this cabinet-level post, Chancellor King worked to simplify the financial aid process, oversaw federal investments in evidence-based strategies to increase college completion, and advocated for the president's America's College Promise proposal, which called for creating a federal-state partnership to make attendance at community colleges free and also investing in scaled wrap-around services to support students on the path to academic success.
From 2011 to the beginning of 2015 when he joined the Obama Administration, Chancellor King served as New York State's first African American and first Puerto Rican education commissioner. He worked in this position to leverage federal Perkins funding to invest in a statewide initiative connecting K-12 schools, higher education institutions, and employers to tailor high school curriculum to meet the needs of a modern-day workforce – an effort he has expressed to the Board that he hopes to continue and expand on as chancellor.
"As President Obama's Secretary of Education, John King helped lead our fight for expanded access to higher education for every American and to ensure that all students had the support they needed to finish college. He championed the role of Community Colleges, connected them to the needs of today's workforce, and helped lead the effort across the administration to lift up young men and boys of color through President Obama's My Brother's Keeper initiative," said Valerie Jarrett, Chief Executive Officer of the Obama Foundation. "John believes in his core that public education - from pre-k to post-doctorate - is the key to challenging inequity and unlocking the potential of every individual. I can think of no better leader than John to lead the State University of New York and I know his service will be exemplary."
"John King is an extraordinary leader who has dedicated his life to equity in public education, guided by his belief that all students, everywhere, deserve an excellent education," said Laurene Powell Jobs, Founder and President of Emerson Collective. "As SUNY Chancellor, John will demonstrate the same high standard of excellence that has always defined his leadership, benefiting students and communities across New York for many years to come."
"John King brings a wealth of experience to this new position. As both the US Secretary of Education and an Overseer of Harvard, he understands both the opportunities and the challenges faced by higher education," said Lawrence Bacow, President of Harvard University. "SUNY is fortunate to be getting the benefit of his leadership."
"John King is an innovative education reformer with a long record of putting his words into action when it comes to providing ALL students with a high-quality education. Over the many decades I have had the honor and pleasure of knowing him, John has been at the forefront of the fight to build an educational system that delivers on America's promise of equal opportunity. That includes his service, since 2017, as a member of Robin Hood's board of directors," said Richard Buery, Chief Executive Officer of the Robin Hood Foundation. "He is both a friend and a hero. He will be an exemplary leader of the SUNY community, as he has been at every institution he has founded and/or led through his extraordinary career. What an inspired choice."
"It's hard to imagine someone more qualified than John King to head SUNY, given his experience leading both K-12 and higher education. No one is more devoted to the shared goals of excellence and equity," said David Coleman, Chief Executive Officer of College Board. "John has dedicated his life to the principle that all students deserve the great stuff, and that academic inquiry is a precious thing to be shared. This is a visionary appointment at a critical time; John will make a profound contribution to New York State and the higher education landscape."
"John King is one of America's premier educators and a tireless force for expanding student access and success. He is the perfect choice to lead The State University of New York, one of this country's most effective engines of economic and social mobility," said Ted Mitchell, President of the American Council on Education. "I could not be happier for John and our colleagues at SUNY, and I am confident it will be an exciting and prosperous tenure. All of us at ACE look forward to working with John in his new role."
"It is with great pride that I learned that Teachers College alumnus John B. King, Jr. will become SUNY Chancellor," said Thomas Bailey, President of Teachers College, Columbia University. "As U.S. Secretary of Education, John demonstrated his strong commitment to equity and to advancing access, affordability and completion for all students — ideals deeply held by TC. We look forward to working alongside John as he leads SUNY, striving to implement these same ideals for students in New York's community college and four-year college system."
"John has a long and distinguished track record of improving the opportunity of Americans of all backgrounds to obtain a higher education. Given the size and the reach of the SUNY system, his appointment will benefit the millions of first-generation students in New York that see higher education as the best path toward economic mobility," said Eloy Oakley, President of the College Futures Foundation and former Chancellor of the California Community Colleges. "I look forward to supporting John King in this new role."
About John B. King, Jr.
Chancellor King is a life-long educator and public servant who began his career teaching high school Social Studies in San Juan, Puerto Rico, and Boston, Massachusetts. While in Boston, he co-founded a middle school specifically intended to serve a high-poverty student population that became one of the highest performing urban public middle schools in the state and eventually grew into the successful Uncommon Schools network, which he co-managed.
Chancellor King served from January 2015 to December 2015 as Delegated Deputy Secretary at the U.S. Department of Education, which included overseeing all pre-school through 12th grade policies with a focus on improving equity and closing achievement gaps. He also oversaw cross-agency collaboration for President Obama's My Brother's Keeper Task Force, seeking to address opportunity gaps experienced by young men and boys of color. In the fall of 2015, President Obama tapped Chancellor King to serve as Education Secretary beginning in January 2016, and he was later confirmed by the Senate in a 49-40 vote.
Prior to joining the Obama administration, Chancellor King served as state education commissioner in New York – a post to which he was appointed in 2011 – overseeing all elementary and secondary schools, as well as public, independent, and proprietary colleges and universities, professional licensure, libraries, museums, and numerous other educational institutions.
Chancellor King holds a Bachelor of Arts in Government from Harvard University, a Master of Arts in the teaching of social studies from Columbia University's Teachers College, a J.D. from Yale Law School, and a Doctor of Education degree in educational administrative practice from Columbia University's Teachers College. He was a 1995 Truman Scholar and received the James Madison Memorial Fellowship for secondary-level teaching of American history, American government, and social studies.
Chancellor King was elected to serve on the Harvard University Board of Overseers in 2019, is a Vice Chair of the Board of the American Museum of Natural History in New York City, and also serves on the boards of the Robin Hood Foundation, the Century Foundation, and MDRC.
Among many awards, Chancellor King has received the Ann S. Kheel Award from the New York Urban League, the Eugene M. Lang Lifetime Achievement Award from the "I Have A Dream" Foundation; the New York Immigration Coalition Builders of the "New" New York Award; and the Robin Hood Foundation Heroes Award; as well as honorary degrees from the University of Maryland Eastern Shore, the University of Memphis, and LeMoyne College.
About The State University of New York
The State University of New York is the largest comprehensive system of higher education in the United States, and more than 95 percent of all New Yorkers live within 30 miles of any one of SUNY's 64 colleges and universities. Across the system, SUNY has four academic health centers, five hospitals, four medical schools, two dental schools, a law school, the state's only college of optometry, and manages one US Department of Energy National Laboratory. In total, SUNY serves about 1.3 million students amongst its entire portfolio of credit- and non-credit-bearing courses and programs, continuing education, and community outreach programs. SUNY oversees nearly a quarter of academic research in New York. Research expenditures system-wide are nearly $1.1 billion in fiscal year 2021, including significant contributions from students and faculty. There are more than three million SUNY alumni worldwide, and one in three New Yorkers with a college degree is a SUNY alum. To learn more about how SUNY creates opportunities, visit www.suny.edu.
About SUNY Canton
As Northern New York's premier college for career-driven bachelor's degrees, associate degrees and professional certificate programs, SUNY Canton delivers quality hands-on programs in engineering technology, management, and healthcare fields. It is home to the Center for Criminal Justice, Intelligence and Cybersecurity. Faculty members are noted for their professional real-world experience in addition to outstanding academic credentials. As SUNY's leader in online education, SUNY Canton OnLine offers hundreds of flexible and convenient courses as well as 23 online degree programs. The SUNY Canton Kangaroos 15 traditional athletic teams compete at the NCAA Division III level as part of the North Atlantic Conference. SUNY Canton also features varsity esports and cheerleading.