Home > Residence Life > What Should I Bring?
What Should I Bring?

All bedding supplies, such as:
Sheets (Linen and Bedding Program)
Blankets
Pillows & Pillow Cases
Mattress Cover (optional): mattress material is plastic (Please Note: the mattresses are 80" long: twin extra long size sheets fit the best)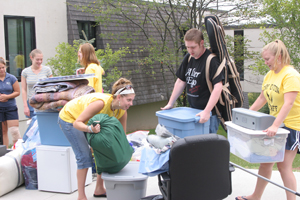 Towels, Washcloths

Alarm Clock

A throw rug (dorm rooms have tile floors)

Power Strips

Desk Lamp

Laundry detergent for cold-water wash (the cost for using the laundry rooms is included as part of your room cost)

Microwave Ovens - One per room

Clothes hangers (each room has two closets)
Furniture: Each student will have their own bed and dresser. There are two desks and chairs in each room. If you are in a triple room, you may want to share a desk to conserve on space. If you want a third desk, please request one from your Residence Hall Director. There are also window blinds and a lighting fixture in the room.
Bathrooms: Three bedrooms are clustered around a bathroom so your bath will be right outside the door of your room, not down the hall.
Laundry Rooms: Laundry rooms are on the first floor in each wing. If you are located on the second or third floor, you will need to go downstairs to do your laundry. In this case, laundry baskets or bags may be helpful.
Some Other Items to Consider…

Computer

Keurig

Refrigerator (1.7 cubic ft.) --- two roommates may share a 3.4 cubic foot refrigerator, otherwise, all other refrigerators are not allowed. Energy Star efficient refrigerators are preferred but are not mandatory.
Internet Service: All residence hall rooms have Wi-Fi internet service.
---
Items NOT To Bring
Any type of cooking appliances including:

Air Fryers

Hot Pots

Coffee Pots

Hot Plates

Toaster Ovens

George Forman Grills

Sandwich Makers of any kind

All string lights, including Christmas lights and rope lights

Lava lamps, halogen lamps

2.4 Megahertz cordless phones

House-sized refrigerators

Candles and incense

Stereo speakers, amplifiers, and subwoofers

T-Mobile cellular phones (reception is spotty)
If you have any questions about what you should or should not bring, please call the Residence Life Office at 315-386-7513.
Thank you!
Residence Life
Mohawk Hall
SUNY Canton
34 Cornell Drive
Canton, New York 13617

Phone: 315-386-7513
Fax: 315-386-7969
reslife@canton.edu

Regular Hours:
M - F: 8:00 am - 4:30 pm