Home > Residence Life > On-Campus Housing
Should I Live On Campus
SUNY Canton provides you with a pleasant, affordable residential experience that assists you in getting the most out of college. Have you thought about why you should live on campus? Here are some of the advantages:
Convenient:
Living five minutes from your classes, computer lab, library, gym, or weight room can't be beat in the heart of winter. Having your food prepared for you, your parking lot plowed, your heat, electricity, and your friends just down the hall, all make your college experience more comfortable. No more getting up at 5:30 AM to clean the snow off your car so you can make the commute for your 8:00 AM class. ALSO, laundry costs are built into your housing fee, so you'll never have to carry laundry past the main doors. Best yet, you'll never have to fumble around with coins to operate the machines!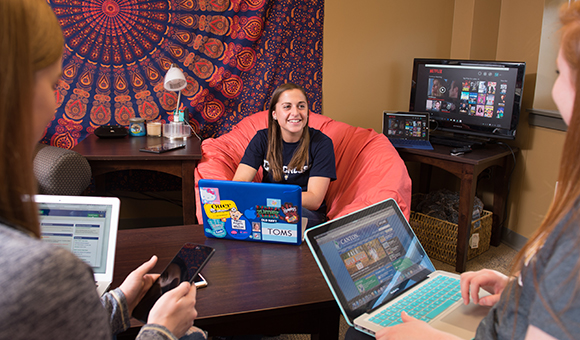 It's Where the Action Is:
When you talk to friends who have gone to college, they first think back to the fun they had in the residence halls. From the pizza parties, the intramural champion teams, the late night study groups, the floor trips and activities, to the lifelong friends that you will make, the residential experience is a must.
Safe:
Your personal safety on campus is a priority for us. Our well-lit, patrolled, and secure campus with electronic front door access systems, room combinations, blue light system, and door attendants, to name a few, allows you to spend more time doing the things that are important to you right here on campus. This means no driving home after a long day of classes and studying and affords you one of the best opportunities to pursue your education.
SUNY Canton Residence Life
Mohawk Hall

34 Cornell Drive
Canton, NY 13617
Phone: 315-386-7513
Fax: 315-386-7969
reslife@canton.edu