Arthur Flowers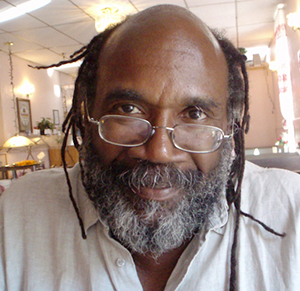 Arthur Flowers is a Vietnam veteran, blues singer, co-founder of the New Renaissance Writer's Guild, and a Memphis native.
Arthur Flowers considers himself a contemporary griot, referring to the storytellers of ancient African societies who passed on the history of their people to future generations through the oral tradition. Using spellbinding "performance poetry", Flowers accompanies his presentations with African instruments.
Arthur Flowers teaches at Syracuse University in the English Department's MFA program in Creative Writing. A native of Memphis, he has been Executive Director of the Harlem Writers Guild and co-founder of the New Renaissance Writers Guild and the Pan African Literary Forum. He is a blues-based performance poet who considers himself literary heir to both the Western written tradition and the African oral one. He lives in Syracuse, New York.
Brer Rabbit retold
The Brer Rabbit stories were originally oral tales told by slaves from the American South. In this powerful rendering for children and adults, writer and griot Arthur Flowers re-tells them as wisdom tales for a contemporary audience, bringing them back to us as one of the sturdy roots of African-American literature.
This version also straddles storytelling forms connecting the spoken and written word in surprising ways. The text is heir to the original oral stories, exquisitely illustrated by Jagdish Chitara, a ritual textile painter from Gujarat. Arthur Flowers then takes his stories back into the realm of the oral, with a musical spoken word performance in collaboration with a group of young Indian musicians. Printed and bound by hand, this limited edition artists' book includes a music album and short film. This genre defying cross-media project pushes the boundaries of narrative art to a new level of accomplishment.
Another Good Loving Blues
"A charming, provocative novel in which Mr. Flowers seamlessly blends the rich rhythms of the blues and a Deep South patois in a lyrical, literate style."
- The New York Times
It's Beale Street in Memphis in the age when jazz was spelled "jass" and ragtime was just a glint in Scott Joplin's eye. Lucas Bodeen is the bluesman, and Melvira Dupree is the conjure woman he loves. But pitted against them are all the forces of nature, the clashing of their own stubborn wills, and a society mired in the laws of Jim Crow and the mob. Combining the ancient African storytelling art of the griot with the American offshoots of blues and hoodoo, Arthur Flowers sings us a story that makes us smile - a story of life, and how love and happiness really happen.