Santee Frazier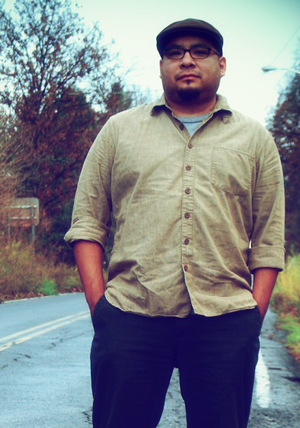 A member of the Cherokee Nation of Oklahoma, Santee Frazier earned a BFA from the Institute of American Indian Arts and an MFA from Syracuse University. His collection of poems,Dark Thirty (2009), was published in the Sun Tracks series of the University of Arizona Press.
Frazier's honors include a Fall 2009 Lannan Residency Fellowship and the 2001 Truman Capote Scholarship from the Institute of American Indian Arts Creative Writing Program.
In Dark Thirty, Frazier portrays Native Americans living on the fringes of contemporary America. Offering nonromanticized and realistic portraits of great beauty, Santee's poems afford a rare look at the truths of survival for Native peoples in today's society.
Dark Thirty
Dark Thirty takes us on a loosely autobiographical trip through Cherokee country, the backwoods towns and the big cities, giving us clear-eyed portraits of Native people surviving contemporary America. In Frazier's world, there is no romanticizing of Native American life. Here cops knock on the door of a low-rent apartment after a neighbor has been stabbed. Here a poem's narrator recalls firing a .38 pistol—"barrel glowing like oil in a gutter-puddle"--for the first time. Here a young man catches a Greyhound bus to Flagstaff after his ex-girlfriend tells him he has fathered a child. Yet even in the midst of violence and despair there is time for the beauty of the world to shine through: "The Cutlass rattling out / the last fumes of gas, engine stops, / the night dimly lit by the moon / hung over the treetops; / owls calling each other from / hilltop to valley bend."
Like viewing photographs that repel us even as they draw us in, we are pulled into these poems. We're compelled to turn the page and read the next poem. And the next. And each poem rewards us with a world freshly seen and remade for us of sound and image and voice.