William Rhoden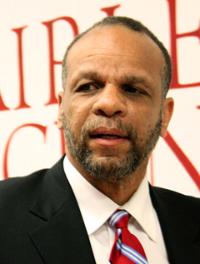 Award-winning New York Times columnist and bestselling author of Forty Million Dollar Slaves and Third and A Mile: The Trials and Triumphs of The Black Quarterback, William C. Rhoden uses sports as a vehicle to understand an increasingly complex society. From the implications of President Obama's election (Jackie Robinson), to the notion that the nation has somehow entered into a "post racial" era, Rhoden describes how sports has corollaries and parallels to every crucial aspect of contemporary American society.
Bio
During a career that spans more than three decades, award-winning New York Times columnist William C. Rhoden has been a jazz critic, sports columnist and social commentator. He has played college football at Yankee Stadium, accompanied a federal agent on an interdiction mission along the US-Mexican border, been a road manager for a jazz quintet and taken a 17 hour drive across Cuba.
Rhoden joined The New York Times in 1982 as an editor in the Week-In-Review section. A year later he moved to sports where he wrote about issues in high school and colleges. His assignment culminated in 1990 with a riveting, three-part front page series called "The Student Athlete on Campus," which described the complex relationship among colleges, college sports and college athletes. He has written "The Sports of the Times" column since 1990, and his work has been included in a number of anthologies including The Best American Sports Writing 2007. Rhoden is also a frequent guest on ESPN's long-running Sunday morning show, "The Sports Reporters."
In 1996 Rhoden won a Peabody Award for Broadcasting as a writer of the HBO documentary "Journey of the African American Athlete," and most recently, wrote the HBO documentary "Breaking the Huddle," about the integration of College Football, which won a 2009 Emmy® for outstanding Documentary Film. He has also written two critically acclaimed books, the New York Times bestseller, Forty Million Dollar Slaves and Third and A Mile: The Trials and Triumphs of The Black Quarterback.
Forty Million Dollar Slaves: The Rise, Fall and Redemption of the Black Athlete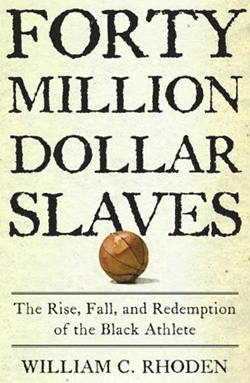 Rhoden tackles the challenging issue of the status of the black athlete in contemporary America. Using the pervasive metaphor of the plantation, Rhoden describes a modern sports industry defined by white ownership and black labor. Beginning with examples of slaves securing privilege, or even freedom, by feats of athletic prowess, Rhoden traces the history of athleticism and race from the early stages of athletic integration at major colleges up through the huge compensation paid to athletes today.

His assessment of the current state of athletic affairs isn't limited to a critique of the white power structure, however. Rhoden also targets the millionaire black athletes, and their acceptance of the status quo. He argues that black athletes need to assert their financial power through individual and collective ownership of businesses and franchises, as a way to restore the balance that existed in the black community prior to integration.