Home > CSOET > Civil and Environmental > Faculty > Rygel
Adrienne C. Rygel, Ph.D.
Associate Professor and Department Chair
Civil & Environmental Engineering Technology B. Tech (Program Coordinator)
Civil Engineering Technology AAS
Construction Technology Management AAS
State University of New York at Canton

Office: Nevaldine North 129
Phone: 315-386-7163
Email: rygela@canton.edu
Areas of Expertise: Environmental Engineering and Geotechnical Engineering
Educational Background
Ph.D. – Civil Engineering, Dalhousie University (Halifax, Nova Scotia), 2006
M.S. – Geology, Lehigh University (PA), 2002
B.S. – Geology, Bucknell University (PA), 2000

Academic Experience
SUNY Canton, Associate Professor, Department of Civil and Construction Technology, 2008-present
SUNY Potsdam, Adjunct Assistant Professor, Department of Geology, 2007-2008
Industry Experience
OP-TECH Environmental Services, Inc., Massena, NY, 2006-2008, Project Geologist/Project Engineering Responsibilities included project management, planning, oversight, data analysis, and reporting for soil and groundwater NY state petroleum remediation projects, subsurface investigations, and Phase I and II Environmental Site Assessments. Certified – OSHA 40 hour haz mat training.
Nebraska Department of Environmental Quality (NDEQ), Lincoln, Nebraska, 2005-2006, Groundwater Geologist Responsibilities included project management and contractor oversight on Superfund, Section 128a Targeted Brownfields, Resource Conservation and Recovery Act (RCRA), Former Department of Defense Sites (FUDS), Integrated Waste Management landfill, and NDEQ Title 118 facility sites with soil and groundwater contamination (volatile organic carbons, metals, pesticides).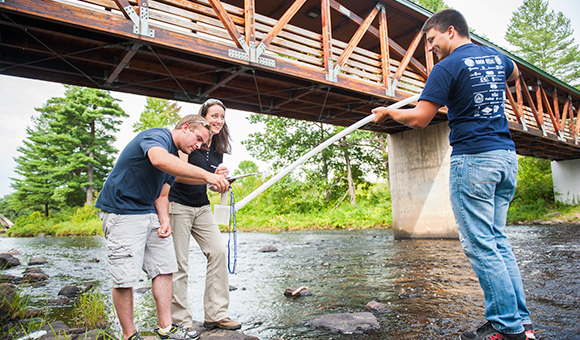 Interests
Environmental Engineering and Engineering Geology
Water quality assessment
Drinking water treatment
Soil and surface/groundwater remediation
Site assessment
Iron acid mine drainage contamination and remediation
Sediment and nutrient loading into surface water bodies
Amending soil with acid mine drainage sludge, and other industrial waste byproducts, for nutrient sorption and retention
Courses Taught at SUNY Canton
CONS 216 Soils In Construction*
CONS 222 Construction Estimating
CONS 253 Concrete Technology
CONS 280 Civil Engineering Materials*
COSN 285 Engineering Geology*
CONS 294 Soil Investigations
CONS 314 Soil Mechanics
CONS 385 Hydrology and Hydrogeology*
CONS 386 Water Quality*
CONS 387 Water and Wastewater Treatment*
CONS 477 Capstone Project
CONS 486 Soil and Groundwater Remediation*
ESCI 107 Earth Science*
CITA 109 Intermediate Spreadsheets*
(* = actively teaching)