Home > CSOET > Mechanical Tech
Mechanical Engineering Technology - B. Tech
Mechanical technicians design, maintain, construct, and modify machines, tools, consumer products, and mechanical equipment. Mechanical technicians are some of the most in-demand employees across the engineering industry. They work on a variety of projects including sketching new machine parts using computer-aided drafting and design equipment, manufacturing products, and simplifying processes.

Employment statistics are from the Bureau of Labor Statistics 2016-2026 Occupational Outlook Handbook.
Great Career Opportunities:
Aerospace
Assembly & Joining
Automation & Controls
Automotive Industry
Composite Manufacturing
CIM
Electronics Manufacturing
Environmental Manufacturing
Finishing & Coating
Food Processing
Forming & Fabricating
Laser Systems
Machining & Material Removal
Machine Vision
Medical Device Industry
Mold, Tool & Die Manufacturing
Nanotechnology
NC, CNC & DNC
Packaging
Plant Engineering & Maintenance
Plastics Molding &Manufacturing
Product Design & Development
Quality
Rapid Prototyping
Robotics
Six Sigma
Software, CAD/CAM
Supply Chain Management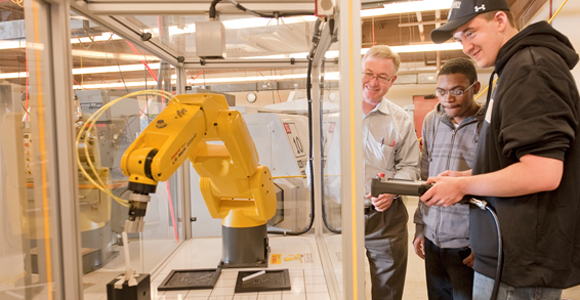 Career Outlook
In 2008 Mechanical Engineers held the fourth highest employment of all engineering with 238,700 employed and 36% of all engineering positions were found in manufacturing industry. Many Mechanical Engineering professionals fall under the heading of Industrial Engineers and that is the third highest engineering employment sector.
Accreditation:
Accredited by the Engineering Technology Accreditation Commission of ABET
415 N. Charles St.
Baltimore, MD 21201
(410) 347-7700
Mechanical Engineering Technology
Lucas Craig
Department Chair
315-386-7384
craigl@canton.edu
Fall Enrollment Trends
| | | | |
| --- | --- | --- | --- |
| | FT | PT | Total |
| 2019 | 73 | 3 | 76 |
| 2018 | 73 | 1 | 73 |
| 2017 | 66 | 0 | 66 |
| 2016 | 68 | 0 | 68 |
| 2015 | 37 | 1 | 38 |

Graduation Rate Trends*
| | | |
| --- | --- | --- |
| Cohort Entering | Cohort Size | % |
| Fall 2013 | 7 | 29% |
| Fall 2012 | 5 | 60% |
| Fall 2011 | 5 | 20% |

*Graduate rates are based on first-time, full-time, degree-seeking freshmen entering in fall and graduating within 150% of time.

Degrees Conferred
| | |
| --- | --- |
| | Total |
| 2018-19 | 8 |
| 2017-18 | 14 |
| 2016-17 | 18 |
| 2015-16 | 7 |
| 2014-15 | 9 |