Home > Residence Life > Mohawk Hall
Mohawk Hall
This residence hall is located close to Parking Lot 3, and is next door to Chaney Dining Hall. It is also located close to Payson Hall and the Miller Campus Center.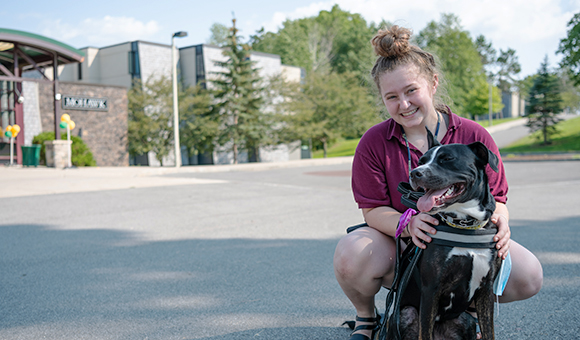 Pet Wing
This housing option is designed for students who enjoy sharing their living space with animals. It is not a requirement that a student possesses an animal to live on this floor, however, students who have allergies to any kind of animal are strongly discouraged from living in this area due to the various animals that live on these floors. Residents are permitted to bring small, caged pets from home with the prior approval of the Residence Hall Director. We're sorry, but at this time we do not permit dogs (of any size), birds, or snakes in this living environment. You will be notified during the summer months if you are approved to live in this housing option. This wing is also designated as Substance Free.
All Female
This wing will be reserved for female students only. Part of this wing will be reserved for Freshmen Only.
East Wing
| Floor | Housing Style |
| --- | --- |
| 1st Floor | LGBTQIA+, Non-Themed, Co-ed |
| 2nd Floor | Pet Friendly, Substance-Free, Co-ed |
| 3rd Floor | Pet Friendly, Substance-Free, Co-ed |
North Wing
| Floor | Housing Style |
| --- | --- |
| 1st Floor | Pet Wing, All-Female |
| 2nd Floor | Pet Wing, All-Female |
| 3rd Floor | Pet Wing, All-Female |
South Wing
| Floor | Housing Style |
| --- | --- |
| 1st Floor | Pet Friendly, Substance-Free, Co-ed |
| 2nd Floor | Pet Friendly, Substance-Free, Co-ed |
| 3rd Floor | Pet Friendly, Substance-Free, Co-ed |
Other Residence Halls
Residence Life
Mohawk Hall
SUNY Canton
34 Cornell Drive
Canton, New York 13617

Phone: 315-386-7513
Fax: 315-386-7969
reslife@canton.edu

Regular Hours:
M - F: 8:00 am - 4:30 pm