Bill McKibben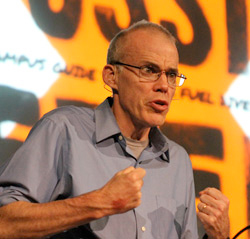 Bill McKibben is an author and environmentalist. His 1989 book The End of Nature is regarded as the first book for a general audience about climate change, and has appeared in 24 languages. He is founder of 350.org, the first planet-wide, grassroots climate change movement. The Schumann Distinguished Scholar in Environmental Studies at Middlebury College and a fellow of the American Academy of Arts and Sciences, he was the 2013 winner of the Gandhi Prize and the Thomas Merton Prize, and holds honorary degrees from 18 colleges and universities; Foreign Policy named him to their inaugural list of the world's 100 most important global thinkers, and the Boston Globe said he was "probably America's most important environmentalist." A former staff writer for the New Yorker, he writes frequently a wide variety of publications around the world, including the New York Review of Books, National Geographic, and Rolling Stone. He lives in the mountains above Lake Champlain with his wife, the writer Sue Halpern.
Oil and Honey
Bestselling author and environmental activist Bill McKibben recounts the personal and global story of the fight to build and preserve a sustainable planet
Bill McKibben is not a person you'd expect to find handcuffed and behind bars, but that's where he found himself in the summer of 2011 after leading the largest civil disobedience in thirty years, protesting the Keystone XL pipeline in front of the White House.
With the Arctic melting, the Midwest in drought, and Irene scouring the Atlantic, McKibben recognized that action was needed if solutions were to be found. Some of those would come at the local level, where McKibben joins forces with a Vermont beekeeper raising his hives as part of the growing trend toward local food. Other solutions would come from a much larger fight against the fossil-fuel industry as a whole.
Oil and Honey is McKibben's account of these two necessary and mutually reinforcing sides of the global climate fight—from the center of the maelstrom and from the growing hive of small-scale local answers. With empathy and passion he makes the case for a renewed commitment on both levels, telling the story of raising one year's honey crop and building a social movement that's still cresting.