Tracy K. Smith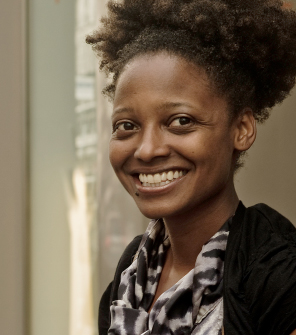 Tracy K. Smith is the author of the critically acclaimed memoir Ordinary Light, a finalist for the 2015 National Book Award in Nonfiction and selected as a Notable Book by the New York Times and Washington Post, as well as three books of poetry. Her most recent collection of poems, Life on Mars, won the 2012 Pulitzer Prize and was selected as a New York Times Notable Book. The collection draws on sources as disparate as Arthur C. Clarke and David Bowie, and is in part an elegiac tribute to her late father, an engineer who worked on the Hubble Telescope.
Duende (2007) won the 2006 James Laughlin Award from the Academy of American Poets and an Essence Literary Award. The Body's Question (2003) was the winner of the 2002 Cave Canem Poetry Prize. Smith was the recipient of a Rona Jaffe Writers Award in 2004 and a Whiting Award in 2005. In 2014 the Academy of American Poets awarded Smith with the Academy Fellowship, awarded to one poet each year to recognize distinguished poetic achievement. In 2015 she won the 16th annual Robert Creeley Award.
Ordinary Light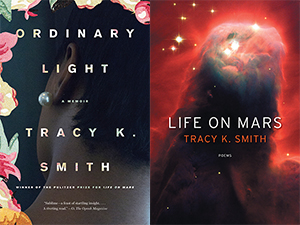 In Ordinary Light, Pulitzer Prize–winning poet Tracy K. Smith tells her remarkable story, giving us a quietly potent memoir that explores her coming-of-age and the meaning of home against a complex backdrop of race, faith, and the unbreakable bond between a mother and daughter. Here is the story of a young artist struggling to fashion her own understanding of belief, loss, history, and what it means to be black in America.
Life on Mars
With allusions to David Bowie and interplanetary travel, Life on Mars imagines a soundtrack for the universe to accompany the discoveries, failures, and oddities of human existence. In these brilliant new poems, Tracy K. Smith envisions a sci-fi future sucked clean of any real dangers, contemplates the dark matter that keeps people both close and distant, and revisits the kitschy concepts like "love" and "illness" now relegated to the Museum of Obsolescence. These poems reveal the realities of life lived here, on the ground, where a daughter is imprisoned in the basement by her own father, where celebrities and pop stars walk among us, and where the poet herself loses her father, one of the engineers who worked on the Hubble Space Telescope. With this remarkable third collection, Smith establishes herself among the best poets of her generation.