Classroom - This SUNY Canton degree can be earned in a traditional classroom setting.

100% Online - This SUNY Canton degree can be earned entirely online.
Legal Studies - B.S.
Strong Foundations
This degree includes an internship option, where students join the professional workforce while still in college. This real-world exposure helps students begin their careers and make job connections while still in college. The Legal Studies program also incorporates courses that expose students to the business aspects of the practice of law.
Students Will Learn
Legal research
Legal writing
Law including: Business Law, Civil Litigation, Constitutional Law, Criminal Practice, Family Law, Negligence and Intentional Torts, Real Property Law, Wills, Trusts and estates
Designed For
Recent high school graduates
Paralegal studies transfer students
Criminal Justice transfer students
Working professionals or students wanting online courses
The Legal Studies program has grown from 38 students in 2008 to 97 in 2018. It continues to be the only four-year undergraduate Legal Studies program within the 64 campus SUNY system.
- Jondavid DeLong
Curriculum Coordinator
Real-World Experience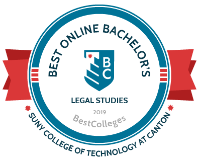 Instructors in this program have a wide variety of real world experience including attorneys who are practicing, or have practiced law. This allows students to learn from the experiences of professionals from governmental agencies and from the private sector.
No Time? Try SUNY Canton Online!
The Legal Studies degree is one of SUNY Canton's signature online programs. Students don't have to travel to take an online course, eliminating geographic barriers. Because internet courses don't have set classroom schedules, students can participate at any hour and from anywhere, even from your job. The Legal Studies degree can be earned entirely online if necessary.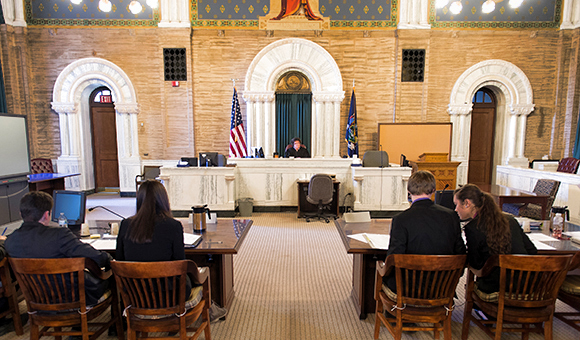 Real-World Learning
Students work to produce well-written, well-researched documents applying client's facts to the law. Students learn this process hands-on with case examples and studies.

Employment statistics are from the Bureau of Labor Statistics 2021-2031 Occupational Outlook Handbook.
Job Prospects
The U.S. Department of Labor Bureau of Labor Statistics projects paralegal positions to grow faster than average, or about 15 percent, for all occupations through 2026. There are a number of openings for paralegals in federal, corporate, and strictly legal settings.
Links
Interested in a Law Degree?
With our new 3+3 program, you can save one full year of tuition by earning your bachelor's degree at SUNY Canton and your law degree at University at Buffalo School of Law, in just six years (instead of seven). It's one of the most affordable paths to a law degree in the country!