COVID Isolation and Quarantine Support Services
If you test positive for COVID-19, whether you are a residential or commuter student, please contact the Davis Health Center at 315-386-7333 or healthcenter@canton.edu, to notify them of your positive test. The health center can provide you with medications and other supportive measures while you are in isolation.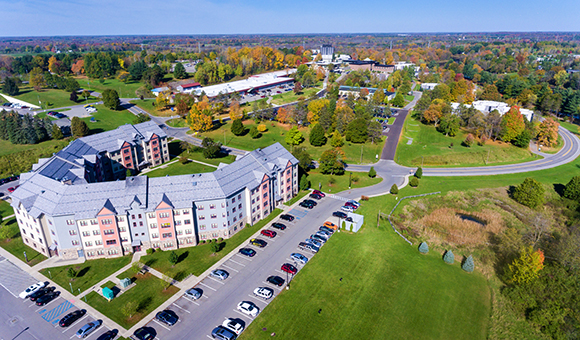 A message from Vice President for Student Affairs & Dean of Students, Courtney Battista Bish:
If you have come to the COVID Isolation Support Services Page, I imagine that you are either a student who has just been informed that you need to isolate or quarantine for a period of time due to exposure to COVID-19 or are a concerned friend, family member, or campus employee looking for the way to support your student in quarantine or isolation. I can only imagine what a difficult moment this is for you, and I want you to know we are here to support you in every way we can during this challenging time. I also realize that quarantine or isolation can be overwhelming and the information we have shared with you in our initial phone calls about your diagnosis or connection to a COVID-19 case may be the last thing you're able to remember right now. To that end, we put together this page in order to give you all the available resources we have to promote your physical and mental health during quarantine or isolation, as well as a wealth of resources available to you online or remotely to keep you on track academically.
One important distinction that we want to articulate is the difference between quarantine and isolation. Here's a little more information to help clarify this for you:
Quarantine: Students in quarantine are those who are a close contact to a person who is COVID-positive. Quarantine typically lasts from 5-10, depending on exposure to the positive person and symptoms experienced.
Isolation: Students in isolation are those who have tested positive for COVID. Isolation typically lasts for 5-10 days from either the positive test or when symptoms started.
Within these links, you will find contact information, online resources, and ways to engage while you're in isolation or quarantine. If there's anything you're looking for but aren't able to find here, please email me at bish@canton.edu and I'd be happy to get you connected to whatever service or support you need. While being in quarantine or isolation is not the ideal scenario for anyone, I hope that the resources we provide here and through our COVID Support Team will help you navigate this challenging time and assist you in getting right back into your normal routine as soon as your quarantine or isolation ends. Please don't hesitate to reach out to me or anyone in the COVID Support Team at any time if we can answer questions or provide assistance to you (or your student, if you're a family member, friend, or campus employee). Your wellness is our top priority!