50% Online - This SUNY Canton degree is a hybrid program that can be earned partially online.
Home > SHCJ > Funeral Services
Funeral Services Administration - B. Tech
Designed For
Students who want to become funeral directors, managers, or leaders in the field of Funeral Directing.
Working professionals who want to embark on continual development and stay abreast of current standards within the profession.
Hands-on, Career Driven
There are two cohorts available for Funeral Services Administration Students:
Traditional Student Cohort
Students in this program will receive a Bachelor of Technology degree upon successfully completing 16 required FSAD courses in addition to the liberal arts requirements.
Students will have an opportunity to obtain real life experience in a funeral home setting for academic credit.
Students will have an opportunity to learn proper embalming techniques in an embalming laboratory on campus.
Each course within the program is designed to build on previous educational experience so that after the four years of studies the student will have the critical thinking skills necessary to meet the demands of professionalism in the practice of funeral directing
Mock funerals, internships, and other hands-on experiences are involved in preparing Funeral Service professionals for their careers.
B. Tech Completion Cohort
The Bachelor's Completion program in Funeral Services Administration (FSAD) is designed for the working funeral director who wishes to earn their degree online while maintaining their career path.
To apply for the B-Tech Completion program:
Once accepted to SUNY Canton, the applicant's transcripts will be evaluated and the FSAD Program Director will establish a course trajectory map that outlines the academic work necessary for successful completion of the program requirements. The time to complete the coursework will vary depending on the student's previous college credits transferred into SUNY Canton and the course load that the student takes each semester.
The FSAD B. Tech Completion program provide:
An opportunity for Life Experience Credits for matriculated students
Challenge Exams for Professional Knowledge
100% of classes are online for B. Tech completion students
Flexible semester course loads
Affordable tuition
To be eligible for the B. Tech Completion program in FSAD, the funeral director needs to:
Graduated from an American Board of Funeral Service Education accredited program
Passed both sections of the National Board Exam
Be a licensed funeral director for more than 3 years
Life Experience Credits
Matriculated students who have practiced for a minimum of 3 years in the funeral profession are eligible for applying for Life Experience Credits. A rubric outlining the necessary components for the Life Experience Portfolio will be provided to the student upon paying the application fee. The student must complete the portfolio during the first semester of their enrollment in the FSAD program. The final portfolio is submitted to the Program Director with a review fee and after academic review, credits are awarded or denied. The fee is $40.00/per credit before and after the portfolio is completed.
Challenge Exam
Since some funeral courses don't transfer in as upper level courses from associate degree programs, challenge exams have been created so the student can receive upper level credit for a course based on their basic competency of the subject matter. The matriculated student can take these exams at any time during the program after completing an application and paying a testing fee. The fee is $40.00/per credit.
We are offering the only comprehensive Bachelor's degree in Funeral Services Administration in New York. A Canton graduate stands apart from those holding Associate degrees from other institutions because they have an opportunity to develop the critical thinking skills necessary for meeting the challenges in the complex and changing field of funeral directing.
- David R. Penepent
FSAD Program Director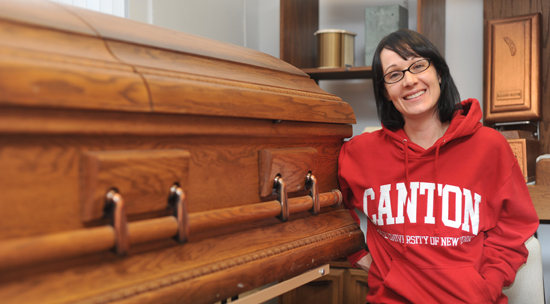 Career Networks
There are only four mortuary science programs in New York State and SUNY Canton Funeral Services Administration program is the only four year degree program in the state. The Jobs 4 Roos website provides employers with an opportunity to post funeral service positions on the college website so that alumni, current students, and residences can review the job market. Through continuing contact with prospective employers, we are able to help students benefit from this form of advertising when making career decisions.

Employment statistics are from the Bureau of Labor Statistics 2020-2030 Occupational Outlook Handbook.
On the Jobs 4 Roos site:
Students can...
Manage Resumes and Cover Letters
Schedule On-campus Interviews
Contact Alumni About Career Questions
Employers can...
Manage Jobs
Browse Resumes
Schedule Interviews
Register for Career Fairs
---
Online FSAD Courses
The last semester of courses in Funeral Services Administration is available online so that the students have an opportunity to complete their internship in a funeral home of their choice. The majority of FSAD classes are taught in the traditional classroom environment. We believe that valuable intrapersonal and interpersonal skills are best learned and articulated in a classroom environment that stimulates interaction through verbal communication. A complete list of online FSAD courses is listed above in B. Tech Completion Cohort section.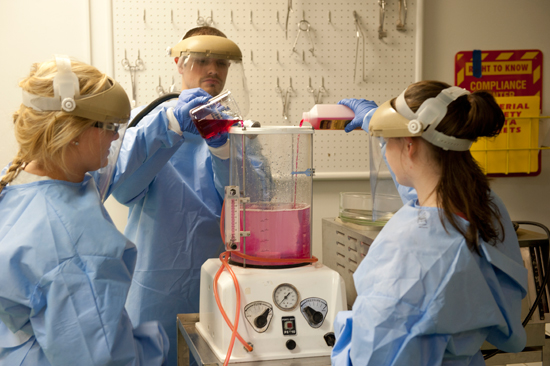 Benefits of a Four-Year FSAD Degree
Passing the National Board exam is only a small part of becoming a funeral director and yet most mortuary science programs "teach to the test" and not "train to the profession."
The program at SUNY Canton differs from other mortuary science programs is that we are committed to developing the educated professional funeral director with the tools necessary for meeting the challenges in funeral services.
Over the past 50 years there has been a steady decrease in traditional services while at the same time an increase in services that fail to honor the life accomplishments of the dead. Our program is designed to increase the student awareness of current trends while providing them practical experiences to provide quality and progressive care and respect for the living and the dead.
FSAD Motto
"Serving the Living by Caring for the Dead with Dignity & Respect."