Mechatronics Technology - B.S.
This curriculum is under review to better serve students and industry. We are no longer accepting applications for the Mechatronics program, but encourage students to consider our Mechanical Engineering Technology program. It is ABET accredited and offers tracks in Mechatronics, leading students to great careers in advanced manufacturing.
The Mechatronics Technology Bachelor of Science degree integrates mechanical engineering, computer science and electronics into one program. The multidisciplinary program allows students to integrate mechanical, electrical, software, and controls into practice through applied problem-solving strategies. Mechatronics impacts the production of smartphones, automobiles and the assembly and distribution of consumer appliances.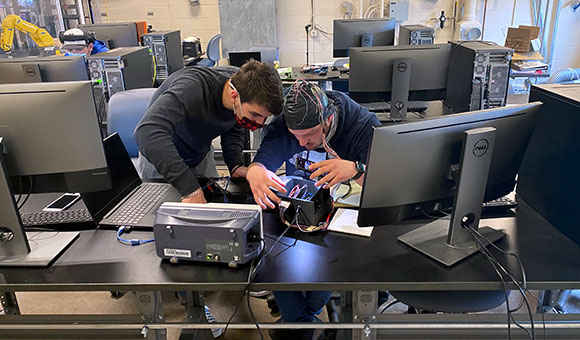 Employment statistics are from the Bureau of Labor Statistics 2020-2030 Occupational Outlook Handbook.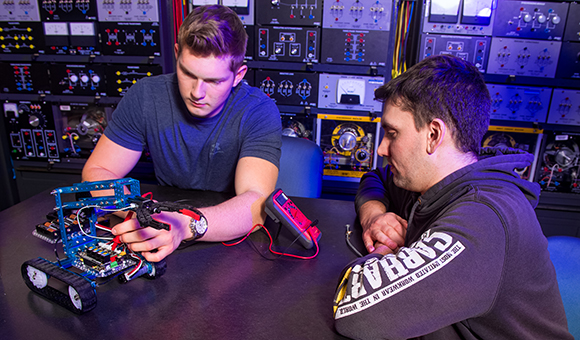 Great Career Opportunities
Mechatronics is a rigorous multidisciplinary program that will prepare our students for any real-world engineering challenges. Because of this program's multidisciplinary nature, Mechatronics Technology offers the broadest spectrum of employment opportunities, allowing for our graduates to pursue jobs seeking Mechanical, Electrical, Computer, Telecommunications, Systems, and Control Engineers.
These post-undergraduate opportunities include, but are not limited to:
Robotics Engineer
Field Service Engineer
Design Engineer (Electrical, Mechanical, Mechatronics, etc…)
Research Engineer
Software Development Engineer
Controls and Automation Engineer
Hardware Support Engineer
Automation Engineer
Graduate School (Masters or Doctorate)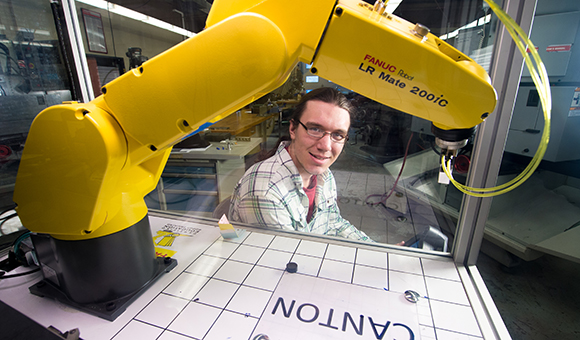 Career Outlook
Overall employment of electrical and electronics engineers is projected to grow 7 percent from 2016 to 2026, about as fast as the average for all occupations. The change in employment is expected to be tempered by slow growth or decline in most manufacturing industries in which electrical and electronics engineers are employed.
Mechatronics Technology
Dr. Lucas Craig
Associate Professor
Chair of the Mechanical Engineering Technology and Energy Systems
Chair of the Teaching, Learning, and Technology Committee (TLTC)

315-386-7384
craigl@canton.edu
Dr. Craig's website
Fall Enrollment Trends
| | | | |
| --- | --- | --- | --- |
| | FT | PT | Total |
| 2022 | 11 | 0 | 11 |
| 2021 | 15 | 1 | 16 |
| 2020 | 8 | 1 | 9 |
| 2019 | 10 | 0 | 10 |
| 2018 | 2 | 0 | 2 |

Graduation rates are unavailable as the program has not been active for 6 years yet.
Degrees Conferred
| | |
| --- | --- |
| | Total |
| 2021-22 | 0 |
| 2020-21 | 3 |