Home > SHCJ > Nursing - Dual Degree
Dual Degree Nursing Program (DDNP)
The Dual Degree Nursing Program (DDNP) combines general education courses and nursing courses that allow students to complete their baccalaureate education in four years and be eligible to take the NCLEX-RN (RN licensing exam) in three years. After three years of full-time study, graduates earn an Associate in Applied Science (AAS) Degree in nursing and are eligible to take the NCLEX-RN licensing examination to become Registered Nurses (RN). The fourth year is online for those who have obtained their RN license and have graduated with an AAS degree in nursing from SUNY Canton. The final year is career oriented so that students may work as RNs and attend school online to complete their degree.
Program Highlights
Career oriented
Obtain eligibility to be a Registered Professional Nurse
Develop critical thinking and professional behaviors
Become competent in nursing skills
Participate in clinical practicums and the skills laboratory
Students in this Major:
Utilize the nursing process, think critically, and base client care on evidence based practice.
Engage in active learning.
Develop personally and professionally.
Upon meeting the requirements for graduation, are eligible to sit for the licensing examination to become Registered Professional Nurses.
Accreditations
The Dual Degree nursing program at the Margaret J Sovie School of Nursing at the SUNY College of Technology located in Canton New York is accredited by the Accreditation Commission for Education in Nursing (ACEN) with Continuing Accreditation.
Accreditation Commission for Education in Nursing (ACEN)
3390 Peachtree Road, Suite 1400
Atlanta, Georgia 30326
404-975-5000
www.acenursing.org
Registered by the NYS Education Department, Office of the Professions.
State Education Building - 2nd Floor
Albany, NY 12234
Phone: 518-474-3817
Career Outlook:
Nursing is the largest health care occupation.
There is increasing diversity in nursing employment, and projections indicate large numbers of new jobs.
Employers Of SUNY Canton Graduates:
Hospitals and physicians' offices
Home healthcare services
Nursing care facilities
Correctional facilities
Schools
Military service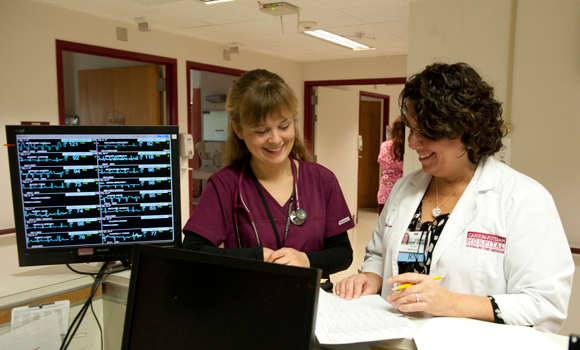 Eyes on the Future
From the first graduating class to the present, our graduates have been employed or continuing their education within six months of graduation.

Employment statistics are from the Bureau of Labor Statistics 2020-2030 Occupational Outlook Handbook.
Employment Outlook for Nursing
This program was created in part to help meet the demand for more advanced trained nurses amidst a nation-wide professional health care shortage. Employment of registered nurses is expected to grow much faster than the average for all occupations through 2020 according to the Department of Labor Bureau of Labor Statistics. Registered nurses are projected to generate 587,000 new jobs, among the largest number of new jobs for any occupation.