Home > CSOET > Mechanical Eng Tech
Mechanical Engineering Technology - A.A.S.
Graduates of Mechanical Engineering Technology (MET) work in a wide range of industries with a broad array of career opportunities. From manufacturing and construction to equipment testing and power generation, employment opportunities exist in production, product/system testing, quality improvement, and technical services support. The MET program is appropriate for individuals who like hands-on experience, enjoy technology, and want to use their heads. Math ability is important and students will center much of their effort on experimentation and problem solving.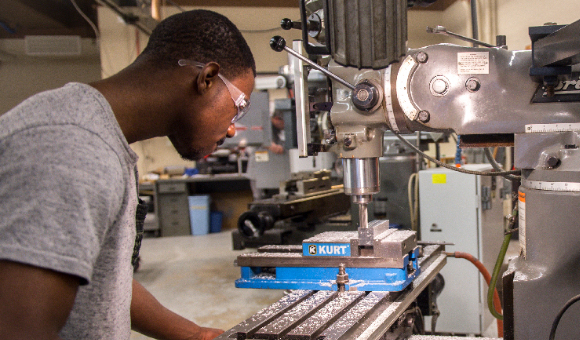 We strive to provide an educational environment that encourages your intellectual, personal, and professional growth. This program allows you to heighten your understanding of the world and yourself while developing the skills and vision needed to build a full rich life that will make a difference in the world.
Our students suggest the following list of supplies that you may need while at Canton.
Students in this Major:
Learn about technologies associated with manufacturing.
Receive a strong core preparation in science and mathematics to facilitate success in engineering technology.
Experience learning in an environment which closely models the workplace.
Have the flexibility to commence their career immediately upon graduation, or to continue with the pursuit of a baccalaureate degree in any of several areas including Alternative and Renewable Energy Systems, Industrial Technology Management, or Facilities Operation.
Will apply the scientific and technical knowledge learned through their academic and hands-on experience at Canton combined with their own judgment to design, test, troubleshoot and improve machines, tooling, processes and information flow that serve the manufacturing industry.
Career Opportunities:
Typical job titles in which our graduates are employed are:
Mechanical Engineering Technician
Engineering Assistant
Computer-Aided Drafting
Designer
Quality Management Technician
Lab Technician
Instructional Assistant
Field Service Technician
CNC operator/programmer

Employment statistics are from the Bureau of Labor Statistics 2016-2026 Occupational Outlook Handbook.
Placement
All graduates during the past five years have either started their careers or continued their education. Forty percent in industry, and sixty percent elected to continue their education with the pursuit of a baccalaureate degree. Our Career Services Center can show you more information related to job placement.
Employers Of SUNY Canton Graduates:
Stature Electric, Inc.
Corning, Inc.
CIVES Steel Co.
IBM
Viking-Cives, USA
Schneider Packing
Acco Brands
Gleason Works
Bombardier, Inc.
Novelis
Young and Franklin, Inc.
Transfer Opportunities:
SUNY Canton (Alternative and Renewable Energy Systems, Industrial Technology Management, Mechanical Technology)
Rochester Institute of Technology
SUNYIT
SUNY Alfred
SUNY Buffalo
Accreditation:
Accredited by the Engineering Technology Accreditation Commission of ABET
415 N. Charles St.
Baltimore, MD 21201
(410) 347-7700
Admission Requirements:
Students who do not meet the recommended high school math prerequisites may be admitted; students may be admitted into Mechanical Engineering Technology upon completion of this prerequisite.
---
PROGRAM REQUIREMENTS (Curriculum 0493)
Semester I Credits
Semester II Credits
Semester III Credits
Semester IV Credits
1 Program electives selected from ACHP, AREA, CITA, CONS, MATH, MECH, SOET designators.
2 Writing intensive course
Review the Index of Course Descriptions
Mechanical Engineering Technology
Lucas Craig
Department Chair
315-386-7384
craigl@canton.edu
Fall Enrollment Trends
| | | | |
| --- | --- | --- | --- |
| | FT | PT | Total |
| 2019 | 12 | 1 | 13 |
| 2018 | 13 | 1 | 14 |
| 2017 | 14 | 0 | 14 |
| 2016 | 15 | 0 | 15 |
| 2015 | 11 | 1 | 12 |

Graduation Rate Trends*
| | | |
| --- | --- | --- |
| Cohort Entering | Cohort Size | % |
| Fall 2016 | 4 | 75% |
| Fall 2015 | 2 | 0% |
| Fall 2014 | 5 | 60% |
| Fall 2013 | 7 | 29% |
| Fall 2012 | 5 | 40% |

*Graduate rates are based on first-time, full-time, degree-seeking freshmen entering in fall and graduating within 150% of time.

Degrees Conferred
| | |
| --- | --- |
| | Total |
| 2018-19 | 8 |
| 2017-18 | 8 |
| 2016-17 | 6 |
| 2015-16 | 8 |
| 2014-15 | 13 |