Home > Business > Early Childhood > Student Teaching
Early Childhood Student Teaching Experiences
The Early Childhood Program at SUNY Canton has formal affiliation agreements with numerous early childhood settings in St. Lawrence County. These include accredited / licensed child care centers, public school UPK and kindergarten classrooms, private nursery and preschools, licensed Family Child Care home-based settings, and Head Start programs. Students have opportunities to work with infants, toddlers, preschoolers, and kindergarteners as part of their student teaching off campus field experience.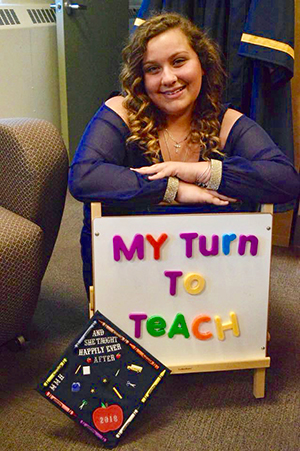 Students take part in Student Teaching Experiences in the final semester of their college studies, completing 80 hours of direct work with children under the direct supervision of a classroom mentor and College Student Teacher supervisor.
We have over 40 affiliations and many options for our off-campus Student Teaching Experience. Here is a list of some of the placement sites we utilize:
Banford Elementary, Canton
St. Mary's School, Canton
St. Lawrence County Heard Start Programs
Canton Day Care Center
Blooming Minds, Canton
SUNY Potsdam Child Care Center, Inc.
Lawrence Ave. Elementary, Potsdam
Small Fry Academy, Ogdensburg
Madrid-Waddington Elementary School, Madrid
Edwards-Knox Elementary, Russell
Family Child Care Centers, St. Lawrence County
For more information on the Early Childhood Degree Program, please contact Dr. Maureen Maiocco, Early Childhood Program Director, at maiocco@canton.edu or 315-386-7604; or Ms. Christina Martin, Early Childhood Instructor & Student Teacher Supervisor at martinc@canton.edu or 315-379-3868.