Home > Business > Early Childhood > Teacher Center
Early Childhood Undergraduate Teacher Center & Classroom
Our Early Childhood Undergraduate Teacher Center and EC Classroom are located in Cook Hall. The primary purpose of this on-campus facility is to provide students with opportunities to apply what they are learning in ECHD coursework. The Center provides a setting and space for students to develop and prepare lessons and activities for off-campus student teaching experiences and courses.
The EC Undergraduate Teacher Center is equipped with a variety of developmentally appropriate resources, equipment, and materials. The Center is a comfortable and aesthetically appealing setting for adult students to learn, study, and to prepare coursework, and student teaching lesson plans. All resources are available for student use throughout their course of study. From curriculum planning resources, computers, printers, digital cameras, scanners, a laminator, an Accu-Cut machine, and a small kitchenette space – our Center provides all students need to be successful preservice teachers.

Early Childhood Undergraduate Classroom
Adjacent to the Center space is our primary EC Classroom. This space offers a comfortable classroom setting, complete with a Smart Board and advanced technologies. All EC classes are conducted in the EC Classroom.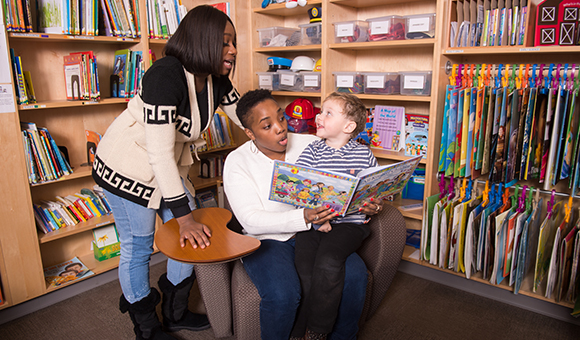 Literacy Center Space
Nestled in the corner of our EC Classroom space is our beautiful EC Literacy Center. With floor to ceiling wood shelves and lounge furniture – it houses over 3,000 children's books and literacy kits– and our collection keeps growing!
When you visit SUNY Canton, be sure to visit the Early Childhood Undergraduate Teacher Center and Classroom! We are located in Cook Hall 131-133.
For more information on the Early Childhood Degree Program, please contact Dr. Maureen Maiocco, Early Childhood Program Director, at maiocco@canton.edu or 315-386-7604; or Ms. Christina Martin, Early Childhood Instructor at martinc@canton.edu or 315-379-3868.