Nursing - Program Description
The SUNY Canton RN-BS Nursing program is based upon the beliefs that:
Communities are comprised of unique, holistic individuals and aggregates who have values and beliefs that originate from their life-world, who have specific needs and are capable of making decisions by themselves, with others, and/or by proxy.
Health and well-being are dynamic lived experiences uniquely defined by the individual and community within the context of culture and environment.
Nursing is a unique profession that provides a service to society that is culturally sensitive, evidence-based, collaborative, and individualized. Utilizing the nursing process, the nurse facilitates transformation within individuals, groups, and communities to attain desired outcomes.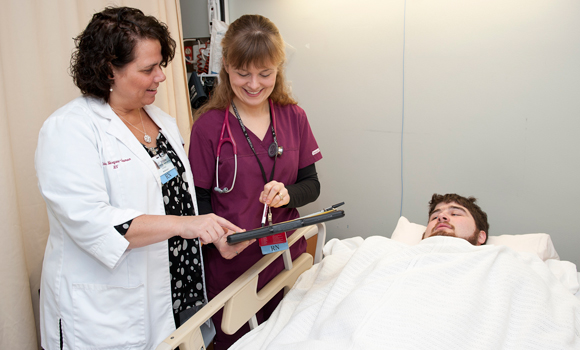 Students In This Program
Integrate theory from nursing, humanities, and biological and social sciences to transform the associate degree Registered Nurse to the baccalaureate prepared Registered Nurse.
Facilitate the development of nurse leaders capable of assuming influential roles in the positive, transformation of individuals, groups, and the healthcare system.
Promote the development of critical thinking and reflection through the synthesis of theoretical, research-oriented, evidence-based practice.
Transform students from the role of associate degree prepared to baccalaureate prepared nurses through the mentoring relationship.
Career Opportunities
Public and Community Health
Armed Services and Veterans Administration
Entry level nursing management
Acute, long-term, and specialty nursing units
Accreditations
The RN-BS nursing program at State University of New York at the Canton located in Canton, New York is accredited by the:
Accreditation Commission for Education in Nursing (ACEN)
3390 Peachtree Road NE, Suite 1400
Atlanta, GA 30326
404-975-5000
www.acenursing.org

The most recent accreditation decision made by the ACEN Board of Commissioners for the RN-BS nursing program is Continuing Accreditation.

Registered by the NYS Education Department, Office of the Professions.
State Education Building - 2nd Floor
Albany, NY 12234
Phone: 518-474-3817
Admission Requirements
Candidates must have earned the following to be considered for admission:
Proof of United States' citizenship or legal residence or United States work visa.
Completion of an associate degree from a registered nursing program. Prior to admission, each student is required to transfer in 36 lower-level nursing credits and have a minimum of 27 lower division semester hours in arts and sciences, or equivalent, in English composition, anatomy and physiology, microbiology, introductory psychology so that they can earn a Bachelor of Science degree in nursing consisting of 124-125 credits.
Courses transferred in must have a minimum of C.
Proof of a current, unencumbered United States Registered Nurse License and registration must be submitted with application prior to acceptance into the program.
Students are responsible for locating a practicum site and preceptor prior to enrolling at SUNY Canton.
Transfer Students
Transfer students from other programs may be accepted on a space available basis. Candidates must have earned the following to be considered for transfer into the RN-BS program:
Satisfy the criteria stated in the Admission Requirements: RN-BS Nursing
Students must complete a minimum of 30 credits at SUNY Canton's RN-BS program in order to receive a Bachelor of Science degree from SUNY Canton. Required courses include: Health Assessment in Nursing (NURS 303), Nursing Management and Leadership (NURS 400), and Community Health Nursing (NURS 402).
Students requesting transfer from another nursing program must:

Satisfy the criteria stated in the admission requirements: RN-BS
Satisfy the co-requisite criteria if seeking advanced placement.
---
Minimum Technology Requirements
Access to a working computer with internet capability.
Hardwire connections are recommended over wireless for assessments (tests/quizzes). Other connections (Wi-Fi, 4G/5G) may not be as reliable when taking exams or quizzes online.
---
PROGRAM REQUIREMENTS (Curriculum 0291)
Full-Time Status
Semester I Credits
Semester II Credits
Semester III Credits
Semester IV Credits
Part-Time Status
First Semester
Second Semester
Third Semester
Fourth Semester
Fifth Semester
Sixth Semester
Seventh Semester
Eighth Semester
Students must pass all courses with a grade of "C" or better prior to graduating with the BS degree.
* Students who have not met the pre-requisite for MATH 141 Statistics take MATH 111 Survey of Math or MATH 121 College Algebra; students who have already taken Statistics or have met the prerequisite for Statistics must take a Liberal Arts course.
** Fulfills writing intensive requirement
# Preceptorship
U/L = Upper Level Courses (300/400)
GER = General Education Requirement
NOTE: *** Nursing students must take seven out of ten General Education Requirements including one and ten, 30 total General Education credits, 45 upper level credits.
Graduation Requirements
This program requires 90 hours of supervised clinical experiences. Each of the following nursing courses, NURS 303 and NURS 400, require 45 hours of supervised clinical experience to take place in the participant's state of licensure. Further information is available in the RN-BS Handbook.
Total Semester Credit Hours: 64-65
GPA: 2.0 Minimum
Review the Index of Course Descriptions