Home > SHCJ > Sports Management
Sports Management - B.B.A.
Plunkett Research, Ltd. lists the global sports industry at $1.3 trillion. According to Forbes, the sports market in North America was worth $60 billion in 2014. It is projected to reach over $78 billion by 2021.
With the sports industry flourishing, the opportunities for sports management professionals have grown as well.
The SUNY Canton BBA in Sports Management prepares individuals for professional careers within sport organizations, such as non-profit companies, commercial and private enterprises, government/public sector jobs, and various levels of professional sports.
Accreditation
The sport management degree program at the State University of New York at Canton has received specialized accreditation through the Commission on Sport Management Accreditation (COSMA) located in Fort Collins, Colorado, USA.
The sport management program in the following degree is accredited by COSMA: Bachelor of Business Administration: Sports Management (BBA).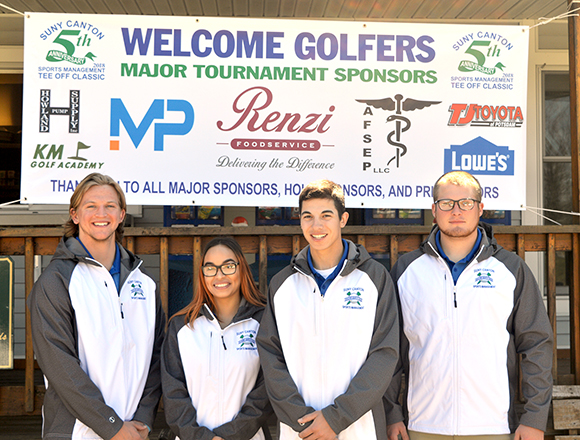 Key Topics
Sports event management
Operations and facilities management
Sports Marketing
Sports sales and sponsorships
Public relations
Sports media and communications
Legal issues in sport
Leadership for sport professionals
Sports finance and economics
Patrick Murray ´17 and Kyle Dora ´17 stand outside the Amalie Arena in Tampa, Florida during the 2018 NHL All-Star game.
Job Opportunities
Professionals in the sports management industry can hold any number of jobs with a wide variety of responsibilities. The SUNY Canton BBA in Sport Management will develop capable sport management professionals able to apply creative communication, leadership, and management skills in an array of positions in the sport industry. These positions can include:
Sports Administration
Sport Sales
Sport Marketing
Sport Public Relations
Sports Information and Media
Facilities Operations
Event Management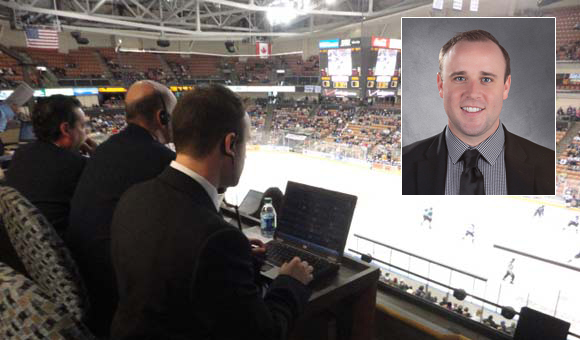 John Payne '13 internship with the AHL's Manchester (New Hampshire) Monarchs, farm team for the Los Angeles Kings Hired full-time after internship as Inside Sales Representative. Promoted in December 2013 to Account Executive, Ticket Sales & Retention. Promoted in Summer 2014 to his current role as Management Consultant.
Program Strengths
An academically credential faculty with over 40 years of direct experience in sports administration, sports media and relations, sports event management and promotions, sports business, and coaching.
Exciting array of sport management courses that offer students experiential learning opportunities and hands-on application.
An area rich in sports venues and organizations from Division I – Division III athletic programs within 10 miles, a professional sport franchise (Ottawa Senators) just 50 minutes away, minor league organizations within 60 minutes and the Lake Placid Olympic Training Center located just 83 miles away. Plus, numerous recreational sport venues and businesses located throughout the Adirondack region. All of which provide ample opportunity for class field trips and exposure to different sport organizations and sport professionals.
Flexible capstone opportunities from semester long internships to hands on, applied senior courses and projects. The program also offers culminating experience options that include semester internship, applied senior level courses, or a combination of both.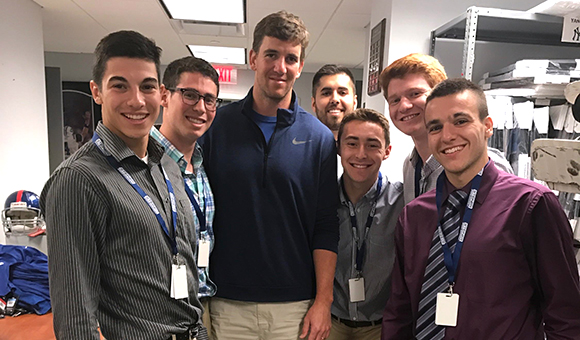 Francesco Palumbo, ´18 (left) poses with New York Giants quarterback Eli Manning (center) and other interns during an internship at Steiner Sports in New York City.
After Graduation
Students will be prepared for the wide range of opportunities within the sports industry and be ready to begin an exciting career armed with the skills, knowledge, hands-on experience, and confidence for a successful transition.
This program prepares students who wish to pursue an advanced degree such as Master's in Sport Management, Athletic Administration, or an MBA.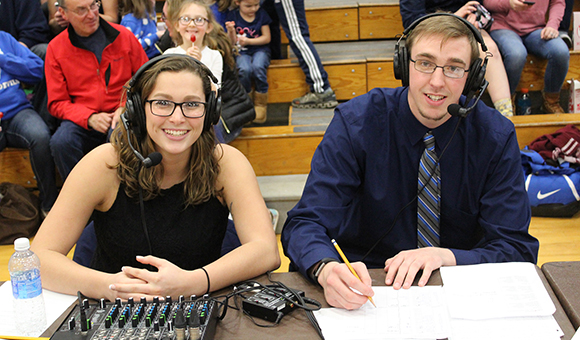 Jenea Shoemaker '17 and Matt Spencer '17 broadcast the 2017 Section X basketball championships.
WHAT INTERN HOSTS ARE SAYING ABOUT SUNY CANTON SPORTS MANAGEMENT STUDENTS….

"It was a pleasure to have Jessica intern with us this summer. She is a dedicated worker who possesses the ability to perform her tasks at a high level."

Jared Abbott
Assistant General Manager
Elmira Jackals

"Evan earned a spot in our intern hall of fame. Please send more like him!"

Gordy Sheer
Director of Marketing and Sponsorship USA Luge

"Sean was a true pleasure to work with and will be coming onto our staff full time as a new hire, which speaks volumes about his performance. Please keep us in mind for future internship possibilities."

Chris Woodworth
Bill Gray's Regional Iceplex
WHAT PROSPECTIVE STUDENTS AND PARENTS ARE SAYING AFTER THEY VISIT…

"Finally, and possibly most important was our time with Dr. Para discussing the Sports Management Degree Program! She is amazing; my Father who is a very good judge of character would not stop talking about how impressed he was with Dr Para. This was much different from the Colleges we had previously visited."

Prospective Student

"My son really likes his Sports Management Professor. She was very friendly and open about what she expects from her students. She had an enormous amount of energy when talking with the potential students about the sports management business field. I almost wanted to take sports management!"

Parent of Prospective Student
WHAT PROFESSIONAL PARTNERS ARE SAYING ABOUT SUNY CANTON SPMT STUDENTS….

"What a week! We had an incredible tournament, with so much going right. I must say the young men who were present did an outstanding job. We had several compliments from people at Penn State Fayette and from our Executive Director on the job that they did. The most impressive part was the limited supervision they needed—when they were asked to do a job, they didn't need to be asked again, and on several occasions, didn't need to be asked at all.

I commend them for the outstanding job they did, and we certainly hope they enjoyed their time working with us. It is a major stress reliever when you have people working with you who are more than capable and don't need to be micromanaged. They were respectful, professional, and proactive. We couldn't have asked for better help, and I will be pushing for a continued partnership with your program."

Ryan Ehrie
Director of Championships
United States Collegiate Athletic Association