Home > SHCJ > Sports Management > Learning by Doing
Learning By Doing!
Sports Management Students Run the USCAA Women's Volleyball National Championship
In the fall of 2012 and 2013, Sports Management Students were called upon to help conduct the USCAA Women's Volleyball National Championship event hosted by SUNY Canton and once again earned great praise from USCAA officials and participating coaches and College officials.
In addition to running the three day event, many of the same students were busy filming clips and interviewing players and coaches for feature story presentations and conducting press conferences after tournament matches for Sports Media and Broadcasting class and Sports Public Relations class.
GAME NIGHT!
Students Ryan Lamica, Kyle Clark, Andrew Gearsbeck and Evan Drew along with camera person Meg Gibson record a pre-game show prior to the SUNY Canton men's basketball game vs Clarkson University.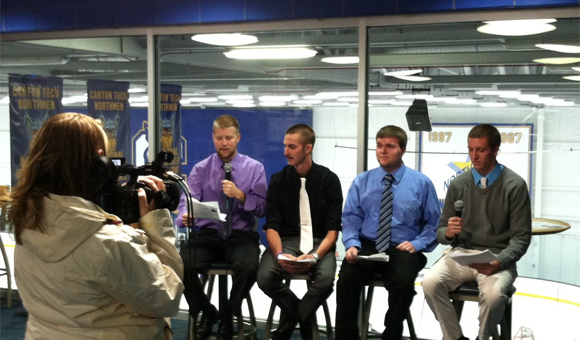 Sports Event Management Class Makes Big Impression with USCAA Officials
After making a great impression with USCAA officials at the first USCAA National Volleyball Tournament hosted by SUNY Canton, sports management students were asked by the USCAA to work at the their combined Men's and Women's National Basketball Championships held in Pennsylvania. Five students made the trip and again earned great praise from USCAA Officials "What a week! We had an incredible tournament, with so much going right. I must say the young men who were present did an outstanding job. We had several compliments from people at Penn State Fayette and from our Executive Director on the job that they did. The most impressive part was the limited supervision they needed—when they were asked to do a job, they didn't need to be asked again, and on several occasions, didn't need to be asked at all.
"I commend them for the outstanding job they did, and we certainly hope they enjoyed their time working with us. It is a major stress reliever when you have people working with you who are more than capable and don't need to be micromanaged. They were respectful, professional, and proactive. We couldn't have asked for better help, and I will be pushing for a continued partnership with your program,"
Ryan Ehrie, Director of Championships
United States Collegiate Athletic Association
Spring 2013
Play by Play!
Students in Matt Metcalf's Applied Sports Media and Broadcasting class practice their announcing, play by play and interviewing skills all recorded to video during the Section X High School Girls Basketball playoff games held at SUNY Canton.
Senior Students Plan, Conduct Community Golf Tournament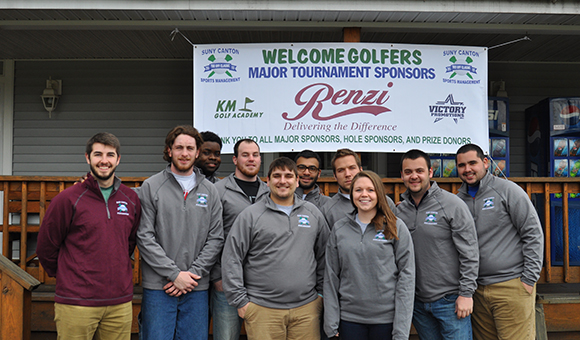 » Click here for Watertown Daily Times article about event
Students in Applied Sports Event Management ready for registration at the 2015 Sports Management Tee-Off Classic. Held end of April, the golf tournament is open to the public and organized and conducted by the students (left to right: Brian Guyadeen, Jess Rhodes, Craig Myers, Ray Irish, Alex Rude, Brandon Solon)
Left, Marcus Smith welcomes the 64 golfers! Right, Michael Bay presents members of the Renzi Brothers Team with their hole sponsor flag. Renzi Brothers from Watertown, NY has been the tournament's corporate sponsor each year.
Kan U Kan Jam? Sports Management Students Conduct Kan Jam Tournament for SUNY Canton Students
SPMT Students Help with Special Olympics
Steve McCorduck cheered on athletes at the 2015 Summer Special Olympic games. Sports Management students organize and conduct the opening ceremony for the event and the medal ceremonies throughout the day.
SPMT Students Takeover Long Standing Run Event
After 16 years of successfully conducting the popular and emotional Nicole Fleury Memorial Run/Walk, Dr. Para, Professor and Program Director for the Sports Management program turned over operation of the long time event to her students. This fall, Sport Management students were in charge of all operational components for the event and guided the event to another successful outcome.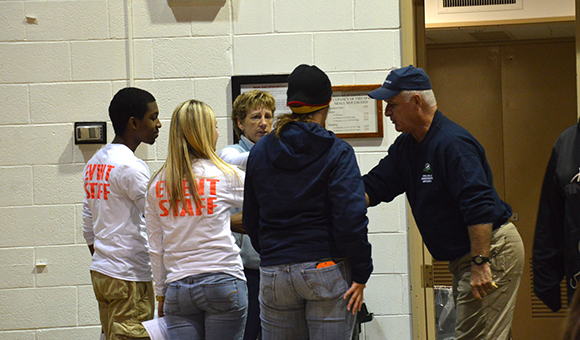 Student run directors, Kenneth Johnson, Stephanie Kushnir, & Laura Defrenza meet Richard Wright, co-owner of Pepsi Cola Ogdensburg Bottlers a major sponsor for the event.
Khalil Bratton, Steve McCorduck, Isaac Beckstead, Andre Williams, Erica Russo, James Kane and Brandon Weise handle registration duties.
James Kane welcomes the runners and walkers and gives final instructions before the start. Chris Scott posts results as participants finish.