Home > SHCJ > Sports Management > Internships
Sports Management Internships
What Intern Hosts are saying about SUNY Canton Sports Management Students...
"It truly was an honor to have Zach. He is an exceptional young man with a good direction in life. I noticed great work ethic, a desire to help, putting in extra time and work whenever asked and he learned new items quickly. If there are many more like Zach at Canton, the school is doing a wonderful job with the program."
John Concordia
Box Office Manager
Blue Cross Arena
"Once he settled in, John was a huge help with anything and everything. He helped out every department, not just the Public Relations. I gave him a lot of assignments to write article, press releases and player bios that I don't normally allow interns to do on their own that soon into an internship. John performed wonderfully and hopefully he can work his VISA out to join the Monarchs sales staff this summer."
Gregory Rosa
Public Relations Manager
Manchester Monarchs
Some of the organizations SUNY Canton sports management students have interned with include:
Internship Placements
Syracuse University Athletic Marketing Department, Syracuse, NY
Penn State Hazleton Athletic Department, Hazelton, PA
Dallas Stars - NHL, Dallas, TX
Manchester Monarchs – ECHL, Manchester, NH
Washington D.C. Breeze, Washington DC
St. Lawrence University Athletic Department, Canton, NY
Gray's Iceplex - Rochester, NY
Adirondack Thunder, ECHL, Glens Falls, NY
Bridgeport Sound Tigers – AHL, Bridgeport, CT
SUNY Potsdam Athletic Department, Potsdam, NY
North Country Sports Net, Canton, NY
Daytona Tortugas - MiLB Daytona Beach, FL
Baltimore Orioles – MLB, Baltimore, MD
Clarkson University Athletic Department, Potsdam, NY
Franklin Academy Athletic Department, Malone, NY
Nashville Predators – NHL, Nashville, TN
Ottawa Champions - semi-pro baseball, Ottawa, Canada
Jefferson Community College Athletic Department, Watertown, NY
Partridge Run Golf and Country Club, Canton, NY
Charlotte Speedway - Charlotte, NC
The Reading Royals - ECHL, Reading, PA
Section X High School Athletics, Canton, NY
Clarkson University Athletic Department – Cheel Arena, Potsdam, NY
USA Olympic Luge Program - Lake Placid, NY
North Country Community College, Saranac Lake, NY
SUNY Cobleskill Athletic Department, Cobleskill, NY
Blue Cross Arena – Rochester, NY
City University of New York Athletics Conference, NY, NY
South Daytona Parks and Recreation Department – South Daytona, FL
Stamford Boys and Girls Club, Stamford, CT
Atlanta Blaze - Major League Lacrosse, Atlanta, GA
Eckerd College Athletic Department, St. Petersburg, FL
McWhorter Driscoll, LLC - Growth strategists, Lake Placid, NY
Medgar Evers College Athletic Department, Brooklyn, NY
Marist College Athletic Department, Poughkeepsie, NY
North Dallas PGA, Dallas, TX
Onondaga Community College Athletic Department, Syracuse, NY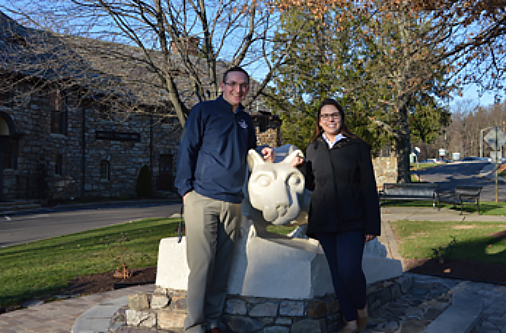 Penn State – Hazelton Director of Athletics Ryan Ehrie and intern Aimee Craig pose with the Penn State Nittany Lion on campus.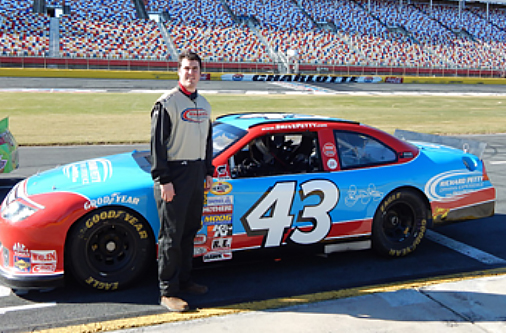 Erik Whitcombe on the track during his internship at the Charlotte Speedway in North Carolina.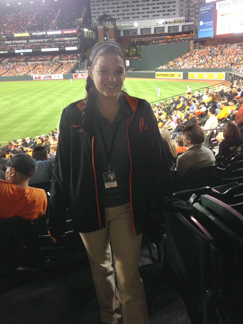 Johanna Evans-Welp working game day at Camden Fields during her internship with the Baltimore Orioles.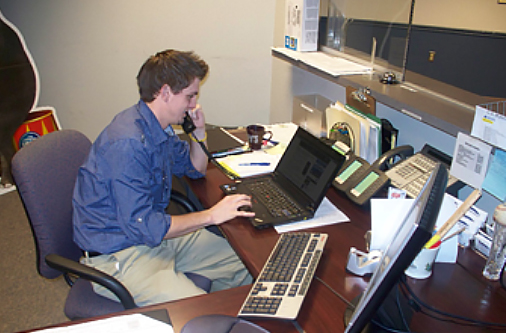 Jeff Lake working the sales phones for the Bridgeport Sound Tigers, Connecticut.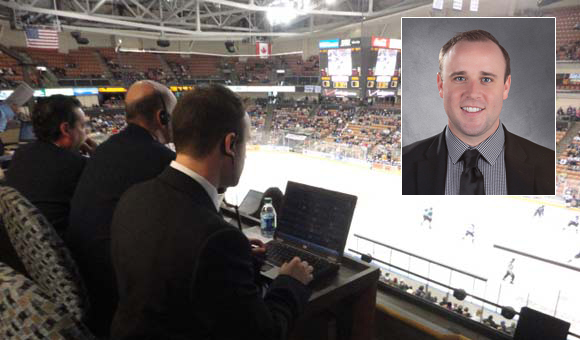 John Payne recording stats during a Manchester Monarch hockey game, New Hampshire.