Home > STEM
SUNY Canton's Commitment to STEM
STEM: Science, Technology, Engineering & Math
Many of the fastest growing industries across the state and the nation require a workforce that is capable in science, technology, engineering and mathematics (STEM). SUNY Canton is committed to meeting this need by offering programs that prepare students for a number of in-demand fields.
During the 2020-2021 academic year, 70% of SUNY Canton's programs were STEM related and 51% of our degree-seeking students were enrolled in a STEM program. An additional 14% of students were enrolled in a STEM concentration or minor.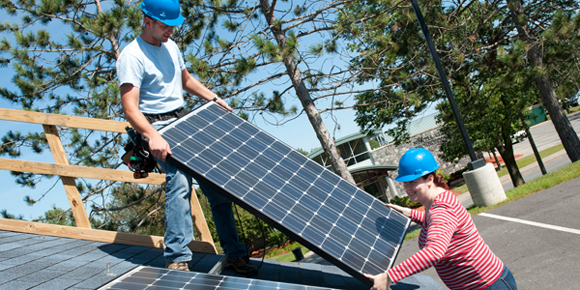 Placement
The College's Office of Career Services develops relationships with local and regional companies to ensure students secure employment after graduation. SUNY Canton's placement rate for STEM graduates was 97% overall. For female graduates, the placement rate was 97%, and for minority graduates, the placement rate was 100%.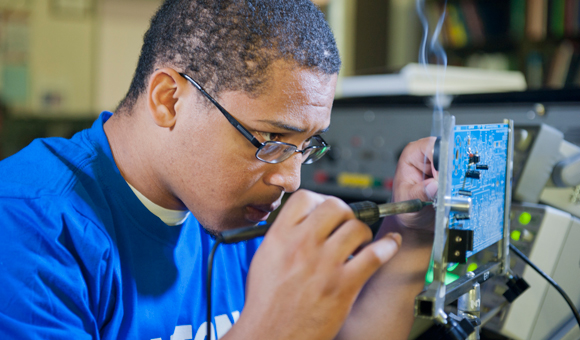 Diversity
SUNY Canton has undertaken a number of initiatives that promote diversity within the STEM fields. The College offers scholarships for women and underrepresented ethnic minority students. In addition, 48% of the STEM faculty are female.
Quality
SUNY Canton takes pride in its low student-to-faculty ratio, which allows for personalized attention. The average class size for STEM classes is 17:1. Engineering and technology degrees consistently meet the stringent standards necessary to receive accreditation from ABET, the premiere engineering and engineering technology accrediting body.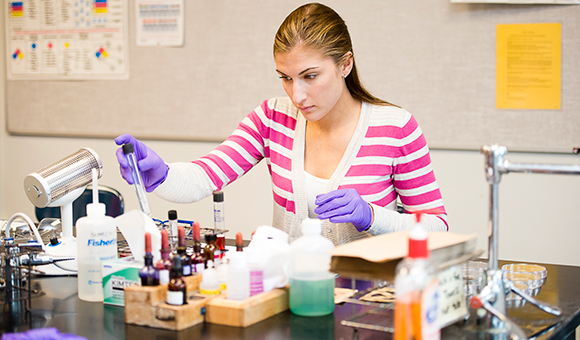 STEM Programs
Engineering:
Technology:
Health:
Math:
Science:
STEM Companies That Employ Our Graduates
Alice Hyde Medical Center
Ansen Corporation
Aspen Dental Management Inc.
Canton-Potsdam Hospital
Claxton Hepburn Medical Center
Cornell University Veterinary Hospital
Corning Inc.
Crouse Hospital
Dow Electric
First Advantage Dental
GS Precision Inc.
Gemma Power Systems
Genesee Valley Veterinary Hospital
Greenfield Animal Hospital
Gushea Refrigeration Inc.
Guthrie Home Health
Highland Nursing Home
Homestead Animal Hospital
Health Services of Northern New York
Infinity Rehab
Innovative Physical Therapy Solutions
Jefferson Veterinary Hospital
Lincare
Long Trail Physical Therapy
Macedon Veterinary Care
Maplewood Nursing Home
Marco Rubber
Massena Memorial Hospital
National Grid USA
STEM Positions Held
Assessment Nurse
Associate Engineer
Auto Technician
CEO
Chemical Dependency Counselor
Clinical Information Systems Specialist
Community Habilitator
Diesel Mechanic Distribution Assistant
Designer
Equine Technician
Field Service Technician
Full Body Screen Technician I
GPN
Healthcare Specialist
Laboratory Technician
Licensed Veterinary Technician
Licensed Practical Nurse
Manufacturing Engineer
Mecanical Field Engineer
Mental Health Worker
Network Technician
Operating Room RN
Paramedic
Pharmacy Technician
Physical Therapist Assistant
Process Engineer
Process Technician
Registered Nurse
Senior Construction Project Estimator